Heady mercury: US bases in England and elsewhere bake under European heat wave
By
Stars and Stripes
July 19, 2022
---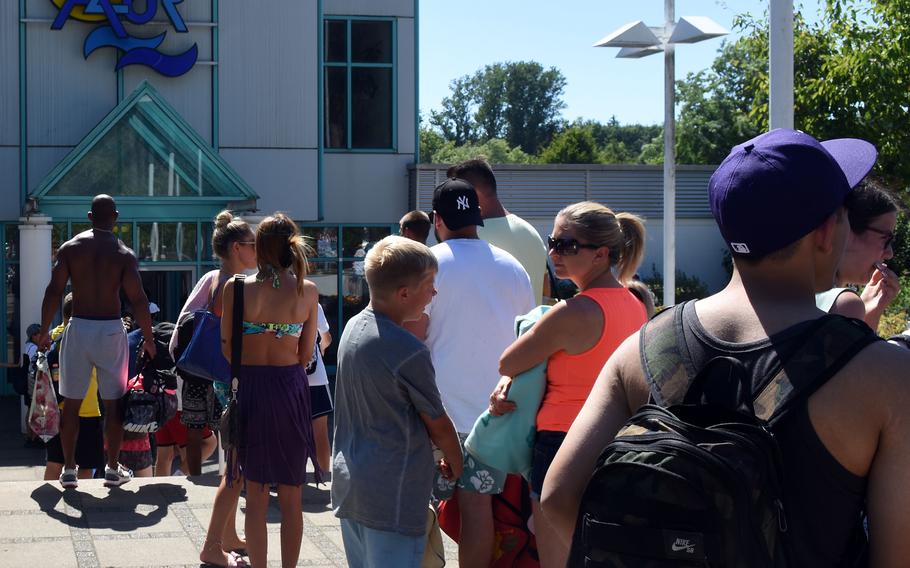 U.S. bases issued heat warnings and adjusted work schedules and uniforms as temperatures soared throughout Europe on Tuesday, particularly in northern areas unaccustomed to 100-degree weather.
At Ramstein Air Base in Germany, some airmen were allowed to work in their physical training gear, which includes standard-issue shorts and a T-shirt, a base spokeswoman said.
Ramstein, Vogelweh and Kapaun installations were under black-flag conditions early in the day, bringing calls for personnel to halt nonessential physical training and outdoor exercise. Airmen were allowed longer rest breaks depending on their job.
A black-flag situation occurs during times of high humidity and temperatures over 90 degrees, according to the military's heat index. The heat condition dropped to green later in the day, the spokeswoman said.
Germany logged its highest temperature of the year, the German Meteorological Service tweeted Tuesday. At 4 p.m., one of its stations in Duisburg-Baerl reported a temperature of 102.7 degrees.
A few Americans braved the heat just long enough to get through a line snaking out the door at a swimming pool near Ramstein Air Base, where afternoon temperatures reached 99 degrees.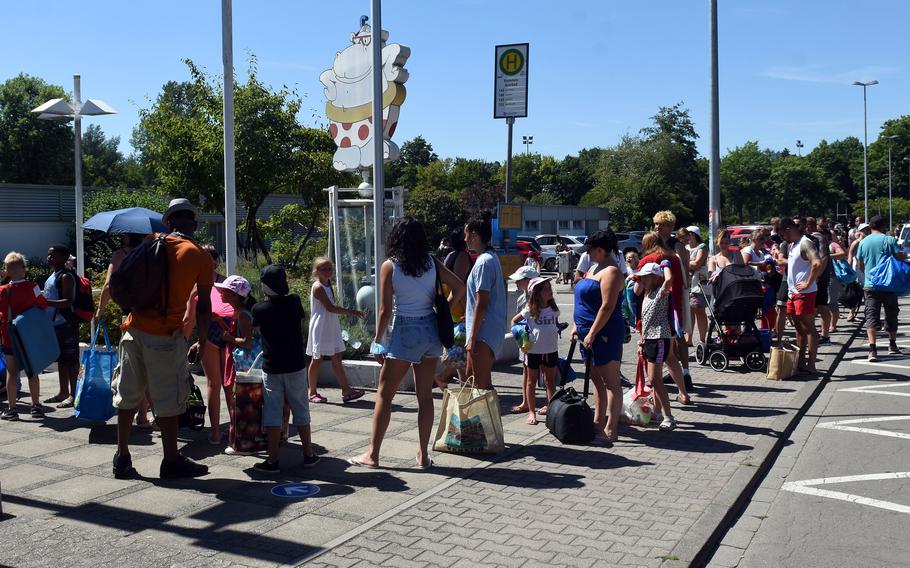 "Pool, try and stay inside, try and keep the house cool," Senior Master Sgt. Derrick DeMann said of how he and his family were trying to beat the heat. "That's really all you can do over here, since there's not an abundance of air conditioning."
As is the case in Germany, most British homes lack air conditioning, and black-flag conditions were also in place at England's RAF Lakenheath, which hosts the U.S. Air Force. For the first time on record, the country saw a temperature of 104 degrees, according to the British Meteorological Office.
The measurement was taken at London's Heathrow Airport at 12:50 p.m.
Meanwhile, the Royal Air Force said it temporarily closed its Brize Norton Air Base on Monday because of reports that extreme temperatures were melting the runway.
At Lakenheath, some airmen were allowed to wear PT gear instead of camouflage uniforms, and flight line maintainers were authorized a work cycle of 20 minutes on and 40 minutes off, base officials said.
Sports and other nonessential activities were canceled for the day. Similar measures were in place at Mildenhall, officials said.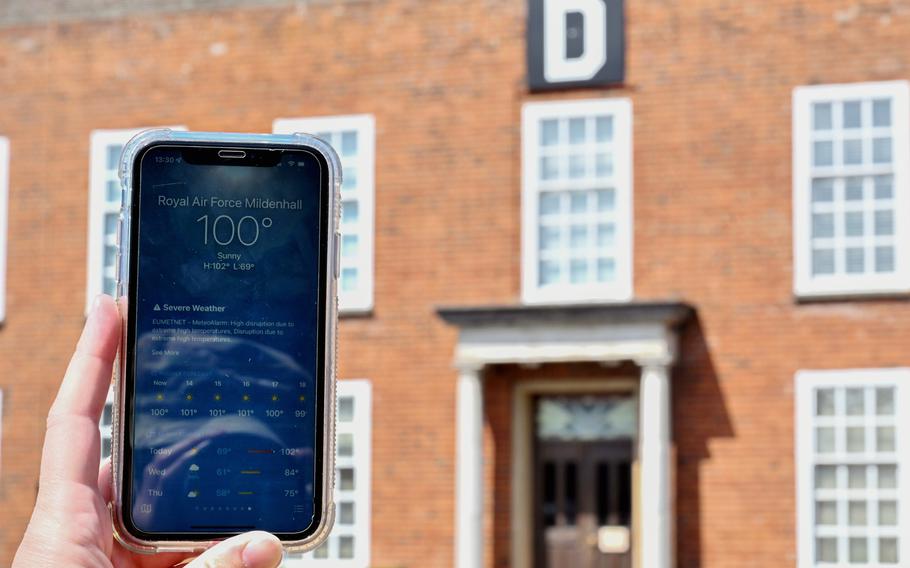 Some Lakenheath facilities announced modified hours. The base library, which is air-conditioned, encouraged patrons to "cool down" with a book, in a Facebook post.
The high temperatures were less of a disruption in more southerly locales. In Italy, where many structures are built for heat and air conditioned, it was mostly business as usual.
Officials at Navy bases in Spain and southern Italy and on the Greek island of Crete said temperatures and humidity Tuesday seemed normal for the summer.
The high Tuesday at the Souda Bay installation on Crete was expected to be about 82 degrees with 66% humidity, according to weather.com.
At Naval Air Station Sigonella in Sicily, a yellow-flag warning was in effect, meaning strenuous activity should be curtailed for people who have been in the area for three weeks or less and are unaccustomed to the island's temperatures and humidity.
Tuesday's high in Catania, a city near the base, was expected to be 88 degrees with 64% humidity. The island saw temperatures as high as 119 degrees during a heat wave last August.
In Spain, it was 82 degrees on Tuesday afternoon at Naval Station Rota, but temperatures were expected to rise over the week to a high of 98 degrees Sunday, according to Weather.com.
In Vicenza, Italy, the 173rd Airborne Brigade was limiting training to the early or late hours of the day. Troops used ice sheets to cool off and there was added emphasis on avoiding dehydration, officials said.
Stars and Stripes reporters Alexander Riedel, Alison Bath, Nancy Montgomery and Kyle Alvarez contributed to this report.
---
---
---
---