US, German troops find solidarity along the Rhine
By
Stars and Stripes
July 12, 2022
---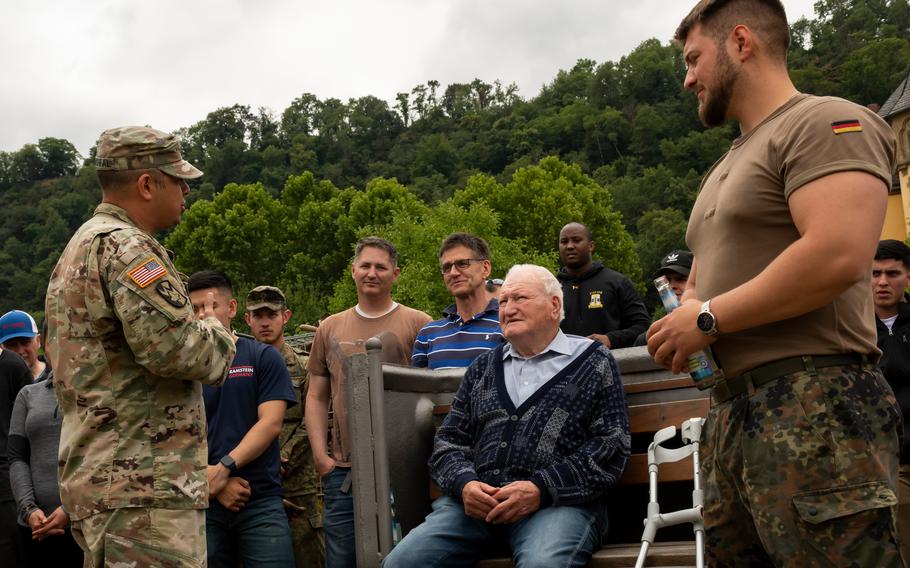 ST. GOAR, Germany — American and German service members teamed up in this Rhine River town known for its panoramic views and the nearby Lorelei rock to clear forest debris and protect residents from potential flooding.
About two dozen U.S. soldiers with the Kaiserslautern-based 21st Theater Sustainment Command and a similar number of German troops and town workers on Monday helped unclog two creeks that flow into the Rhine at St. Goar.
They sawed through broken limbs, hauled away the debris and helped restore a waterfall by the end of the day.
"The citizens of St. Goar will know next time it starts to rain that it's less likely their basements and living rooms will be full of water," Mayor Falko Honisch told troops at a ceremony following the cleanup. "People are safer than they were before you came here."
The job was deemed too difficult for this town of about 3,000 people to do alone after concerns about potential flooding began to grow in recent months.
Mark Cox, a retired Air Force major and St. Goar resident, discussed the problem with his neighbor, Honisch, and they agreed to ask the militaries for help.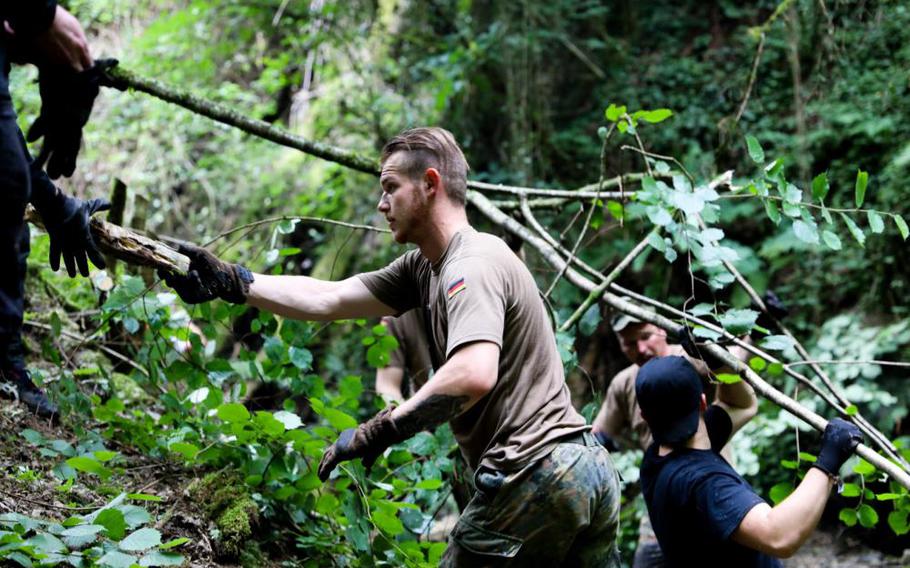 The cleanup project was billed as a way to strengthen the relationship between U.S. and German service members, who used to collaborate more, Cox said.
"Now we're trying to rekindle that relationship," said Cox, who works in plans and operations for the 21st TSC in Kaiserslautern, about 75 miles south of the town. "We want to use the waterfall as a symbol of working together toward peace."
The ties between the two militaries initially grew out of postwar necessity. But on March 26, 1945, this was the site of brutal fighting, as the U.S. Army 89th Division, based in St. Goar, attacked well-fortified positions across the Rhine in St. Goarhausen.
After allowing an initial crossing, the Germans lit up the assault boats with machine gun and artillery fire.
"To this day, survivors recall this scene as one from hell," the 89th Division's historical website said.
Despite numerous casualties, the Americans destroyed the German emplacements and established a foothold in St. Goarhausen the next day.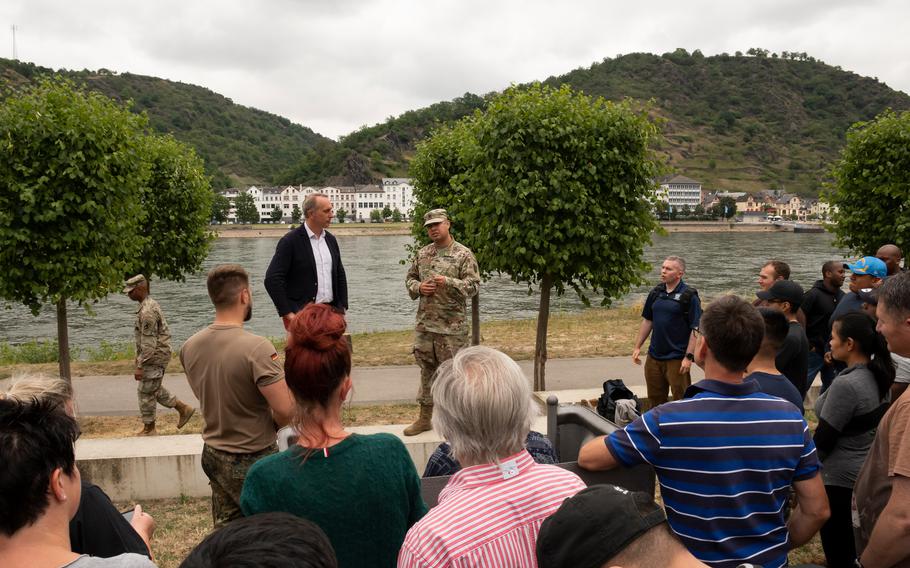 Following the cleanup, 21st TSC Adjutant General Lt. Col. Raul Sandoval handed a command coin to Kurt Mebus, a former mayor of St. Goar who had been shot by German fire from St. Goarshausen when he was 11 years old.
There were no cars in the town at the time, Mebus recalled, and U.S. troops, who had occupied St. Goar with the French, transported him to the nearest hospital, where his leg had to be amputated.
Mebus told Stars and Stripes through a translator that it was good to see U.S. and German troops working together, which he used to see more often.
The 21st TSC's Sgt. Maj. Eric Riding said the importance of U.S. and German soldiers working together in an informal setting could not be overstated.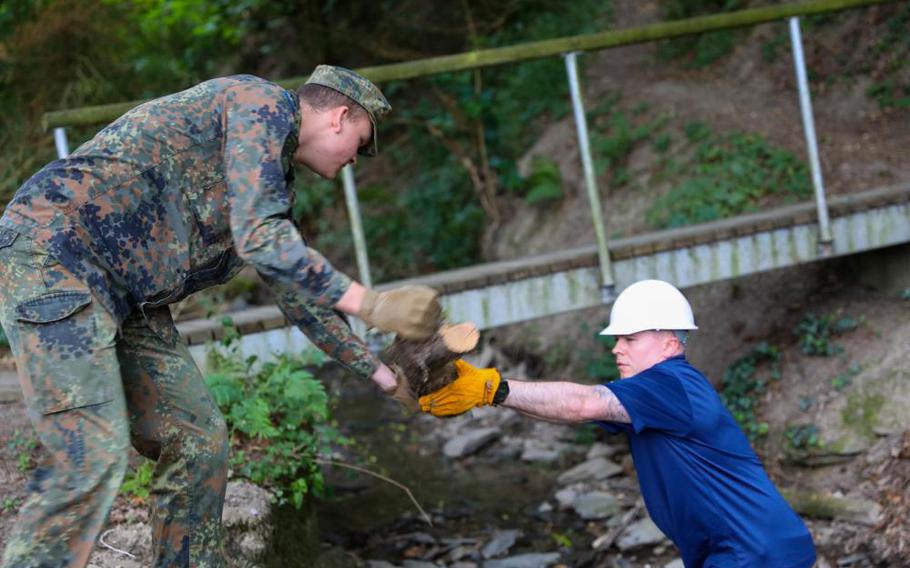 "It helps you build those relationships up, and then when something happens, we're just that much closer," Riding said, adding that soldiers on both sides were taking photos and exchanging contact details.
Staff Sgt. Erik Lee, a human resources specialist, said his German counterparts were "like a new family in a way."
Most of the Germans who participated in the event were soldiers from the German army's medical regiment stationed in Koblenz, and they expressed similar sentiments.
German Chief Petty Officer Nico Reitz, who was raised near St. Goar, said it was important for residents to see both militaries out helping the community as they can come across as somewhat secretive at times.
"The military in the foreground is a good thing," Reitz said. "I think that's a good thing for the whole region."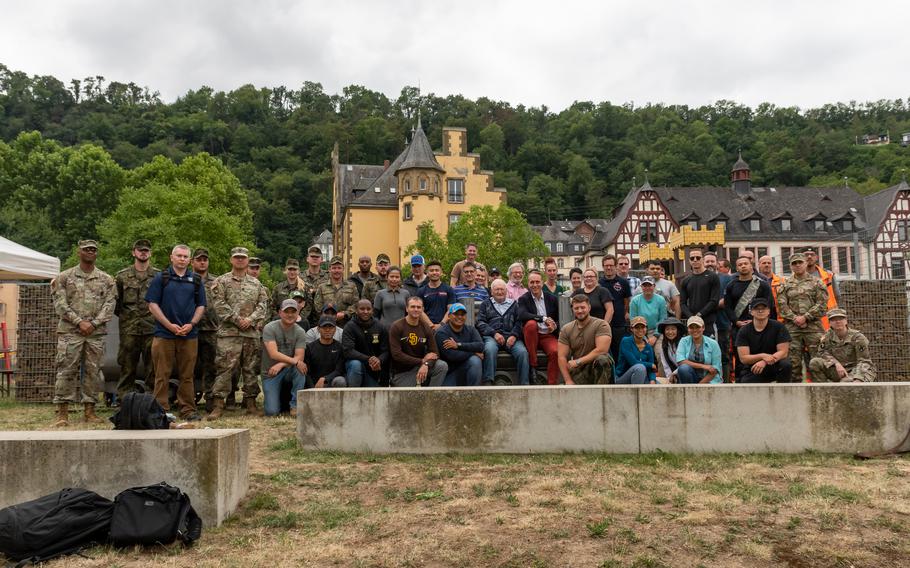 ---
---
---
---