Ukraine accuses Russia of launching missiles from Belarusian airspace
By
Amy Cheng, Julian Duplain, David L. Stern and Robyn Dixon
The Washington Post
June 25, 2022
---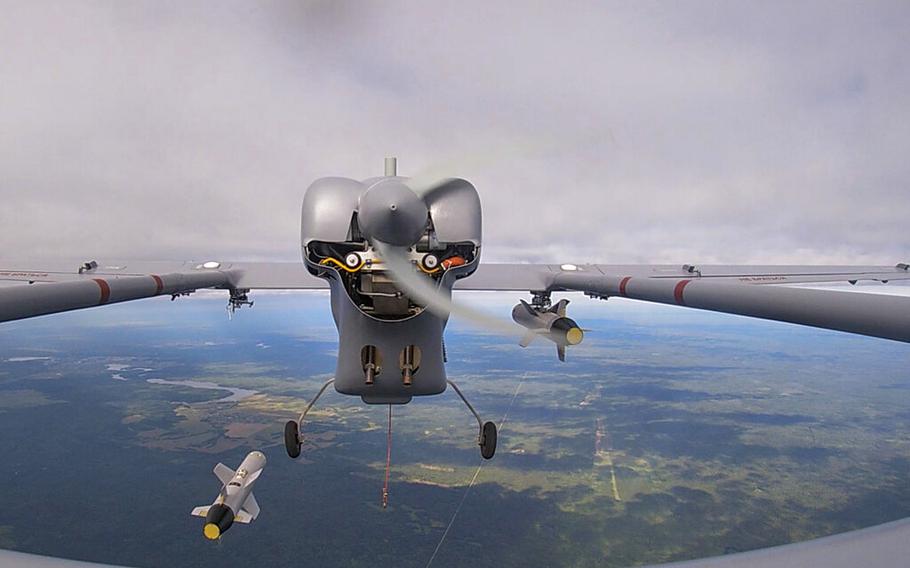 Russia fired nearly 50 missiles at areas in western and northern Ukraine early Saturday and launched airstrikes from Belarus for the first time, Ukrainian officials said, as Moscow's war entered a fifth month and President Biden headed to Germany for a summit with Group of Seven leaders.
Russian President Vladimir Putin and Belarusian President Alexander Lukashenko held their own meeting on Saturday at Putin's summer residence near St. Petersburg, where they discussed increasing weapons shipments to Belarus, including nuclear weapons.
The barrage of missiles struck a wide swath of territory as Ukrainian forces struggled to hold on to the eastern city of Lysychansk, Kyiv's last foothold against a Russian onslaught in the Luhansk region.
A military base near the western Ukrainian town of Yavoriv was hit by four Russian missiles fired from the Black Sea, regional governor Maksym Kozytskyy said. He said two other missiles were intercepted. Details of casualties were not immediately known, but at least 35 people were killed in a similar attack on Yavoriv in March. Missile strikes were also reported on Chernihiv and Zhytomyr in the north, with a total of 48 missiles launched, according to Ukrainian presidential adviser Mykhailo Podolyak.
Ukrainian military intelligence said 12 missiles were fired from Russian Tu-22M3 bombers flying over Belarus. It was the first time, the Ukrainians said, that Belarusian airspace has been used for such an attack. A Telegram channel monitoring Belarusian military activity, Belarusian Gayun, also said that missiles were launched from Belarusian territory.
Ukraine charged that the strikes from Belarusian airspace reflected a deliberate effort by the Kremlin to "draw Belarus into the war in Ukraine as a direct participant."
Belarus's Lukashenko is a long-standing and loyal ally of Putin, and allowed Russian troops and materiel to remain in his country after joint exercises in February. Those troops, tanks and other equipment were then used in Moscow's invasion of Ukraine.
Putin told Lukashenko that Russia would hand Iskander M missile systems to Belarus in coming months, adding the missile was capable of carrying conventional and nuclear warheads.
"As we agreed with you - you raised this matter - our decision has been made. Over the next few months we will send Belarus the Iskander-M tactical missile systems which can use both ballistic and cruise missiles, both in conventional and nuclear rendition," Putin said according to Interfax. He added that the two countries must ensure their security.
Lukashenko urged Putin to also equip Belarusian warplanes to carry nuclear warheads. The Belarusian leader raised the issue of Belarus hosting nuclear weapons late last year.
"I am not saying that you will move nuclear munitions there tomorrow," Lukashenko said, but added it was important to be ready in case of a NATO attack.
Ukraine claimed late last month that Russia had already deployed Iskander M missiles in Belarus.
In eastern Ukraine, Serhiy Haidai, the regional governor of Luhansk, announced the retreat of Ukrainian troops from Severodonetsk amid mounting casualties. The remaining soldiers will be relocated to new, fortified locations, he added. Ukraine's "professional, tactical retrograde" should not be taken as a sign of defeat, a senior U.S. official said, because Russia has made only incremental gains while a large number of its troops have been killed.
Five miles south of Severodonetsk, Ukrainian defenders have been digging trenches around Lysychansk this week to seal the city to everyone but military and humanitarian rescue missions. Russian forces have tried to enter Lysychansk from the south, Haidai said in a Telegram post Saturday, injuring at least two children in recent days.
As Russian troops threaten to seize control of the entire Luhansk region, Biden is set to confer with leaders of the Group of Seven advanced industrial nations at a summit scheduled to start Sunday in the Bavarian Alps.
When the G-7 leaders met in March, there was an unprecedented consensus on an unconditional need to back Ukraine, as well as optimism given Kyiv's unexpected successes on the battlefield. When the latest meeting starts in Germany on Sunday, however, the mood is likely to be more somber, with the fallout of a protracted war, including high prices as well as the food and energy crises caused by the war, causing fractures among Western nations.
Top Western diplomats are also working to resolve Russia's Black Sea blockade of Ukrainian grain exports, although a path forward remains elusive. On Friday, Secretary of State Antony Blinken told reporters at a news briefing that Russia is the sole impediment to Ukrainian grain shipments from ports such as Odessa. He dismissed Moscow's accusations that Ukraine is mining its waters and said it "makes no sense" for Russia to inspect Ukrainian ships leaving these ports.
"By what right or by what logic does Russia insist on inspecting Ukrainian sovereign ships leaving Ukrainian ports going to other countries?" Blinken said. He added that it is Kyiv that needs reassurances that Moscow would not use the opening of the ports to launch new attacks.
Romania, a member of NATO and the European Union, has taken on the task of processing some of neighboring Ukraine's harvest, with the majority shipped there by barge down the Danube River. The Black Sea port of Constanta, the largest in Romania, has processed nearly 1 million tons of grain since war broke out, according to the Associated Press. But operators there say that strong assistance from the rest of the E.U. is needed for the port to even maintain its current level of output.
"If we want to keep helping Ukrainian farmers, we need help to increase our handling capacities," Dan Dolghin, who heads cereal operations at Constanta's main Comvex terminal, told the AP. "No single operator can invest in infrastructure that will become redundant once the war ends."
___
The Washington Post's Missy Ryan contributed to this report from Berlin. The Post's Matt Viser and Ashley Parker contributed from Munich.
---
---
---
---