Zelensky visits Mykolaiv; Lysychansk 'under heavy enemy fire'
By
Amy Cheng, Adela Sulimann, Victoria Bisset, Marisa Iati
The Washington Post
June 18, 2022
---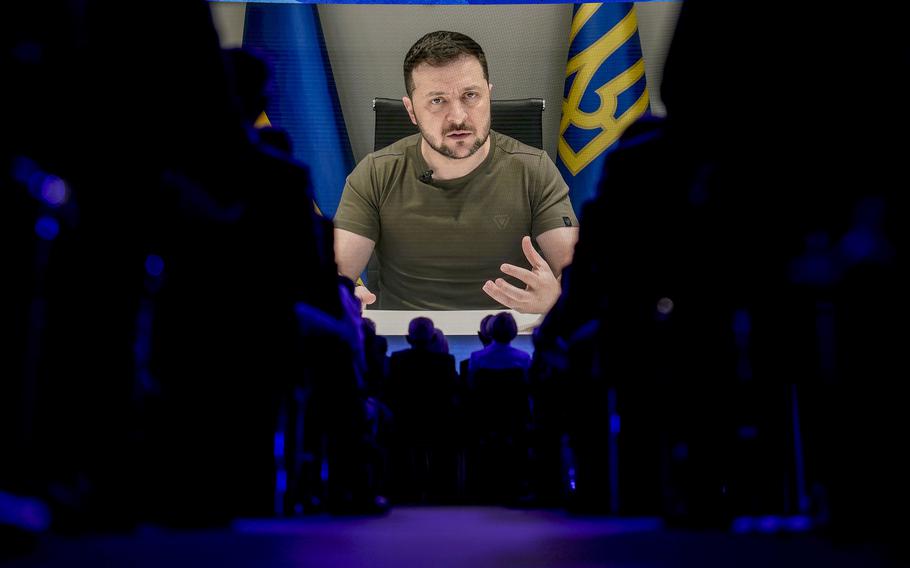 Ukrainian president Volodymyr Zelensky has visited the southern city of Mykolaiv in a rare trip to the front lines as Kyiv's forces there continue to hold off Russian troops trying to move west toward the port of Odessa. In images posted on his official Telegram page Saturday, Zelensky is seen handing medals to troops and touring a local hospital.
Much of the street fighting remains concentrated in Severodonetsk, with Russian airstrikes targeting areas near the eastern city's bridges. Neighboring Lysychansk is also "under heavy enemy fire," Luhansk regional governor Serhiy Haidai said Saturday. Britain's Defense Ministry warned that Russia could use the unilateral declaration of humanitarian corridors around Severodonetsk "as a mechanism to manipulate the battlespace."
Ukraine has notched some victories in the south, including a successful strike on a Russian tugboat with at least one U.S.-made Harpoon anti-ship missile, a U.S. defense official confirmed. Officials have said that the United States hopes the West's upcoming surge of military assistance to Ukraine - along with Russia's increasing isolation on the world stage - will drain President Vladimir Putin's will to fight. The danger of Russia swallowing its neighbor and trying to reverse other territorial losses is so high that Biden administration officials said they are willing to risk the global economic turmoil that could accompany a protracted war.
Meanwhile, British Prime Minister Boris Johnson vowed Saturday that his country will continue to support Ukraine, but he warned of the danger that "Ukraine fatigue" could affect the world's response to the war.
"The Russians are grinding forward inch by inch, and it is vital for us to show what we know to be true, which is that Ukraine can win and will win," he told reporters after returning from a visit to Kyiv, where he met with Zelensky.
"When Ukraine fatigue is setting in, it is very important to show that we are with them for the long haul and we are giving them the strategic resilience that they need."
Johnson also said he believes that Ukraine should be able to host next year's Eurovision Song Contest, after Ukrainian folk-rap group Kalush Orchestra won the 2022 competition.
The winning act's home country traditionally hosts the following year's competition, but the European Broadcasting Union (EBU), the contest's organizer, has said that talks are underway about holding the 2023 contest in Britain, this year's runner-up, due to security concerns. In a statement, the EBU said it has concluded "with deep regret" that current circumstances in Ukraine mean that "next year's Contest cannot be held in Ukraine," given the 12-month preparation time required for each event and the thousands of people who work on and attend the contest.
"I believe that Kyiv or any other safe Ukrainian city would be a fantastic place to have it," Johnson responded. "It is a year away. It is going to be fine by the time the Eurovision Song Contest comes round, and I hope the Ukrainians get it."
In a joint letter shared on social media, Ukraine's Culture Minister Oleksandr Tkachenko, Kalush Orchestra rapper Oleh Psiuk and two former Eurovision winners rejected the EBU's position and demanded further talks over the location of next year's competition.
"Hosting Eurovision - 2023 in Ukraine is a strong signal to the whole world that it supports Ukraine now," the letter read.
The British prime minister has faced political pressure from members of his own party after missing a scheduled conference in the north of England to travel to Ukraine, just days before a key local election.
Here's what else to know:
- Six Republican senators have challenged TikTok over the presence of "dangerous pro-war propaganda" from Russian state media, in a letter to the platform's chief executive.
- A senior Ukrainian official hinted that peace talks with Russia could start again in August after, Kyiv's officials hope, Ukraine wins several battlefield victories.
- Russia has sharply reduced the flow of natural gas to European countries such as Italy and France in a move viewed as retaliation for their support of Ukraine. The curtailment poses no immediate risks but could have consequences when energy demands rise in later in the year.
- A former U.S. soldier who disappeared in Ukraine is alive, according to his family members, who have seen a video of him taken after he was reportedly captured by Russian forces.
- In his nightly address to the nation, Zelensky hailed Friday's recommendation from the European Commission that Ukraine receive candidate status for its application to join the European Union.
---
---
---
---