Suspected ISIS supporter arrested in Rheinland-Pfalz, charged with planning violence against Germany
By
Stars and Stripes
June 14, 2022
---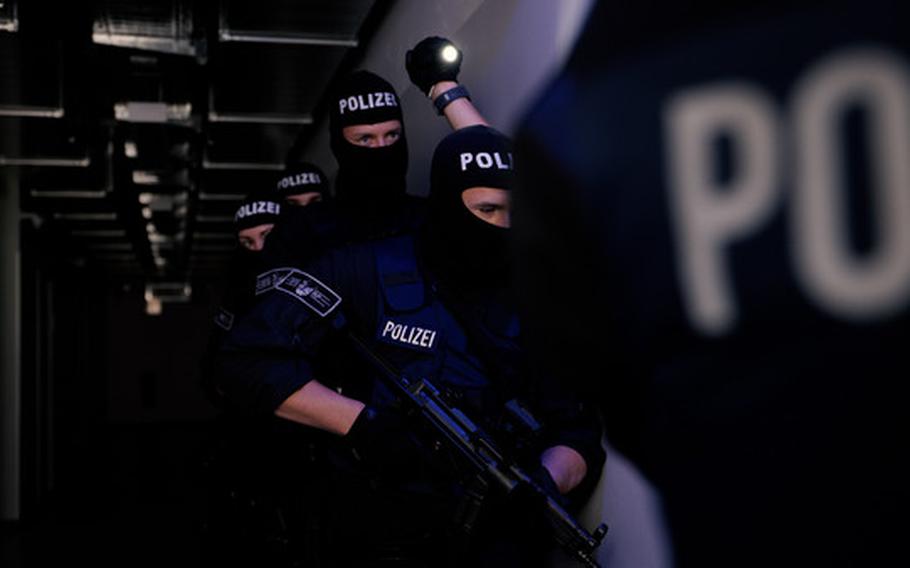 Authorities in the German state that hosts the largest U.S. military community abroad arrested a suspected Islamic State group supporter Monday who federal prosecutors say was "preparing for a serious act of violence."
In addition, three others were simultaneously taken into custody in various parts of Switzerland, and law enforcement officials in the two countries said the suspects were in contact with one another.
The man arrested in Germany, identified only as Aleem N., is accused of plotting violence against the German state and being a member of a foreign terrorist organization, the office of Germany's federal prosecutor wrote Tuesday.
Authorities said the suspect is a German citizen, but they did not give his city of residence. He has long been a supporter of jihadist and radical Islamic ideas, according to the German arrest warrant.
The arrest occurred in the small town of Roemerberg, an hour southeast of Kaiserslautern.
In September 2020, Aleem N. traveled from Germany to Turkey in an attempt to join ISIS combatants across the border in Syria, according to German law enforcement officials. 
Prosecutors allege that he wanted to join the terrorist organization, receive military training and then take part in combat operations or terrorist attacks. 
The attempt failed for unspecified reasons, and Aleem N. returned to Germany a month later, according to federal prosecutors.
They allege that Aleem N. continued to support ISIS from Germany by translating official propaganda texts, videos and audio messages from Arabic into German and distributing the material via the messenger service Telegram. 
"IS considers such activities to be equivalent to direct involvement in violent jihad," the federal prosecutors wrote in a statement.
In addition, Aleem N. is suspected to have participated in a telephone interview by IS officials in 2021 to confirm his "reliability" in preparation for an attempt to join IS forces once again in early 2022.
Simultaneously with the arrest of Aleem N., law enforcement agents in the Swiss cantons of Zurich, St. Gallon and Lucerne arrested three people and searched seven houses, the federal prosecutor's office in Bern said in a statement Tuesday.
The two adults arrested in Switzerland are a 20-year-old and a 26-year-old, both of whom are Swiss residents who had been suspected of criminal activity by authorities there.
The third suspect in custody is a 17-year-old with citizenship from Bosnia and Herzegovina, Zurich's senior juvenile prosecutor's office confirmed to Stars and Stripes on Tuesday.
Little additional information about the Swiss arrests has been released. The suspects were expected to move to pretrial detention on Tuesday, according to the prosecutor's office.
The investigation into the extent of the four suspects' coordination of actions supporting ISIS continues, German and Swiss law enforcement officials said in statements released early Tuesday.
"This cross-border operation was only possible thanks to the close and continuous cooperation of all authorities involved," the Swiss federal prosecutor's office statement said. "The ongoing investigations aim to clarify the allegations against the accused persons as well as their roles and intentions."
---
---
---
---