Biden confirms US is sending advanced rocket systems to Ukraine
By
Rachel Pannett, John Hudson
The Washington Post
June 1, 2022
---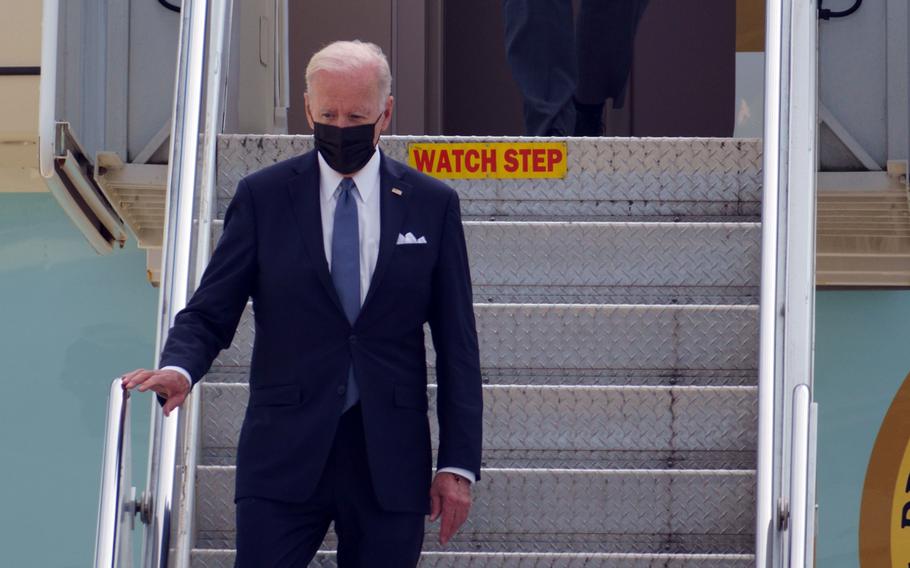 President Joe Biden on Tuesday confirmed that his administration is sending medium-range advanced rocket systems to Ukraine, responding to a top request from Ukrainian officials who say the weapons are necessary to curb the advance of Russian forces in the east.
Biden said the more advanced rocket systems and munitions, which can pinpoint an enemy target nearly 50 miles away, will enable Ukraine "to more precisely strike key targets on the battlefield."
His announcement triggered an angry response in Moscow on Wednesday. "We believe that the United States is deliberately and diligently 'pouring fuel on the fire,'" Kremlin spokesman Dmitry Peskov said in a news briefing. "Such deliveries do not contribute to . . . the Ukrainian leadership's willingness to resume peace talks."
Russia views any U.S. pledge to send advanced rocket systems and munitions to Ukraine "extremely negatively," Deputy Foreign Minister Sergei Ryabkov told the state-owned news outlet RIA Novosti. He called U.S. military support of Ukraine "unprecedented" and "dangerous."
However, Ukrainian officials have provided assurances that they would not use the weapons to strike targets inside Russia, a senior U.S. official said.
"America's goal is straightforward: We want to see a democratic, independent, sovereign and prosperous Ukraine with the means to deter and defend itself against further aggression," Biden said in an essay published Tuesday evening in the New York Times. "We do not seek a war between NATO and Russia," his essay added.
An announcement on advanced rocket systems had been expected this week, as officials weighed how to help Kyiv defend itself without further inflaming tensions with Russia.
The United States is sending the High Mobility Artillery Rocket System, or HIMARS, which will extend Ukraine's reach in the ongoing artillery war with Russia, a senior administration official said Tuesday. The United States will not provide the longest-range munitions for the system to Ukraine, said the official, who spoke on the condition of anonymity to discuss sensitive military matters. The advanced weapons are part of a new $700 million package of military equipment.
HIMARS is a type of Multiple Launch Rocket System. Typical rockets fired by these systems have a range of about 43 miles, according to U.S. Army data. Ukrainians currently use a Russian-made version of this system, the official said.
The Kremlin has warned that any country providing advanced weaponry to Ukraine will face harsh repercussions. On Friday, Russian Foreign Minister Sergei Lavrov said the West has "declared total war" against Russia.
Shortly after the essay published, Russia's Defense Ministry said its strategic missile forces were conducting exercises in Ivanovo, northeast of Moscow. According to state media reports, the strategic missile division is Moscow's main force responsible for "nuclear deterrence of possible aggression." The exercises reportedly involve mobile launchers for the Yars, a Russian intercontinental ballistic missile.
In his essay, Biden offered assurances to Russian President Vladimir Putin that the United States does not intend to provoke a wider conflict or the use of weapons of mass destruction.
"We are not encouraging or enabling Ukraine to strike beyond its borders. We do not want to prolong the war just to inflict pain on Russia," Biden wrote. He added that "we currently see no indication that Russia has intent to use nuclear weapons in Ukraine, though Russia's occasional rhetoric to rattle the nuclear saber is itself dangerous and extremely irresponsible."
Ukraine's forces are already using U.S.-delivered M777 howitzers, which have a range of about 18 miles. Other sophisticated weapons the United States has sent include thousands of Stinger and Javelin shoulder-fired missiles.
The addition of the HIMARS system to Ukraine's arsenal comes as Kyiv loses ground to Moscow in an artillery-dominated battle in Donbas, despite the flood of U.S. and Western arms.
Russian forces now control most of Severodonetsk, one of the last major Ukrainian-held areas of the eastern Luhansk region, local officials said Tuesday evening. Russia has pummeled the city for weeks, and capturing it would give the Kremlin a significant symbolic victory.
Ukrainian President Volodymyr Zelensky said in his nightly address Tuesday that Moscow's combat power is at "maximum" strength in the area.
- - -
The Washington Post's Mary Ilyushina and Annabelle Timsit contributed to this report.
---
---
---
---