Clutch caregiver: Army medic swoops in to treat airmen in vehicle crash outside her house in Germany
By
Stars and Stripes
May 27, 2022
---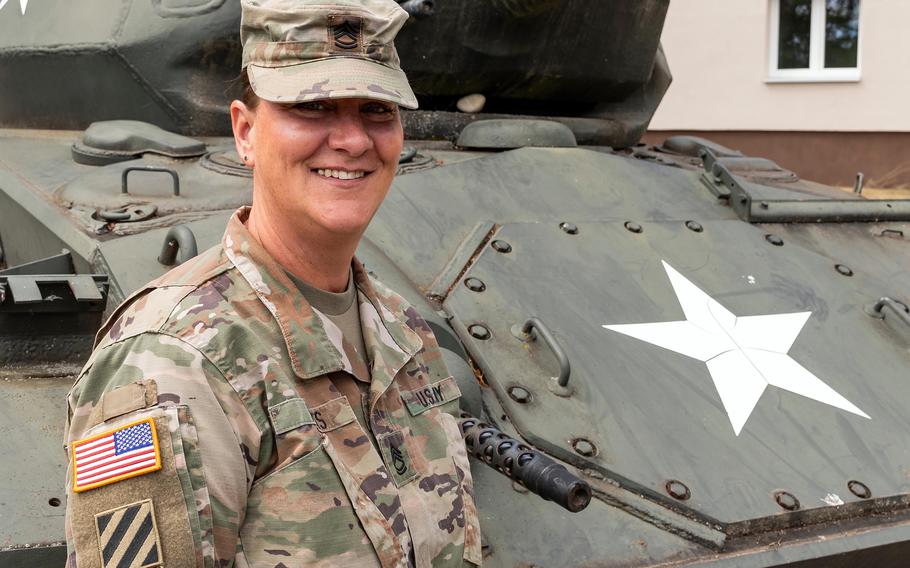 SEMBACH, Germany — Heroes often wear capes in movies, but in real life they can appear in something as simple as a pair of pajamas and slippers.
That's what Army Sgt. 1st Class Michelle Paris was wearing earlier this month when she heard a car crash outside her house in a village just north of Kaiserslautern. A Honda Accord with three airmen on their way to work at Ramstein Air Base had collided with a tool truck.
A trained combat medic, Paris attended to four accident victims, one of whom required urgent treatment for a bleeding chest wound.
"Had it not been for her immediately coming to our aid, there would not have been anyone else to help us," Staff Sgt. Devante Smith, the Honda driver, was quoted in an Army report as saying. "I am extremely grateful for her quick reaction and the medical aid she provided."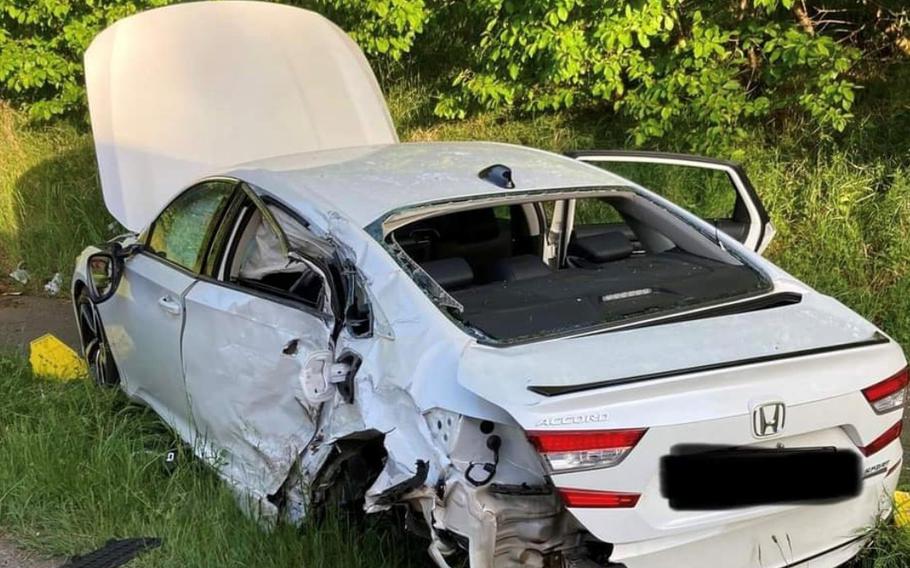 Paris has been working as an equal-opportunity adviser for the Army's Regional Health Command Europe for more than two years. The job doesn't entail direct medical work, but her emergency treatment skills remained sharp from years of experience, as she showed May 13.
The day started like any other, Paris recalled during a Thursday interview in her office at Sembach Kaserne. She had taken her dog outside to play shortly after 6 a.m. and was getting ready to take a shower when she heard the collision.
"Without thinking, I ran outside and saw a pretty mangled white car," Paris said. "Then I look down the street and see a tool truck that's upside down and it's smoking, and I can also see fluid coming onto the road."
Worried that the fluid might be gasoline, Paris rushed to the truck first and pried open a back door. She threw out the tools to make space for her to pull out a German man who was driving alone. He ended up needing no medical attention.
The Honda was upright but damaged in the back. Paris noticed that three airmen were inside. She helped the driver and front-seat passenger to get out. The former said he felt pain in his hip, while the latter appeared to be in shock.
Paris deemed that neither needed emergency medical help, so she went to the backseat passenger, who turned out to be a neighbor with whom she had chatted earlier that morning. She immediately noticed a growing bloodstain on his uniform.
"Because of my medical training from the military, I know about open chest wounds," Paris said. "His lungs could be punctured; they could be collapsed. If left untreated, that could lead to life-threatening injuries."
She ran back into her home and returned with scissors and plastic wrap. After cutting off her neighbor's clothes, she noticed a wound about the size of a hand and asked Smith to cut pieces from the medical tape in his car's first aid kit. She used the tape and the plastic wrap to dress the wound.
As Paris was taping down the last part of the dressing, first responders from the local German fire department arrived and took over. Her neighbor was flown by helicopter to a German hospital, while the other two airmen were taken by ambulance to a closer hospital and released the following day.
As of Friday, the Air Force had not responded to a request for verification of the airman's status.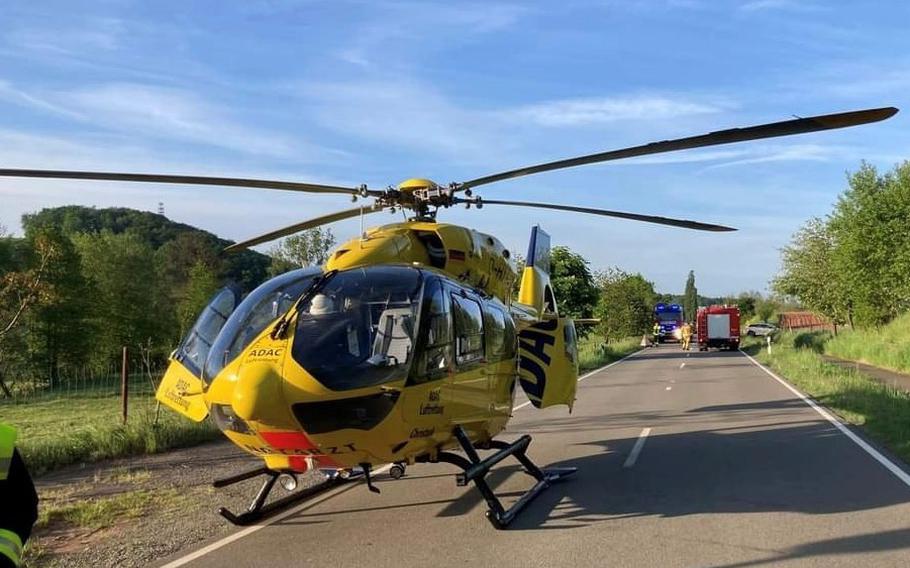 Before moving to Germany in 2019, Paris worked at Brooke Army Medical Center in San Antonio, Texas, the Defense Department's only Level 1 trauma center in the U.S.
Before that, she completed two tours in Iraq as a combat medic and dealt with more than a dozen mass casualties.
"I was just reacting," Paris said of her efforts earlier this month. "After 15 years in the military, I've been doing it so long now that it just becomes second nature. These are skills in the military that you do over and over and over again."
Paris' Sembach colleagues said they were in awe of her feat.
"For her, it's just something that happened. For the rest of us, it's a big deal," said Command Sgt. Maj. Kyle S. Brunell of Regional Health Command Europe, adding that Paris displayed the skills the Army tries to instill in all its medics.
"But knowing her the way I know her, it's not a surprise," Brunell added. "She's pretty damn awesome."
---
---
---
---