Ukrainian foreign minister asks that West provide more weapons
By
The Washington Post
May 26, 2022
---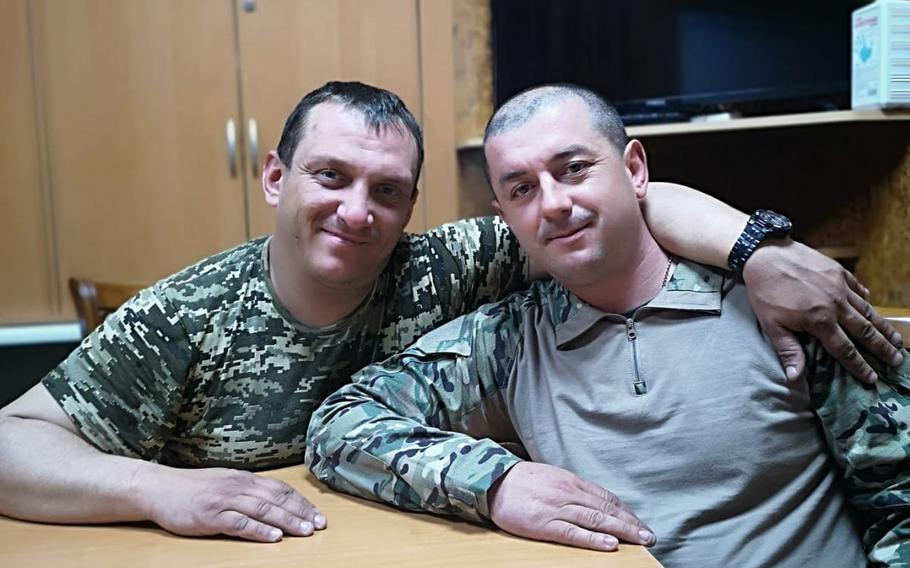 DAVOS, Switzerland - Dmytro Kuleba, Ukraine's minister of foreign affairs, was a prominent presence at this year's World Economic Forum in Davos. He spoke to The Washington Post's Lally Weymouth about the situation in Ukraine. Edited excerpts follow:
Q. How is the war going?
A. It's devastating. The situation in Donbas is extremely fragile, and Russia is throwing more and more heavy weapons and personnel on our positions. We fight at the edge of our physical and moral resources.
Q. By Donbas, you mean Luhansk and Donetsk?
A. In the Luhansk region, to be more specific. That is the main focus of the Russian offense, in the Luhansk region. We are fighting at the edge of our physical and moral strengths, but we hold our ground. The main advantage Russia has is heavy weapons. This is why it's so important to provide Ukraine with all of the necessary heavy weapons as soon as possible - multiple launch rocket systems being our top priority.
Q. I heard that they're more capable than the Soviet-made MLRS that the U.S. and NATO allies have been sending to you. Is that correct?
A. Yes, that's why some time ago we discussed with the United States that they need to provide us with American rocket launch systems. We heard the positive response, but the decision as far as we understand - the final decision - hasn't been made yet. For us, every day of continued discussions in Washington means more losses on the ground.
Q. Administration officials are reportedly saying on background that Ukraine will not give a commitment to not use these weapons in Russian territory.
A. This is not true.
Q. Isn't it true that that's what they're saying?
A. No, Ukraine did publicly and officially commit itself to not using these weapons against targets in the territory of the Russian Federation.
Q. What is holding the administration back?
A. I have no idea. I'm curious myself. If they have additional requests of us, we are ready to hear. We are in a position where we are ready to do almost anything to get these weapons.
Q. You're ready to do almost anything.
A. We are ready to do everything reasonable to get these weapons.
Q. So the Biden administration is holding up the weapons that you say you need, right?
A. The response from Washington is, "We are working on it." It would be incorrect for me to say that they are holding it up or not giving it to us. They just asked for more time to make a decision. But, as I said, every day for us means loss of life, loss of another kilometer of our territory and advance of Russia deeper into the territory of Ukraine.
Q. How does peace come to Ukraine? Some officials in your government have demanded the return of all of occupied Ukrainian territory, including the Donbas and Crimea. Do you agree with that position?
A. This is the position of the government of Ukraine and of Ukraine as a state. We all send the same message: That Ukraine wants to restore its territorial integrity. Eight years of diplomatic efforts since 2014, eight years of trying to build a compromise around the separation line and about concessions towards Russia failed - it didn't work. Putin killed Minsk. The Trilateral Contact Group doesn't exist anymore. No one is bound by any commitments or obligations. I'm certain that part of the issue of our territorial integrity will be resolved on the battleground and another part through the diplomatic process. But the balance between both parts is yet to be seen, so I won't go into details.
Q. The part resolved on the battleground will be extremely bloody, am I correct?
A. This is our country. We are fighting for it. What is the alternative?
Q. If you say you're going to free the Donbas and Crimea, it would be extremely bloody.
A. Everything that has happened since the 24th of February has been extremely bloody already.
Q. I'm talking about since 2014.
A. Yes, we stopped. . . . there was no big fighting on the ground, but where did it bring us to? To missiles hitting Kyiv, to mass atrocities committed by Russia, to the occupation of new Ukrainian territories. This is the failed - I can call a spade a spade. The idea that you have to help Putin save his face, or you have to convince Ukraine to make another concession, or you have to establish another cease-fire, and then look for solutions is something that we all tried from 2014 until 2022, and it all failed. I understand it's not easy to recognize that it is failure, that this policy was a failure. But it failed, and if someone tries to do it again, he will fail again. And there will be another war, another large-scale offensive by Russia. They will simply buy time to regroup, refresh, better prepare themselves and move forward again.
Q. The return of your territory would give Ukraine control of your ports in the Black Sea and the Sea of Azov, right?
A. Russia is blackmailing the entire world. It says, "We will unblock Ukrainian ports so that Ukraine can export its agriculture to global markets if sanctions against Russia are lifted." They blame sanctions against Russia for the unfolding global food crisis. This is a lie. This is a manipulation. The only reasons why the world is facing a global food crisis is the Russian aggression against Ukraine and the blockade Russia imposed. They don't care about African nations, Asian nations, not anyone. They don't care about children and adults dying in those countries because of hunger. They care about only one thing - to escape the suffocating pressure of sanctions. The world should take a very firm position that there should be no compromises with Russia on this count, no lifting sanctions against them.
Q. Is there any way you see to achieve peace?
A. Yes, to win the war physically. The West - Washington, Berlin, Paris - capitals should come to a simple conclusion. What they are trying to do is to help Ukraine win the war. Not to let Russia win the war, not to let Ukraine fail. Help Ukraine win the war. We are not in the gray zone, as was the case in the last years. We are in a black-and-white situation.
Q. You've been very critical of an "off-ramp" solution for Russian President Vladimir Putin, is that correct?
A. Yes, of course. Putin has been benefiting from this face-saving policy for years. Maybe after everything he did and the way he betrayed everyone. . . . Putin betrayed everyone who tried to help him in this world by launching an open, large-scale aggression against Ukraine. And even after that happened, the same people who feel betrayed, who support Ukraine with weapons, with sanctions - mostly in Europe - they still sit in their offices and say, "Yes, he definitely went too far, he betrayed us, we tried to be helpful, but we still have to find a way out for him." No. The way out for Putin is his defeat. I understand that it may sound too radical for some politicians in Europe and in the United States, but this is the logical solution of this war. It's either him or us and the West. There is nothing in between. We cannot have another separation line in Ukraine. We cannot have another temporary solution. This will only extend the sufferings and will help Putin to prepare for another large-scale offensive.
Q. If he survives the war, will Putin go after Moldova or another country?
A. Yes, I think Moldova is at risk.
Q. You said the other day that you are disappointed with NATO and you're happier with the E.U. You're disappointed that NATO hasn't done enough.
A. NATO did nothing as an alliance, as a union. Allies and members of the coalition of the willing consisting of allies did a lot. But NATO as an alliance, as an institution, was sidelined by allies themselves, I think. That's my impression. The E.U. impressed us very much, but we hope they will not slow down. What we are seeing is they are slowing down on sanctions.
Q. So the main thing you want is more sophisticated weapons?
A. Yes. Weapons, sanctions, and kill Russia exports.
---
---
---
---