The Bard is on base as airmen act out Shakespeare with a twist
By
Stars and Stripes
May 13, 2022
---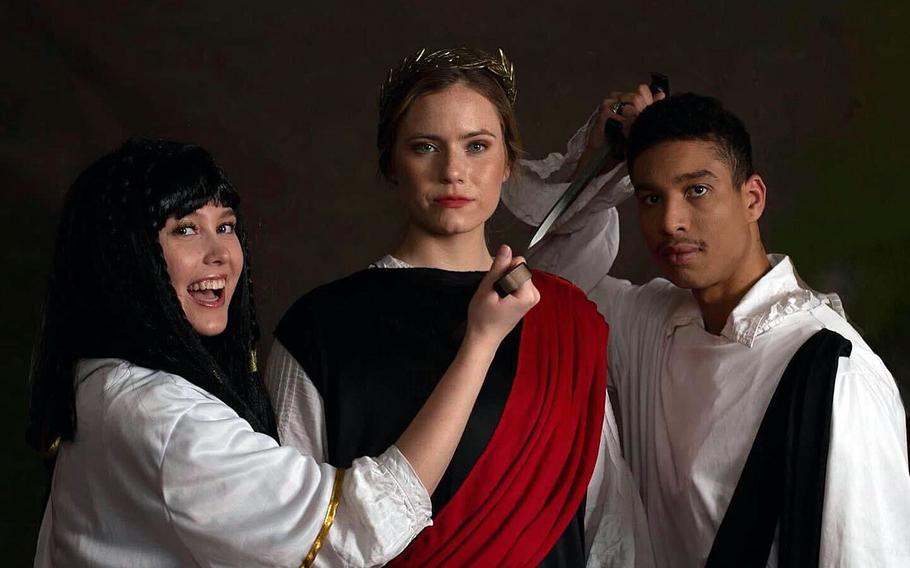 KAISERSLAUTERN, Germany — The Air Force is no stranger to speed records, so perhaps it was only a matter of time before three airmen took on the challenge of acting out 37 Shakespeare plays in 97 minutes.
It's the first time anyone can remember an all active-duty cast taking the stage in the home of the largest U.S. military community overseas. The stars of "The Complete Works of William Shakespeare (Abridged)," a light-hearted romp through the Bard's tragedies and comedies alike, say it's been a challenge juggling work and play, but well worth it.
Staff Sgt. Devyn Freeze and her colleagues, each with years of acting experience, said they wouldn't have it any other way, adding that this production has meant more to them than most because it's felt more personal.
The play is a loosely scripted comedy, in which the actors use their own names and worked with crew early on to develop jokes relevant to the local military community.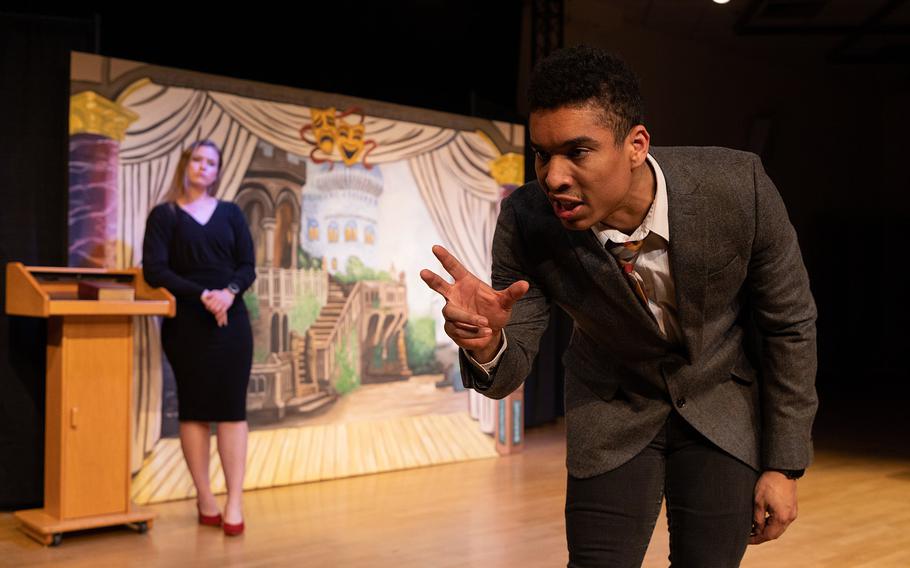 "It's been very fun doing that with everyone because it's been such a group effort," said Freeze, a C-130 loadmaster with the 37th Airlift Squadron. "It's like, 'Hey, is this funny? Are you sure? I don't think it's very funny. Let's take it out.'"
Senior Airman Sari Siebert said the actors' common experiences enhanced their rapport. Sometimes they'd bring food for each other, knowing not everyone has a chance to grab a bite during or after work.
"The biggest thing is just trusting that they got your back," said Siebert, who works at AFN and auditioned shortly after arriving in Germany in February. "And knowing that they have my back really helps me feel like I'm not just an Air Force member performing this, but these are my friends."
For Tech. Sgt. Marcus Anthony Allen-Hall, the play is the latest of several KMC Onstage performances since 2018. It's also one of the most unusual, since the built-in improvisation means no two performances are the same.
While scheduling can be challenging at times, the quick thinking, physical activity and teamwork needed for theater can complement active-duty service , said Hall, who works for the 1st Combat Communications Squadron.
"I've been hooked because it is a family," Hall said of his time with KMC Onstage. "Especially for us three, being away from family and friends back home in the States, this has become a family for us, and that really helps with anything that we do with our lives."
"The Complete Works of William Shakespeare (Abridged)" runs from Friday through Sunday and also May 20-22 at the Kaiserslautern Community Activity Center on Daenner Kaserne.
Tickets cost $12 for adults and $10 for students and senior citizens. They will be available at the door unless they sell out beforehand. To book in advance, call +49 (0) 631-411-6626. 
---
---
---
---