Macron proposes political union to bring Ukraine, UK close
---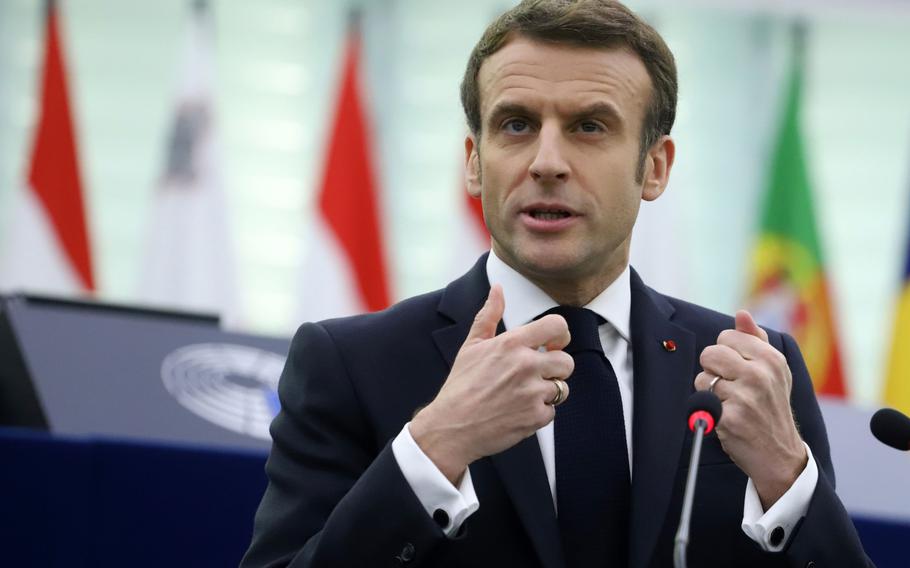 French President Emmanuel Macron offered a way for Ukraine to work more closely with the European Union, hours after Russia's Vladimir Putin compared his war with Kyiv to the fight against Nazi Germany.
"Ukraine, with its fight and courage, is already a member by heart of our Europe, our family, our union," Macron told members of the European parliament in Strasbourg on Monday.
Acknowledging it would take time for Ukraine to become a member of the bloc, Macron proposed creating a new, less formal grouping of like-minded countries. Such a political community would also be open to the U.K., allowing it to become more involved in European affairs post-Brexit.
The 44-year-old president, who was sworn in for a second term in Paris on Saturday, didn't offer any details about how such a group would operate or what its role would be.
Membership criteria would be geography and a shared set of values, and the new union's oversight could include political coordination, collective security and energy, Macron later told reporters.
"There was a real desire for us to restructure Europe on a whole series of policies," he said.
Macron's speech recalled the ambitious one he gave at the Sorbonne university in 2017, within weeks of taking office for the first time. Then, he called for a stronger more assertive Europe, with proposals for a euro-zone budget, a common military force, a unified European asylum office and a smaller European Commission.
The president struggled to get his voice heard until the Coronavirus pandemic and the crisis in Ukraine helped revive a sense of purpose in the European project. The bloc has raised debt jointly to offset the economic fallout of the pandemic. And faced with the continent's gravest security crisis since World War II, EU defense is now priority.
French officials insist the two speeches shouldn't be compared and said that while Sorbonne was about outlining a vision, Strasbourg is about addressing challenges.
"World peace can only be safeguarded through creative efforts that reflect the dangers that threaten us, today they are more necessary than they were in the past," Macron said on Monday.
It was a reference to former French foreign minister Robert Schuman who laid the foundations for the EU on May 9, 1950 with a pact between his country and Germany.
Throughout the address, Macron indirectly highlighted the differences between the symbolism of that event and the annual display of military might in Moscow, where this year Putin took tried to show his 10-week-old invasion of Ukraine is progressing even as his troops struggle to gain ground.
Macron said he backs the revision of EU treaties to make the union more efficient, even though almost half of member states oppose the idea.
In a further show of solidarity among western allies, Macron will head later in the day to Berlin for talks with Chancellor Olaf Scholz. They are expected to discuss sanctions against Russia as well as closer energy and defense cooperation among EU member states in response to Russia's invasion of Ukraine.
---
---
---
---