Russian ally Belarus launches military quick-response drills
By
 Andrew Jeong, Ellen Francis
The Washington Post
May 4, 2022
---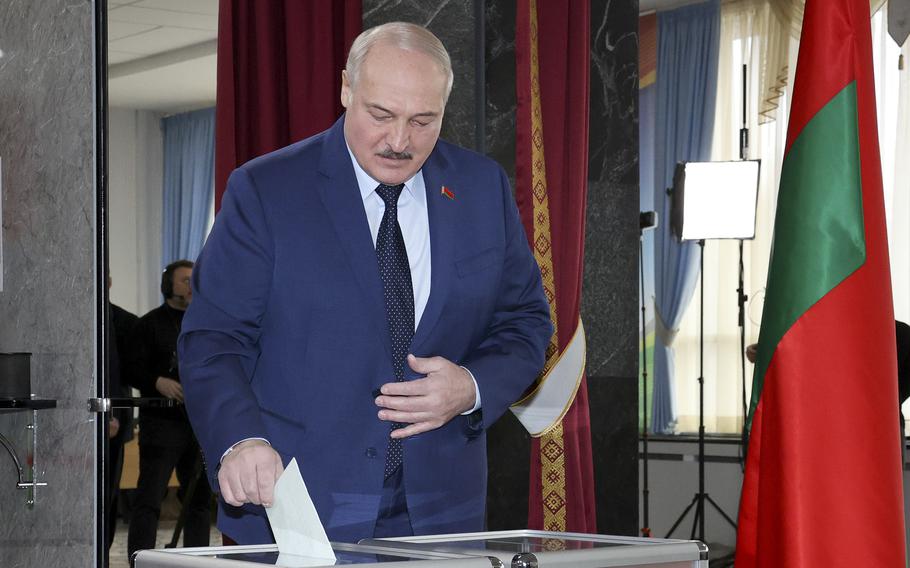 The Belarusian military has launched large-scale drills to test the readiness of its armed forces to respond quickly to "possible crises" and counter threats from the air and ground, the Defense Ministry of Ukraine's neighbor said early Wednesday.
Belarus said the training exercise would not "pose any threat to the European community as a whole or to neighboring countries in particular." The country borders Ukraine to its south, Poland to its west, and Lithuania and Latvia to its north.
Belarusian President Alexander Lukashenko, a close ally to Russian President Vladimir Putin, allowed Russian troops to assemble and conduct military drills in the Eastern European country in the run-up to Moscow's invasion of Ukraine on Feb. 24.
The Belarusian military held joint training exercises with Russian forces just before the war, although Lukashenko has denied U.S. and Ukrainian accusations that he could send troops to fight alongside Russia's forces and has said he has no plans for his military to directly join the war. Belarusians who oppose Lukashenko's 28-year rule have joined the battle against Russian troops in Ukraine.
After Wednesday's announcement on the drills, the spokesman for Ukraine's state border guard service, Andriy Demchenko, said the frontier with Belarus was "constantly being strengthened" but added: "It cannot be said that they are ready to attack."
"We do not rule out that the territory of Belarus could be used at some point . . . against Ukraine," he said. "So we are ready."
Kremlin spokesman Dmitry Peskov dismissed as "nonsense" on Wednesday speculation that Moscow was planning to declare a formal war with Ukraine by May 9 - the Victory Day holiday in Russia commemorating the defeat of Nazis at the end of World War II. The Kremlin has so far cast the war as a "special military operation." The May 9 occasion, also commemorated in Belarus, is marked with parades in Russia.
Lukashenko's backing of Russia in the conflict has made Belarus a target of additional sanctions from Western governments and prompted Washington to suspend U.S. Embassy operations in Minsk.
Before the war, the Belarusian leader was in a standoff with the European Union and faced sanctions over his crackdown on protests and political opponents, and the forced diversion of a Ryanair flight to arrest an opposition journalist.
- - -
The Washington Post's Amar Nadhir and Annabelle Chapman contributed to this report.
---
---
---
---