Hundreds based in Europe join ranks of those with college degrees
By
Stars and Stripes
May 1, 2022
---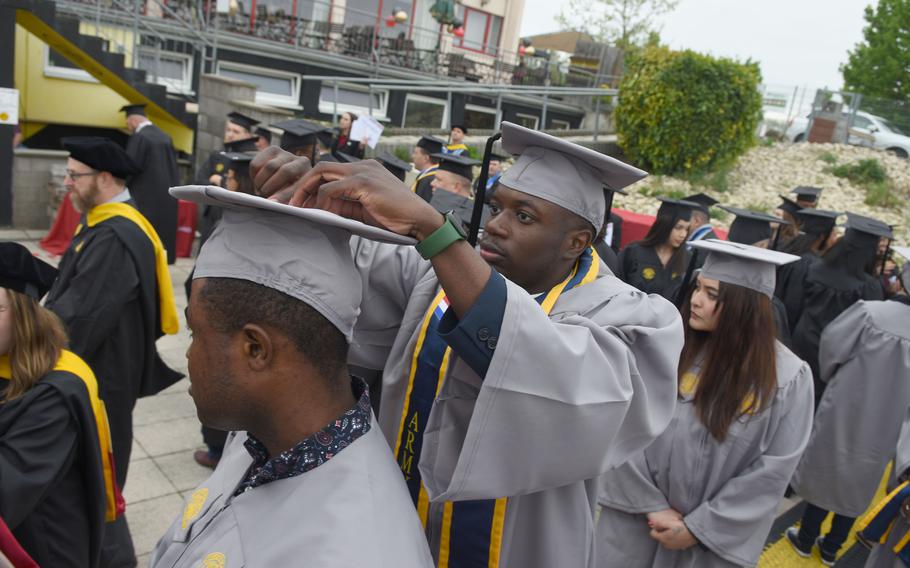 OBERSUELZEN, Germany - A few weeks before graduating on Saturday with a bachelor's degree in psychology and a 4.0 GPA, Maurice Alsing saw something new: the faces of his classmates and professor.
Face masks recently became optional in Alsing's first in-person class this spring at the University of Maryland Global Campus Europe since the start of the pandemic.
"That was amazing," he said of being able to sit in a classroom and engage, face-to-face, with other students and his instructor after two years of Zoom and online classes.
Alsing, 22, was one of 165 graduates to receive a diploma at UMGC Europe's 2022 commencement - an outdoor ceremony held at a soccer field in a village east of Kaiserslautern in German wine country.
Temperatures were chilly, prompting some attendees to wrap themselves in blankets, a gift to each graduate from UMGC Europe. And umbrellas came out during a brief shower that threatened to dampen the festivities.
But the rain held off as graduates and their families celebrated a journey marked by numerous challenges, such as balancing studies with deployments and demanding military operations and pivoting to virtual classes during the pandemic.
From supporting the evacuation and temporary housing of tens of thousands of Afghan refugees last fall at U.S. bases in Europe to the current war in Ukraine, "these are trying times," Army Col. Charles Fisher, 21st Theater Sustainment Command chief of staff, told graduates.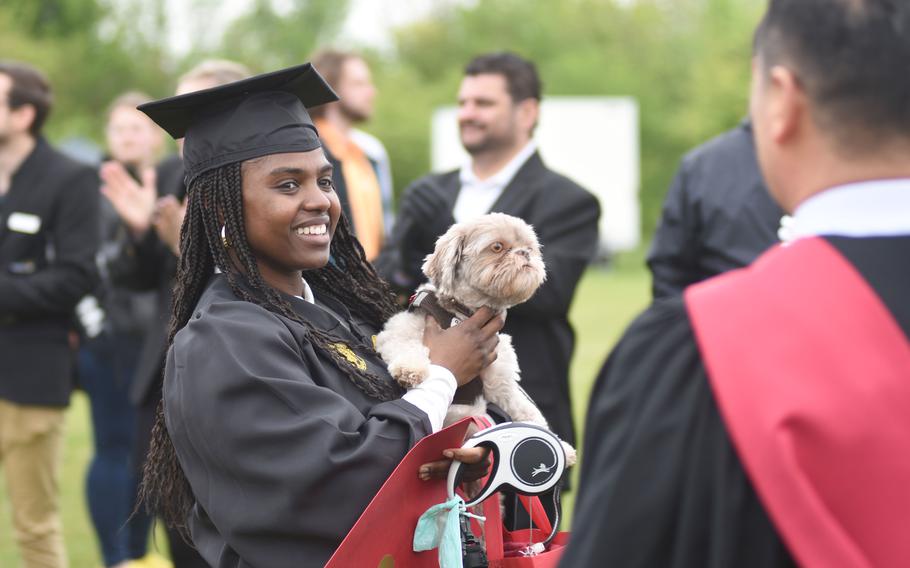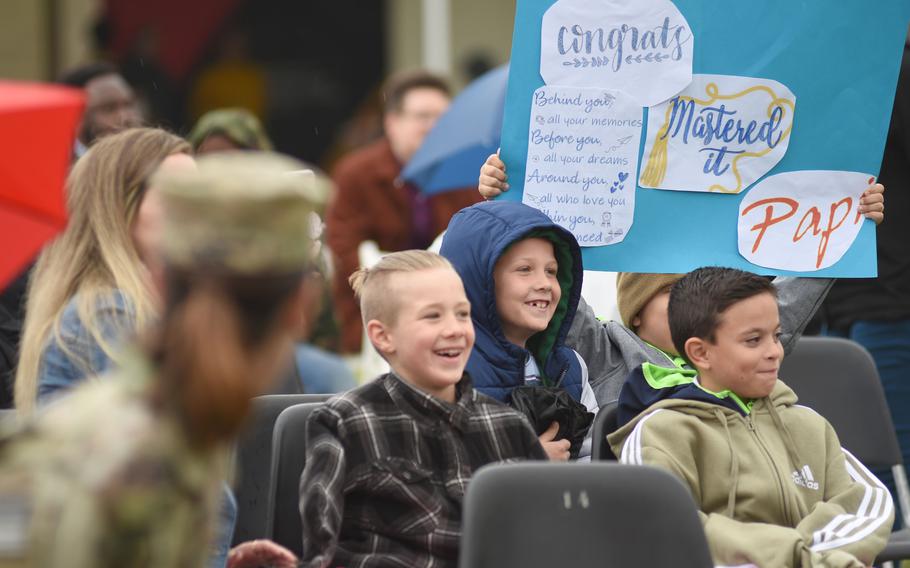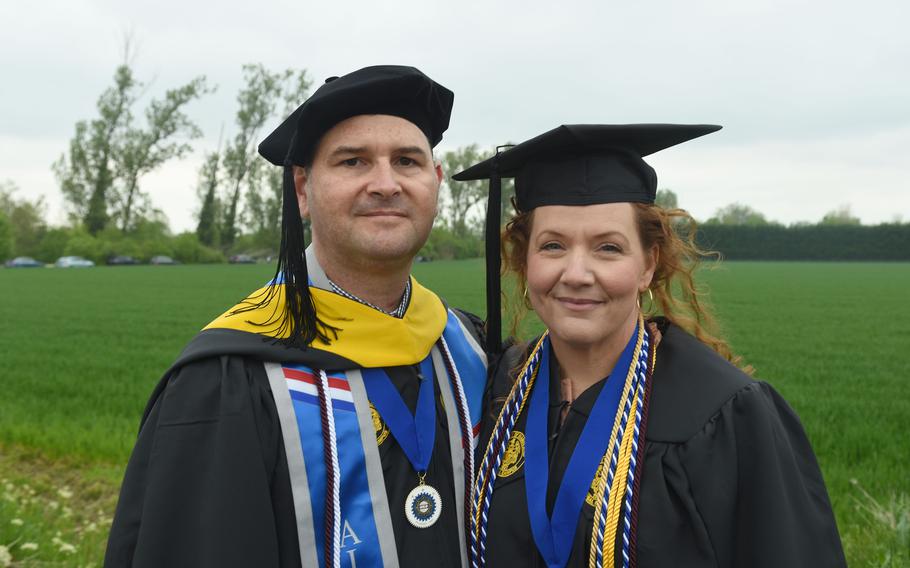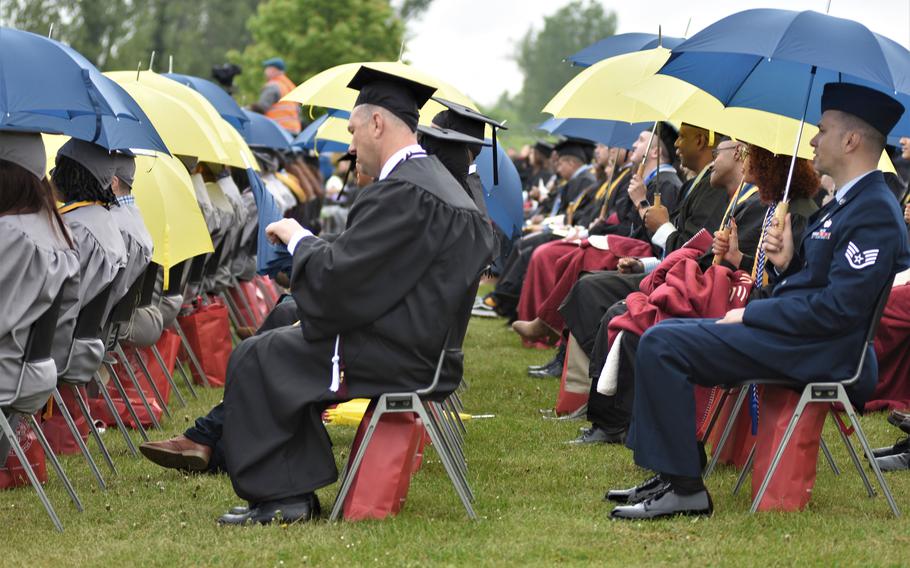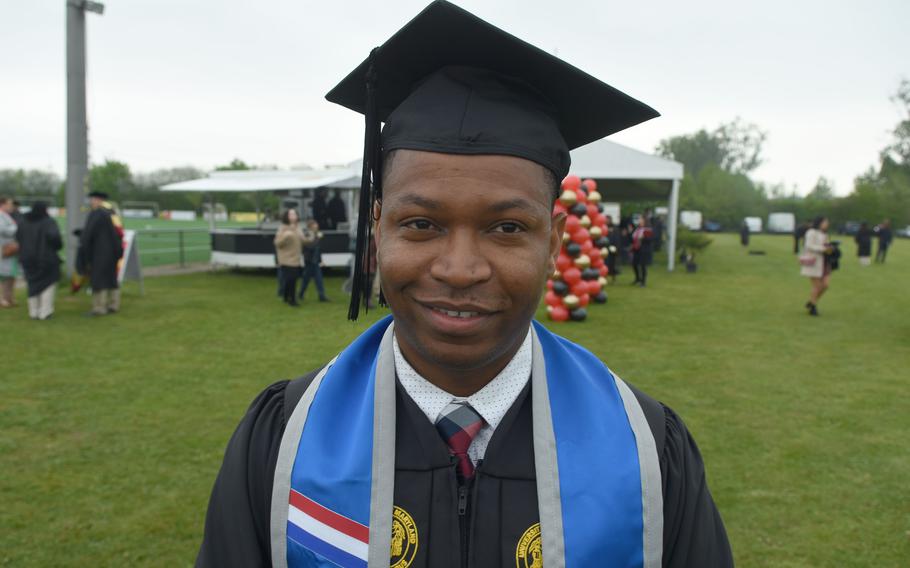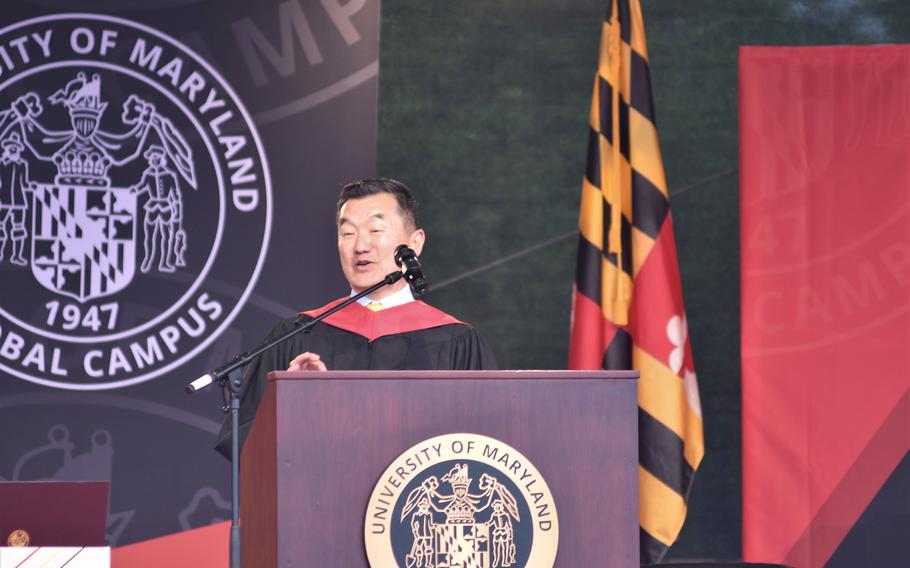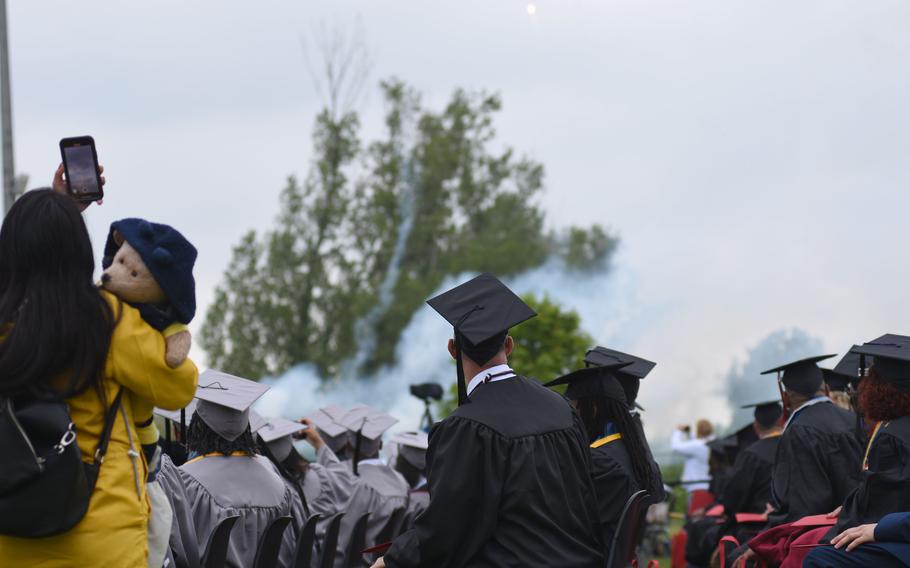 "I'm sure that your current timeline has not been easy, but you're here," he said. "How proud of yourself you must be - and you should be."
Of the 1,193 UMGC Europe graduates this year, 51% are active duty, representing the Air Force, Army, Marine Corps, Navy, and for the first time, the Space Force.
"We have one space cadet – just kidding – one Space Force graduate walking today," said Tony Cho, UMGC Europe vice president and director.
Sgt. Lyubomir Grigorov studied computer networks and cybersecurity, one of 609 in UMGC Europe's class of 2022 to earn a bachelor's degree. Of the remainder, 440 received an associate's and 144 a master's. Worldwide, nearly 14,000 graduates earned a UMGC degree this year.
For most of the last two years, UMGC Europe professors have taught students in their homes and barracks from their own homes, Cho said in an interview before the ceremony.
"We are back on site now; students are beginning to come back," he said.
But UMGC is trying something new: "tethered classes," where an instructor teaches a class in-person and students have the option of attending on site or joining via Zoom, Cho said.
That flexibility helped one student who deployed to eastern Europe recently. "He didn't want to drop his class," Cho said. "He was out in the woods, with night-vision goggles on, zooming into the class with his cell phone.
"We try to adapt and understand what they're going through," he said of UMGC's students.
This year's graduates took classes from 24 countries, including Afghanistan, Bahrain, Poland, Turkey, Japan, Qatar, Iraq, the United States, Japan, Korea, Djibouti, Saudi Arabia and Uganda.
Air Force Master Sgt. Donnel Carney, 35, started his bachelor's in business administration five years ago at Spangdahlem Air Base. A ground transportation specialist, he finished his studies while assigned to NATO headquarters in Belgium, persevering despite deploying four times in the interim.
"There was plenty of times when it seemed like, 'Oh, man, where's the end?'" he said before receiving his diploma. He told himself, "Keep pushing through, keep fighting."
Carney was typical of this year's bachelor's degree graduates, whose average age was 34. But he finished faster than the typical 6.8 years.
Others were outliers, such as Nicole Via. At 43, Via received a bachelor's in social science after becoming an empty nester with her husband, Air Force Master Sgt. Kenneth Via. She completed 120 credit hours in 2.5 years while maintaining a 4.0 GPA.
"I surprised myself, to be honest, that I really could do it," Via said. "The first six months or so I would read a paper 10 times before I turned it in because I was so nervous."
Her husband, 45, an intelligence analyst at Ramstein Air Base, earned his master's in cyber security technology.
"It's really good to see her do this because she didn't think she could," Kenneth Via said.
---
---
---
---