UN chief calls Ukraine war 'evil' and 'an absurdity' on Kyiv visit
By
The Washington Post
April 28, 2022
---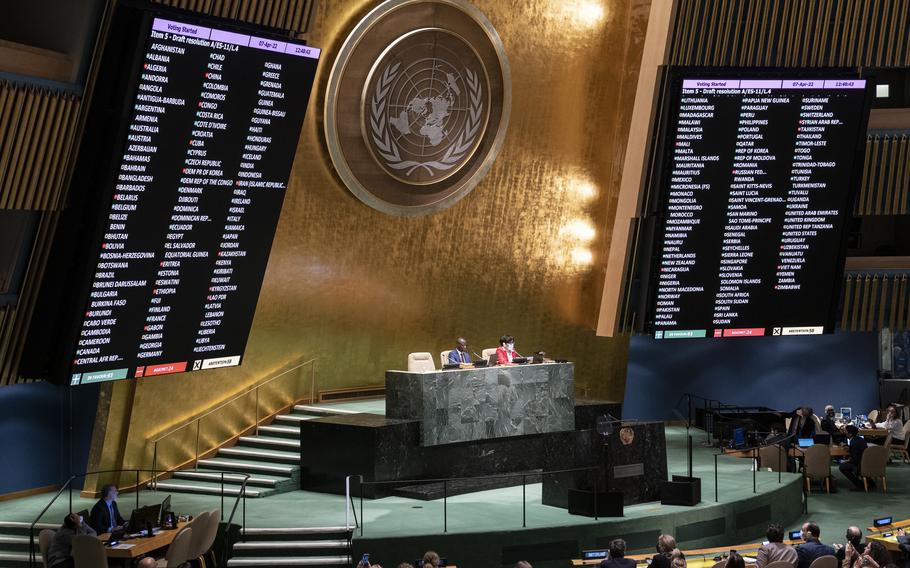 On a visit to Kyiv, United Nations Secretary General António Guterres visited several towns around the capital that had been destroyed in the war and met with Ukrainian President Volodymyr Zelensky, two days after a meeting with Russian President Vladimir Putin to urge for an immediate end to the conflict.
"When I see those destroyed buildings, I must say what I feel. I imagined my family in one of those houses that is now destroyed and black," said the secretary general in the town of Borodyanka, Ukraine. "I see my granddaughters running away in panic, part of the family eventually killed."
"The war is an absurdity in the 21st century," Guterres said. The war is evil."
In Borodyanka, a devastated town where many buildings have been reduced to rubble, Gutteres spoke to the area's governor, who told him that though residents were returning, some were still looking for bodies in houses.
Upon returning to Kyiv from his visit to destroyed suburbs, the secretary general was "visibly affected - personally affected by it," U.N. Spokesperson for Ukraine, Kris Janowski told U.N. News.
"Wherever there is a war, the highest price is paid by civilians," Guterres said in Irpin, Ukraine. He was speaking from a destroyed Irpinksy Lipki residential complex, and said everyone should remember that "innocent civilians were living in these buildings. They were paying the highest price for a war for which they have not contributed at all."
On Tuesday, Guterres met with Putin in Moscow to reiterate the United Nations' position on the situation in Ukraine. The aim of Guterres's visits was to discuss immediate steps to stop the fighting and ensure the safety of all, U.N. spokesperson Eri Kaneko said.
Putin agreed after the meeting "in principle" to allow U.N. and International Committee of the Red Cross involvement in civilian evacuation from the Azovstal plant in the besieged city of Mariupol.
Standing before a church in Bucha, a town where evidence of brutal atrocities and mass graves has raised global concern, Guterres spoke of the importance of a thorough investigation and accountability, appealing to Russia to cooperate with the International Criminal Court.
On Wednesday evening outside the U.N. headquarters in New York, International Criminal Court Prosecutor Karim Khan said it was time for action. "International law can't be a passive spectator. It can't be sedentary. It needs to move with alacrity and to protect and to insist on accountability."
Khan opened an investigation into possible war crimes and crimes against humanities on March 2.
Guterres has also tried to broker the evacuation of civilians from a steel plant in the city of Mariupol.
---
---
---
---