What is genocide, and is Russia carrying it out in Ukraine?
By
The Washington Post
April 17, 2022
---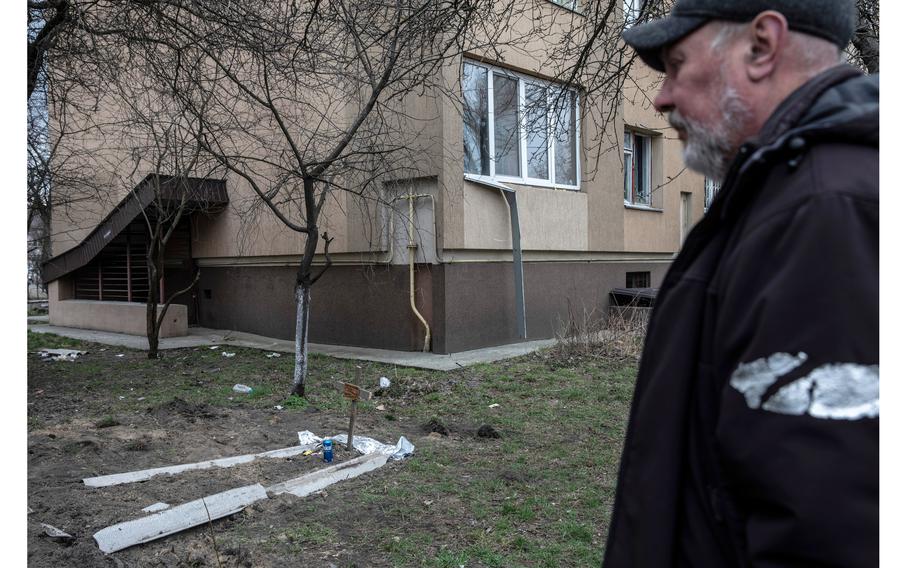 In the nearly eight decades since the term was first used, "genocide" has conjured images of gas chambers, killing fields in Rwanda and mass graves in Srebrenica.
Evidence of Russian atrocities in Ukrainian towns such as Bucha, combined with ominous rhetoric in Russian media suggesting "de-Ukrainization," has fueled discussion about whether Russia is carrying out genocide in Ukraine.
President Joe Biden used the term on Tuesday, saying, "It's become clearer and clearer that Putin is trying to wipe out the idea of being Ukrainian."
Ukrainian President Volodymyr Zelenskyy, who has described Russian atrocities as genocide, praised Biden's comments and called on the United States to send additional heavy weapons.
Other Western leaders have been more hesitant. "Genocide has a meaning," French President Emmanuel Macron told the France 2 television broadcaster on April 13. "The Ukrainian people and the Russian people are brethren people."
The Kremlin called Biden's accusation "unacceptable."
Experts are divided over the merits of declaring Russian atrocities in Ukraine genocide at this point.
Here's what to know about the term and its significance.
What is the definition of "genocide"?
The term "genocide" was coined by Polish lawyer Raphael Lemkin in 1944, in part to describe the Nazis' systematic murder of Jews during the Holocaust.
The Genocide Convention of 1948 codified genocide as an international crime, defining it as "acts committed with intent to destroy, in whole or in part, a national, ethnical, racial or religious group." Those acts include killings, inflicting serious harm on a group, making its living conditions impossible, preventing births within the group or forcibly transferring children to another group.
Gregory Stanton, founder of Genocide Watch, said people often ignore the "in part" element. Atrocities can count even if they don't aim to wipe out a whole population, he said. Genocide Watch has called Russia's campaign to destroy Ukrainian cities a genocide.
The roughly 150 parties to the convention — including Russia — are supposed to try to prevent and punish genocide. Under the convention, perpetrators charged with genocide are supposed to be tried in the country where the act occurred or in an international court.
Past genocides include the killing of more than 800,000 Tutsi and moderate Hutu in Rwanda by Hutu extremists in 1994, the massacre of Bosnian Muslim men and boys by Bosnian Serbs in Srebrenica in 1995 and the forced displacement of and attacks on ethnic groups by Sudanese forces and militias in Darfur in the early 2000s.
What legal and moral significance does the term carry?
Some use the term "to describe a situation that is horrific, that feels unimaginable," said Rebecca Hamilton, an international law professor at American University and a former lawyer in the ICC's prosecutor's office. "Unfortunately, there is a real disconnect between the legal use of the term genocide and the way that genocide is understood in popular discourse."
Genocide is often viewed as the ultimate crime, even though it holds the same weight under international law as war crimes and crimes against humanity, experts said.
For the public, the label carries immense moral significance. Politicians deploy it to rally global attention and for "naming and shaming" perpetrators of atrocities with the hope that they will change their behavior, said James Waller, professor of Holocaust and genocide studies at Keene State College, in New Hampshire.
People often expect that officials' use of the term will trigger international intervention, Hamilton said. Under the Genocide Convention, Hamilton said, countries commit "to prevent and to punish" genocide — but "there isn't a lot of clarity and precedent for what prevention looks like."
"Certainly it is not the case that once you have a genocide determination, you have a military intervention," Hamilton said.
The United States did not intervene militarily to stop the genocides in Rwanda and Darfur, for example.
Stanton said there are other ways countries can exercise their duty to prevent genocide. They could provide weapons to the group under attack, he said, and the U.N. General Assembly has the power under certain circumstances to send peacekeepers.
Who determines whether a genocide is occurring, and how?
To demonstrate that genocide has occurred, lawyers must show the existence of a group protected under the Genocide Convention, genocidal acts and an intent to destroy at least part of the group in question.
The first two elements are clearly present in Ukraine, Stanton said, citing the weeks-long Russian siege of Mariupol and the forcible deportation of children to Russia as examples of acts of genocide.
Intent is much harder to prove. One way to do so is to obtain evidence of orders up the chain of command, Hamilton said, but "in most cases, you don't have a smoking gun."
Genocidal statements in Kremlin-affiliated media — as well as some recent accounts from Ukrainian rape survivors — could help bolster a prosecutor's case, though.
Putin has rejected the idea of Ukrainian nationhood. And in recent weeks, Russian officials and media personalities suggested that Russia should "reeducate" Ukrainians and falsely described all Ukrainians as Nazis who must be fought.
Another way to demonstrate intent is to show a clear pattern of actions that would result inevitably in a group's destruction, such as the siege and shelling of whole cities, Stanton said.
"We've got a very clear, systematic pattern of actions that the foreseeable consequences of are to destroy part of a national group, namely the Ukrainian group," he said.
The United States has made eight formal declarations of genocide since World War II, including the recognition last year of the Armenian genocide more than a century ago. The State Department has traditionally made these determinations.
Most recently, the Biden administration announced in March that the Myanmar military had committed genocide against the Rohingya minority group.
That determination came five years after the height of the mass displacement of Rohingya. Secretary of State Antony Blinken said it was based on the State Department's "rigorous fact-finding" as well as "detailed documentation" from independent sources including rights groups and researchers.
The United States is typically cautious about these decisions. Before Biden's comments, White House national security adviser Jake Sullivan said U.S. officials had "not yet seen a level of systematic deprivation of life of the Ukrainian people to rise to the level of genocide."
International courts provide an avenue for accountability. The first genocide conviction at the international level came in 1998, when a former Rwandan mayor was found guilty of genocide and crimes against humanity at a special tribunal.
In 2002, the International Criminal Court was established to prosecute individuals for grievous crimes including genocide. ICC prosecutor Karim Khan, who has opened an investigation into potential war crimes and crimes against humanity in Ukraine, traveled to the country this month to help collect evidence.
The court has only charged one person with genocide: former Sudanese president Omar Hassan al-Bashir. Sudan and other countries have not handed him over to face trial.
The International Court of Justice, meanwhile, is responsible for adjudicating disputes between states. "That's another place where we're going to see genocide discussed," Hamilton said.
What could be the implications of calling Russian atrocities genocide?
Advocates of using the term in the context of Ukraine say it will keep global attention on atrocities there and could result in more aid to Ukrainians and sanctions against Russians.
It could also place those documenting atrocities on alert for signs of genocidal intent by Russian forces.
But Stanton said he hopes the label will trigger international action that will end the misery well before then. "Genocide" is more likely than other descriptors to catalyze a sense of global urgency, he said.
"If you wait till a genocide is over and you have cases in courts, it's too late, because the genocide is already accomplished," he said.
Macron, however, voiced concerns that an "escalation of words" could hinder diplomatic efforts to end the fighting. The French president has continued to speak with Putin since the invasion.
Some experts worry about applying the term prematurely.
"There's a danger to the word being overused or misused or misapplied," Waller said. "If it comes to mean everything, then it doesn't really mean anything."
"The danger is that it takes away the recognition of the real war crimes and crimes against humanity that are being committed," he added. "The people who are suffering those crimes, they don't really care what we're calling it — they're just in the midst of suffering."
The Washington Post's Maite Fernández Simon contributed to this report.
---
---
---
---