Pentagon confirms Ukrainian missile strike led to sinking of Russian flagship in the Black Sea
By
Stars and Stripes
April 15, 2022
---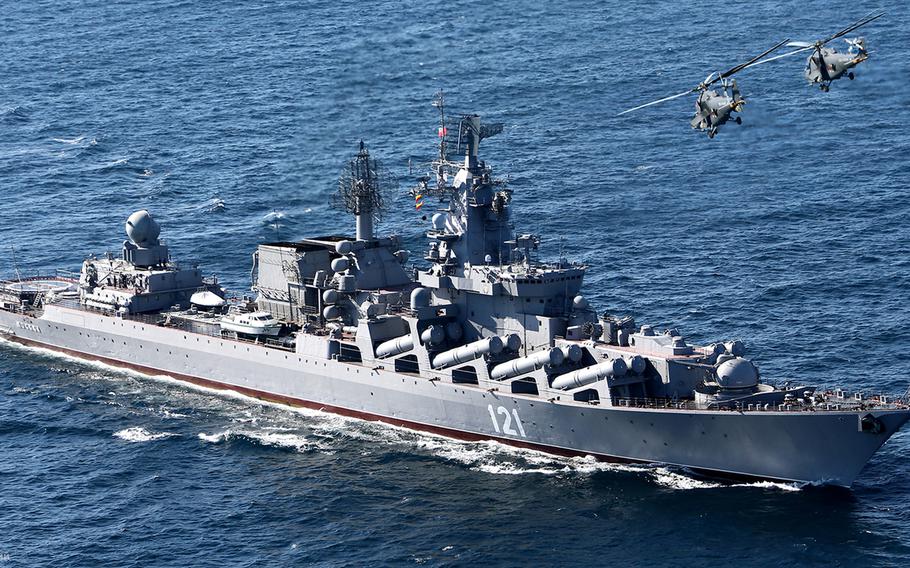 WASHINGTON – A Ukrainian missile strike caused the explosions and fire aboard a Russian flagship that later sunk as it was being towed to port for repairs, a senior U.S. defense official confirmed to multiple news outlets on Friday.
The Russian missile cruiser called the Moskva was in the Black Sea south of the Ukrainian port city of Odessa on Wednesday when Ukraine forces launched two of its Neptune missiles at the ship, Ukraine officials have said.
The Russian Defense Ministry later claimed a fire had broken out on the ship, causing extensive damage and the 500-person crew had evacuated onto other Russia vessels in the area, according to Russia's state-run TASS news agency, which claimed the fire's cause was under investigation.
The ministry on Thursday said the Moskva, which was also used as the command vessel of Russia's Black Sea Fleet, had sunk while being towed toward the Russia-controlled Crimean Peninsula for repairs, according to TASS.
While Russia has not said whether any sailors were injured or killed in the incident, the U.S. official told reporters that the missile strikes are believed to have caused casualties, according to Radio Free Europe.
The Moskva, which was built in 1982 and completed upgrades in 2020, was expected to remain in service for another 18 years, TASS reported.
Russian Sen. Yekaterina Altabayeva said Russia would find a way to "preserve the memory" of the Moskva in Sevastopol, Crimea, which Russia annexed from Ukraine during its last invasion in 2014, the state-run news outlet said.
The Pentagon confirmation comes after Russia launched a retaliatory strike on a military factory that produced missiles near the Ukraine capital of Kyiv, Russian Defense Ministry spokesman Major-General Igor Konashenkov said Friday, according to TASS.
"As a result of the strike on the Zhulyany-based Vizar machine-building factory, the workshops of the production and repair of long- and medium-range surface-to-air missile systems and also anti-ship missiles were destroyed," he said.
The Konashenkov also threatened Russian missile strikes on Kyiv will intensify "in response to any terror-related attacks or subversive acts by the Kyiv nationalist regime on Russian territory."
The Russian strike came after Ukraine's capital had seen a lull in assaults since the Kremlin announced about two weeks ago that it would focus its efforts on the Donbas region in eastern Ukraine.
Russian ground troops had left Kyiv and nearby Chernihiv for Belarus by April 6, according to senior U.S. defense officials. The Pentagon believes those forces are being resupplied and reinforced as Russia plots a renewed assault in the Donbas region.
---
---
---
---