Blood donations needed for military in Europe and worldwide
By
Stars and Stripes
April 15, 2022
---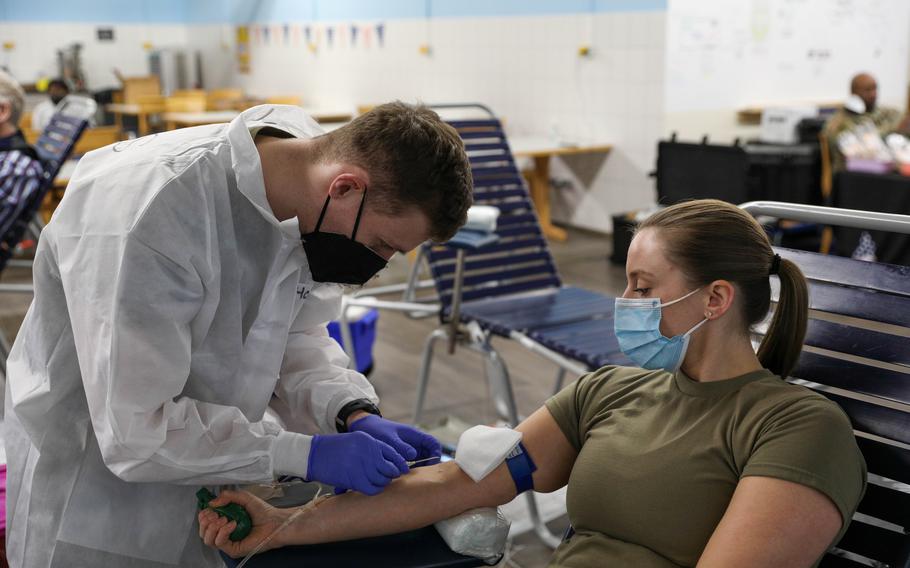 KAISERSLAUTERN, Germany — A ramped up operations tempo in Europe amid the war in Ukraine has meant that fewer service members are lining up to donate blood, exacerbating a preexisting shortage of U.S. stockpiles.
Temporary duty assignments and training obligations have forced more service members to miss planned donations, officials with the Armed Services Blood Program-Europe said Friday.
"We've definitely seen that current events in the world have been keeping some folks from keeping their appointments to donate blood," said Stacy Sanning, a program spokeswoman.
Slots are still available for a blood drive scheduled next week at the Army's installation in Baumholder, Germany, Sanning said Friday. Usually, appointments would be full or nearly full this close to the event, she said.
Tuesday's blood drive at the Hall of Champions Gym on Baumholder is almost full, she said, but for Wednesday's event, only 33 of 68 appointments had been taken as of Friday afternoon.
The next blood drive after Baumholder is on April 25 and April 26 at Ramstein Air Base, which has slots available.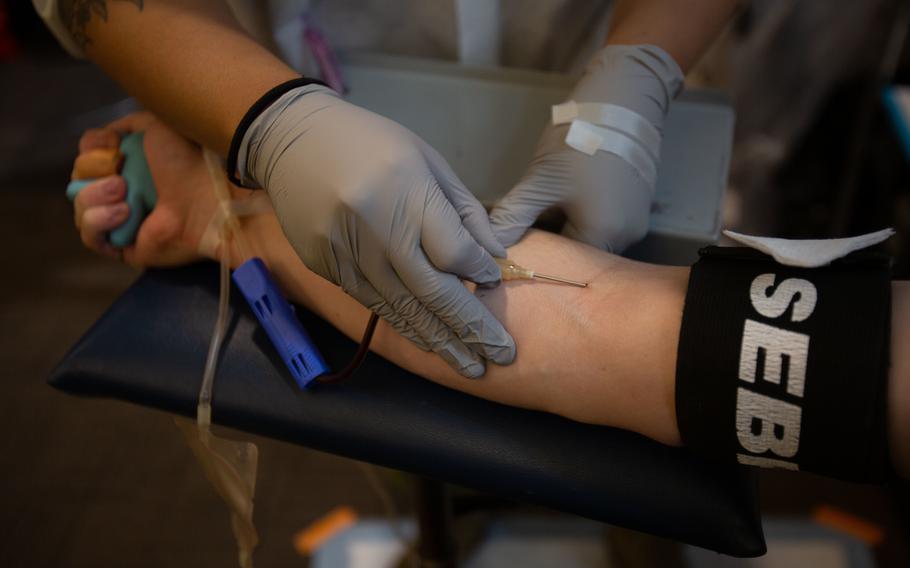 The program aims to collect at least 400 units of blood per month from an average of one to three weekly blood drives in Europe. Every donor gives one unit.
After a drop at the beginning of the pandemic, the program mostly has been hitting that goal, with support from regular donors, units that sign up to sponsor blood drives and by scheduling additional drives when needed, Sanning said.
The program switched from walk-in to an appointment-only format during the pandemic. Volunteers may walk in and donate if there are open appointments on the day of a drive.
A civilian blood shortage in the U.S., caused by blood drive cancellations and surging hospital demand during the pandemic, underscores the need for blood in Europe, officials said.
Blood collected stateside augments the supply for the U.S. military community in Europe and service members deployed to Africa.
"Right now, there is an urgent need for blood in the United States and that includes the Department of Defense's overall supply," said Lt. Col. Veronica Ortiz, director of joint blood operations at Landstuhl Regional Medical Center.
Blood has a shelf life of 42 days when not frozen and volunteers may donate only every 56 days.
The Armed Services Blood Program has more than 20 donor centers, including one in Europe at Landstuhl and others in the continental United States, Guam and Japan.
Donations stay within the military. They're provided to service members, veterans and families, as well as for humanitarian and military operations worldwide.
Next month, blood drives are scheduled at Vogelweh, Rhine Ordnance Barracks, Wiesbaden and Ramstein in Germany.
Once a month, the Landstuhl-based team collects blood at bases elsewhere in Europe. Blood drives were held at U.S. Army Garrison Benelux-Brunssum in the Netherlands last month and at Aviano Air Base in Italy in early April.
To sign up to donate, go to https://www.militarydonor.com or email usarmy.donateblood-europe@mail.mil.
The donation process usually takes 45 minutes to an hour. Sanning recommends donors eat a good meal and hydrate beforehand. Salty foods can help the body retain fluids and water can plump up the veins, she said.
Twitter: @stripesktown
---
---
---
---