April 'thundersnow' causes cancellations, downed trees and traffic problems in the Kaiserslautern military community
By
Stars and Stripes
April 9, 2022
---
KAISERSLAUTERN, Germany – U.S. service members and their families in the Kaiserslautern military community were digging out Saturday morning from an April storm that dumped as much as 6.5 inches of heavy, wet snow in some villages overnight, knocking out power, downing trees, snarling roads and temporarily suspending flight operations on Ramstein Air Base.
Snow started accumulating Friday evening and by 10 p.m., roads were slick with poor visibility due to blizzard-like conditions that included thunder and lightning, a rare weather phenomenon known as "thundersnow."
The storm left a trail of fallen trees and limbs on and off base.
The storm cut off power to more than 33 communities in the area. Power was still out in some places as of Saturday afternoon, local police said.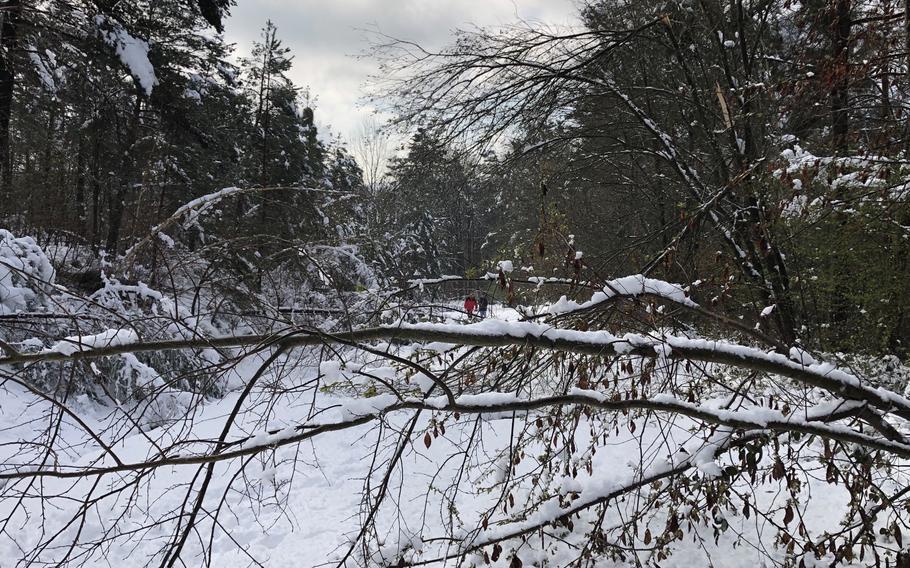 Air Force civil engineers were still assessing damage on Ramstein Air Base on Saturday morning after being out all night clearing snow from roads and the flightline, said Kelly Sanders, a spokeswoman for the 86th Airlift Wing. Crews had identified at least eight downed trees, some of which blocked roads or damaged fencing, she said.
Flight line operations on Ramstein were suspended overnight due to the storm, she said. Two incoming aircraft were diverted for landing to Spangdahlem Air Base in southwestern Germany and Frankfurt.
A fallen tree blocked the gate into the Vogelweh housing area Friday night but was removed by Saturday, Sanders said.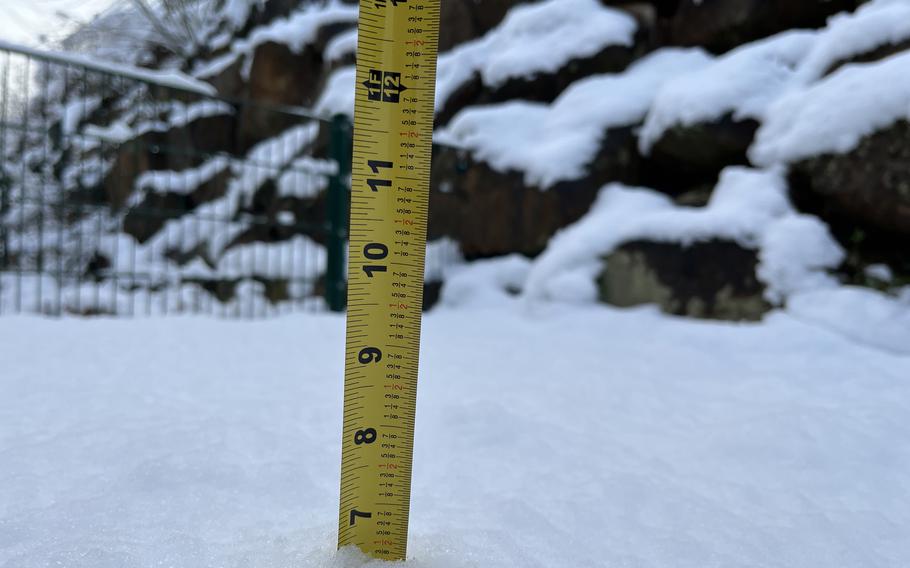 The gate into Kapaun Air Station was blocked Saturday morning due to weather and debris, the 569th U.S. Forces Police Squadron said on its Facebook page.
U.S. Army Garrison Rheinland-Pfalz said roads in the Baumholder area were slick and icy Saturday morning and advised soldiers and their families to use caution when driving, especially on secondary roads and rural areas. Road conditions on Kaiserslautern area bases were "red" overnight, signaling drivers to avoid going out if possible and to use "extreme caution" if driving. But by Saturday afternoon, local roads were largely in a "green" status after the much of the snow had been plowed or melted in temperatures nearing 50 degrees.
In Kaiserslautern, city buses largely stopped running Friday evening, leaving diners and bargoers stranded in the city. By 11 p.m., many trains were canceled or delayed throughout the region, the service announced on Twitter.
Traffic on the autobahn A6 in and around Kaiserslautern was at a standstill Saturday morning due to jackknifed trucks, and a fallen tree blocked a section of autobahn A63 near Sembach. Throughout the region, more than 50 accidents and more than 80 downed trees were recorded. Two people were slightly injured.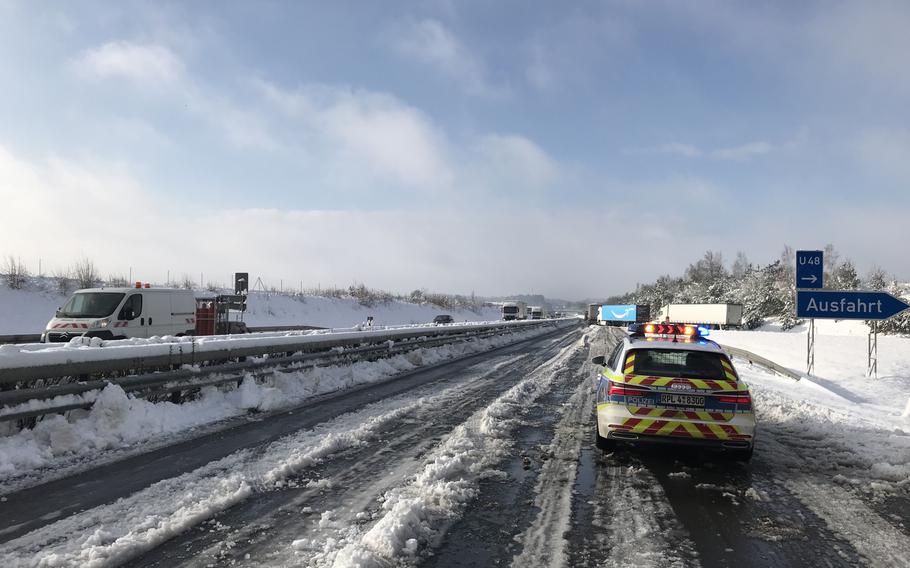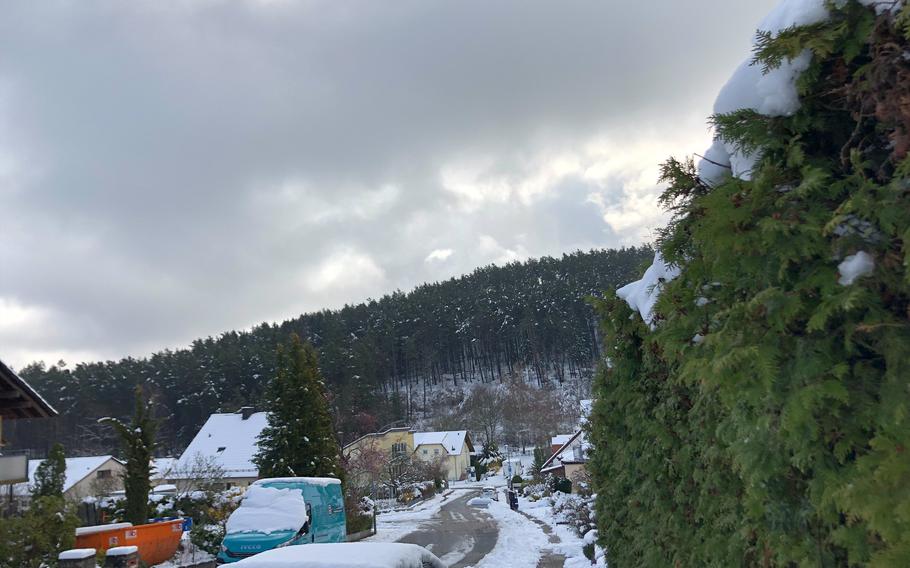 Base and school events were canceled, including an Easter egg hunt on Ramstein. The egg hunt has been rescheduled for April 16. Ramstein and Kaiserslautern high schools had to pull out of a Department of Defense Education Activity track meet at Wiesbaden on Saturday due to the weather. The thrift store on Ramstein also closed Saturday.
The storm elicited lots of comments on a local spouses page, with some describing driving Friday night in harrowing conditions.
One person said it took seven hours to get to Kaiserslautern from Munich, noting her husband is from Michigan and "had never seen that before."
"Just need a snownado to complete this craziness," someone else said.
Stars and Stripes reporter Alexander Riedel contributed to this report.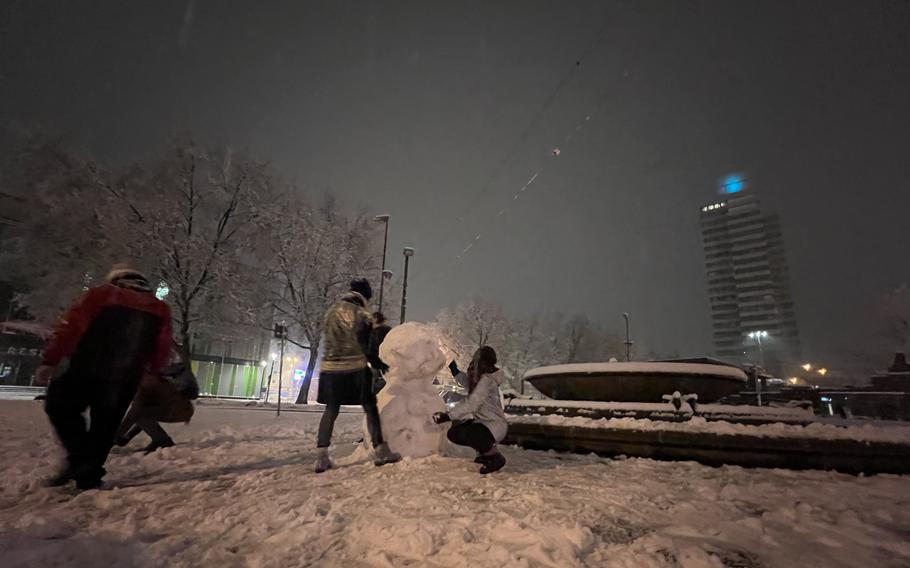 ---
---
---
---