Boris Johnson visits Kyiv; Russia taps new general to oversee invasion
By
David L. Stern, Miriam Berger, Andrew Jeong, Adela Suliman, Julian Duplain and Lateshia Beachum
The Washington Post
April 9, 2022
---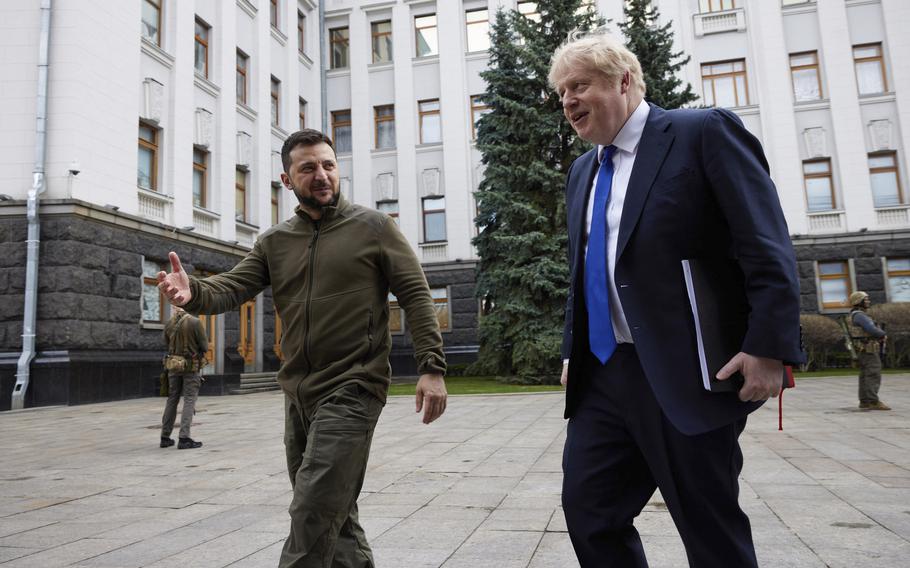 British Prime Minister Boris Johnson made a surprise visit to Kyiv on Saturday as several foreign allies announced they would reopen embassies in the capital - a diplomatic show of support as Russia named a new general to oversee its war in Ukraine.
A Downing Street spokeswoman said the British leader traveled to Ukraine to meet with President Volodymyr Zelensky in "a show of solidarity with the Ukrainian people." Johnson's visit followed a trip by European Union leaders to Ukraine on Friday.
The visit came as Russia tapped Gen. Alexander Dvornikov to oversee the invasion, a senior U.S. official confirmed to The Washington Post. Dvornikov commanded Russian forces in Syria and will oversee a war effort plagued by significant casualties and poor logistics.
Ukrainian officials vowed Saturday to continue running evacuation trains from hard-hit eastern Ukraine after a suspected Russian airstrike on a train station in Kramatorsk killed at least 52 people Friday.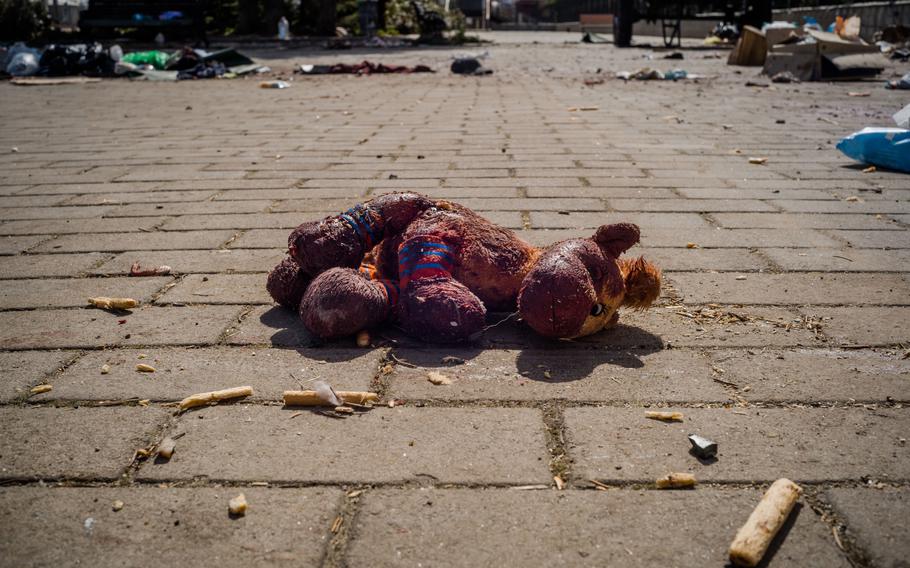 A Downing Street spokeswoman said Johsnon traveled to Ukraine to meet Zelensky in "a show of solidarity with the Ukrainian people."
"They will discuss the U.K.'s long-term support to Ukraine, and the [prime minister] will set out a new package of financial and military aid," she said.
The United Kingdom's embassy in Kyiv shared a photo on Twitter of Johnson and Zelensky on Saturday with the caption, "Surprise." The two leaders were pictured sitting across from one another at a conference table, with the British and Ukrainian flags in the background.
The deputy head of the Ukrainian president's office, Andrij Sybiha, and Anton Gerashchenko, an adviser to Ukraine's Interior Ministry, also posted the photo on Facebook with the same message, which said that Johnson's visit began with a meeting with Zelensky. The officials called Britain "a leader" in supporting Ukraine.
Later Saturday, Zelensky shared photos to his Telegram channel of the two men meeting, shaking hands and standing in what appeared to be an outdoor courtyard.
"The Prime Minister of Great Britain Boris Johnson is one of the most principled opponents of the Russian invasion, a leader in sanctions pressure on Russia and defense support for Ukraine. Welcome in Kyiv, my friend!" the caption said.
In a Telegram post after the meeting, Andriy Yermak, head of the presidential office, called the conversation between Zelensky and Johnson "very full and constructive." Yermak said he is in regular contact with Johnson's national security adviser, Stephen Lovegrove, and with David Quarry, his foreign affairs adviser, "so the visit was not spontaneous."
Yermak hinted that British support would yield results for Ukraine soon. "But I can already say, we will become even stronger," he said.
Johnson traveled to Ukraine as Russia was preparing to invade. Oliver Dowden, chairman of the Conservative Party, told LBC Radio last month that the British prime minister was "desperate" to go to Ukraine and has a "real emotional connection" with the Ukrainian people.
Zelensky has repeatedly praised Johnson, calling him "an example" for other world leaders. Johnson and Zelensky reportedly speak most days, and Britain moved to help Ukraine before other European countries.
Johnson's trip to Ukraine came a day after he announced that the United Kingdom would provide an additional $130 million worth of weapons for Ukraine following the "unconscionable bombing" of fleeing Ukrainians at a train station in eastern Ukraine on Friday.
The military equipment will include Starstreak antiaircraft missiles and 800 antitank missiles, Johnson said, as well as precision munitions and more helmets, body armor and night vision equipment. British Defense Secretary Ben Wallace said armored vehicles would also be sent. British troops will train Ukrainians on how to use them in a neighboring country, the Times newspaper reported.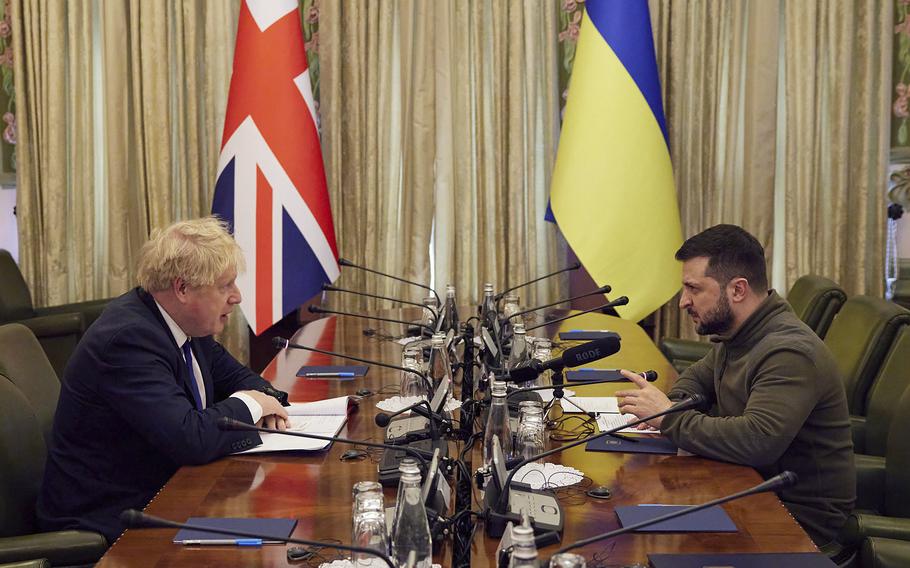 Johnson's visit followed a trip by European Union leaders to Ukraine on Friday. Because Britain is no longer a member of the E.U., Johnson has made a coordinated but separate effort to show support for Ukraine.
Austrian Chancellor Karl Nehammer also visited Kyiv on Saturday and met with Zelensky, pledging to help alleviate the suffering of Ukrainians.
The one-day trip by the Austrian leader was expected to include a visit the suburb of Bucha, where hundreds of civilians were found slain after Russian troops withdrew.
Last month, the leaders of Poland, Slovenia and the Czech Republic made a bold joint visit to Ukraine's capital while it was under attack to pledge "unequivocal support" to Ukraine.
Austria, which has remained neutral during the war, is providing humanitarian aid to Ukraine but not weapons.
"It is important that within the framework of our neutrality we stand by Ukraine on a humanitarian level as well as politically," Nehammer said in a statement reported by Reuters ahead of his trip. "My visit to Kyiv and Bucha … serves to show our solidarity with the Ukrainian population."
Russia tapped Dvornikov, a veteran of its military operations in Syria, to oversee the war it is waging in Ukraine, according to a senior U.S. official who spoke on the condition of anonymity because of the sensitivity of the issue.
Dvornikov, the commander of Russia's southern military district, is now charged with overseeing a war effort that has been haunted by poor logistics and major casualties. It marks the first time a single commander has taken control of the entire Ukraine operation, the senior U.S. official said Saturday. Moscow has been trying to bring some coherence to what military experts describe as a chaotically executed operation so far that has taken the lives of seven generals.
The news of the appointment of Dvornikov was first reported by the BBC.
The Pentagon said Friday that some Russian military units have been "almost completely devastated." NATO officials estimate that between 7,000 and 15,000 Russian soldiers have been killed in Ukraine, although the Pentagon has said it cannot independently verify those estimates.
Russian forces are regrouping and are expected to intensify their shelling of eastern and southern Ukraine.
In other developments, Ukraine is "ready to move fast" in its bid to join the European Union, a Ukrainian official said Saturday.
Olga Stefanishyna, who serves as deputy prime minister for European and Euro-Atlantic integration in the government of President Volodymyr Zelensky, made the comment a day after European Commission President Ursula von der Leyen met with Zelensky in Kyiv and promised to accelerate the war-torn country's application process.
"Russia will descend into economic, financial and technological decay, while Ukraine is marching towards the European future. This is what I see," von der Leyen said. She handed Zelensky a questionnaire and paperwork needed to start the application and predicted that it would "not as usual be a matter of years … but I think a matter of weeks" to initiate the process of joining the bloc.
Stefanishyna tweeted Saturday that Ukraine has "already done much preparatory work" and is "ready to move fast" on membership. She added that Ukraine expects to be granted "candidate status in June." That would mean it would join countries such as Albania and Turkey as candidates to become E.U. members, but negotiations would still be needed to determine Ukraine's ability to apply E.U. laws and standards nationally by the time of accession.
Zelensky reiterated in a video address late Friday that full accession to the E.U. remains a "long-standing goal" for Ukraine. He said his government would provide answers to the questionnaire "very quickly, I think in a week," and then enter negotiations with the E.U. "in the next few months."
- - -
The Washington Post's Yeganeh Torbati and Dan Lamothe contributed to this report.
---
---
---
---