Could Macron lose? What to know about the French presidential election of 2022.
By
Rick Noack, Lenny Bronner
The Washington Post
April 7, 2022
---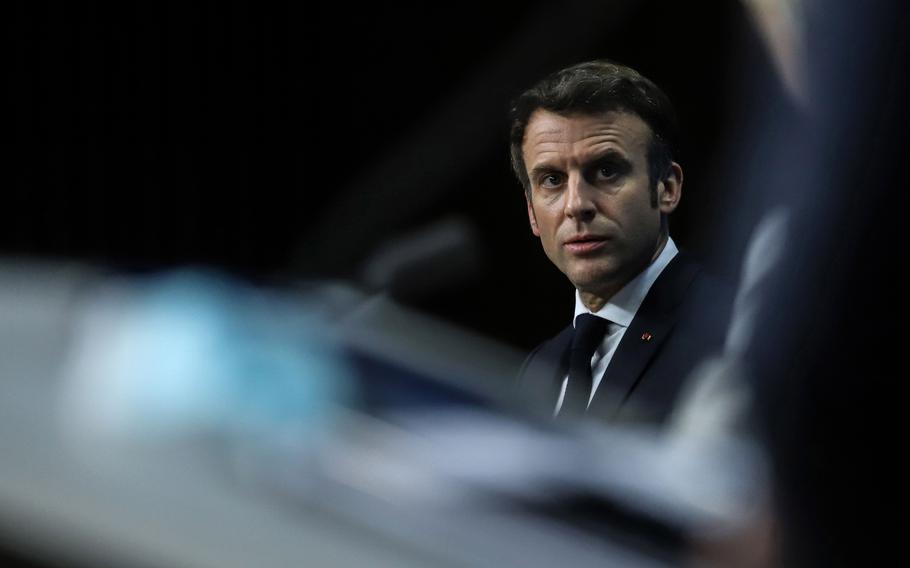 PARIS - Voters will head to the polls for the first round of France's presidential election on Sunday, with President Emmanuel Macron seeking a second five-year term.
While polls long suggested Macron was the strong favorite, the far right has closed the gap over the past few days, and the far left also has made limited gains.
Only the first round's two top candidates will move forward to the runoff vote, set for April 24. Macron is expected to be one of those to advance, but there's still potential for the order of finish Sunday to be a surprise.
Q: Who are the leading candidates?
A: Out of a field of 12 official candidates, only five have polled in the double digits over the past weeks, and only three appear to have a realistic chance of making it into the second round at this point: the centrist Macron, far-right leader Marine Le Pen and far-left politician Jean-Luc Mélenchon.
The latest polling averages show 27% of voters intend to choose Macron in the first round, 21% Le Pen and 15% Mélenchon, according to NSPPolls, a platform that compiles French election polls.
If the runoff were taking place now, Macron would beat Le Pen with 53% of the vote to 47%, according to a poll average. It would be a record result for the far right and far closer than in 2017, when Macron beat Le Pen 66% to 34%.
The polls suggest a disappointing performance for the two established parties that long dominated French politics before Macron's presidency. The mainstream center-right candidate Valérie Pécresse polls at around 9%, and the center-left Socialist Party candidate Anne Hidalgo at 2%. Far-right candidate Éric Zemmour, who threatened to outflank Le Pen on the far right, has dropped to about 10% in the polls.
Q: What's important to know about Macron, Le Pen and Mélenchon?
- Macron: Once an anti-establishment candidate, now part of the establishment. When Macron - a former investment banker and economy minister - launched his own political movement in 2016, he promised to bring a new style of politics to the Élysée Palace, without any obligations to established parties. He portrayed himself as a progressive anti-establishment candidate and staunch supporter of the European Union, and vowed to make France's economy more competitive.
In the years since, France's youngest-ever president has shifted right on immigration, national security and other issues, disgruntling some of his supporters on the left.
Macron, now 44, has defended his policymaking that transcends traditional partisan lines. "When you walk, you need two legs," he said last week. "One on the left, and one on the right. And to advance, you have to place one after the other."
In the wake of Russia's invasion of Ukraine, Macron initially benefited from a surge in the polls that was attributed to his role as a "wartime leader." But that bounce has since largely dissipated, and Macron has struggled to spark the momentum his campaign had in 2017. Macron also hasn't succeeded at dispelling criticism that many of his policies have benefited the rich and failed the poor.
- Le Pen: A far-right leader seeking a more moderate image. The 53-year-old took over France's main far-right party from her father, whose history of Holocaust denialism long limited the party's appeal among more moderate voters. In her first years as party president, Le Pen stuck to many of her father's positions and rhetorical talking points.
But her election loss to Macron six years later, in 2017, prompted a transformation. She has spent much of the past five years trying to change the public's perception of her and her party, which she renamed from National Front to National Rally.
While her tone has softened, she continues to advocate far-right policies that would radically alter France if implemented. Le Pen recently said her first act as president would be a referendum on immigration, for example.
The war in Ukraine threatened to damage her campaign, partially because she long portrayed herself as an ally of Russian President Vladimir Putin. But Le Pen was quick to change course, condemning the invasion. She has emphasized concerns that resonate widely with voters, such as the rising cost of living and the impact of sanctions against Russia on French energy prices.
- Mélenchon: The far-left underdog who could still surprise. The far-left politician unsuccessfully ran for president in 2017 and is polling below his support levels five years ago, but he remains the only candidate among France's divided left who could make it into the Élysée Palace.
Mélenchon's platform largely remains the same as five years ago: He wants more decisive action on combating climate change, supports lowering the retirement age, opposes neoliberalism and says he would pull France out of NATO if elected, despite the war in Ukraine.
His proposals have convinced many young French voters - an electorate Mélenchon, 70, has wooed more than other candidates. Mélenchon hosted a parallel rally in 12 cities across France this week, appearing in 11 of them as a hologram projection.
Mélenchon has said he wants to unite the left. But in practice, many left-leaning voters remain dismayed by his insistence on proposals that are deemed too extreme by moderates.
Q: What are the chances that Macron loses the first round?
A: The consensus among experts is that Macron should be able to make it into the second round. The order of the top finishers is more uncertain.
According to an average of recent polls, Macron is about six percentage points ahead of Le Pen and about 12 percentage points ahead of Mélenchon.
Mélenchon's final result could still rise if left-leaning voters spontaneously drop their candidates, many of whom are polling in the low single digits, and decide to coalesce around the far-left contender. But for him to catch up to Macron would reflect an unprecedented polling error in contemporary French history.
There's greater potential that Le Pen could beat Macron. Her support has been surging, as her far-right competitors have faded. And Macron's final result could be lower than anticipated if his supporters don't turn out.
French polling institutes predict that abstention rates could reach record highs. To get out the vote, Macron and his allies have in recent days tried to impress upon their supporters that they should not be overly confident that he will win.
Q: What issues are on the minds of French voters?
A: The focus of French voters and candidates has shifted through the campaign. What initially felt like an election centered on immigration and security questions - with the far right dominating the discourse - has in recent weeks become more of a vote that is focused on economic concerns.
Polls show that a majority of the French worry that the cost of living has increased under Macron's presidency, even as the economy overall has weathered the coronavirus pandemic and other crises.
The war in Ukraine has prompted growing concerns over rising inflation, surging energy prices and insufficient pensions.
Q: What does the election mean for other countries?
A: France may often be ridiculed for its ambition still to play a leading role in a world shaped by bigger and more populous countries, but France does have outsize influence on the world stage. It has the E.U.'s biggest military and second-largest economy and is the only E.U. country among the five permanent members of the United Nations Security Council.
Macron at times appeared poised to redefine France's relationship with the United States and other Western countries - for example, saying in 2019 that NATO had suffered "brain death" - but among the crowded field of presidential candidates, he remains one of the biggest defenders of strong transatlantic relations and the E.U.
The three candidates polling behind him - Le Pen, Mélenchon and Zemmour - have all expressed deep skepticism of U.S. foreign policy, NATO and E.U. moves. A victory for one of them would be likely not only to redefine France's role within Western alliances, but probably also would upend the political balance across the E.U.
Bronner reported from Washington.
---
---
---
---