Putin says Russia to keep supplying gas amid shift to rubles
By
Michael Nienaber and Birgit Jennen
Bloomberg
March 31, 2022
---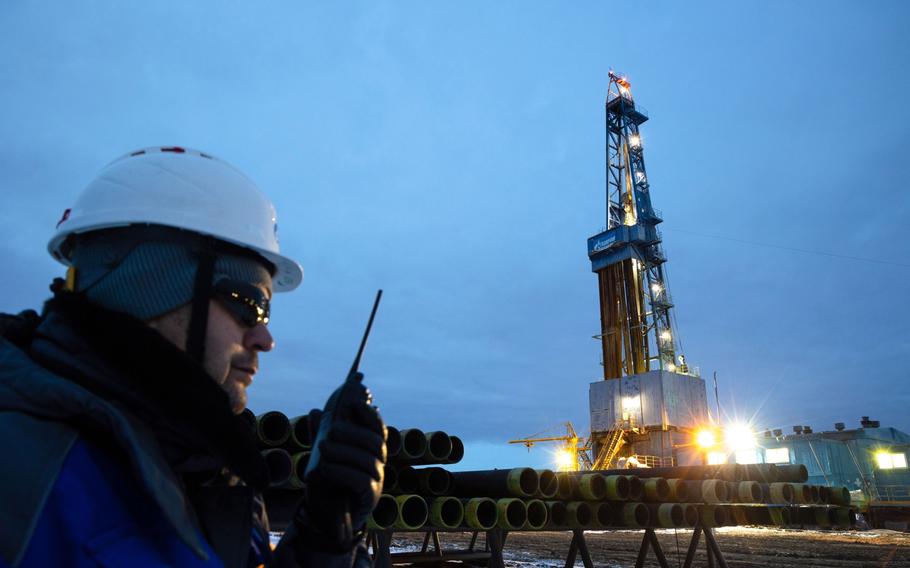 Russia aims to keep supplying gas to European customers even as it demands they shift to payment in rubles, President Vladimir Putin said, easing fears that the shift could lead to disruptions from the continent's biggest supplier.
"Russia values its business reputation, we have complied and will comply in the future with obligations under all contracts, including gas contracts," he told officials in televised comments laying out the new mechanism for ruble payments. "We will continue to supply gas in the volumes and at prices set down in the current long-term agreements," he added, warning that shipments would be stopped for customers who don't accept the new terms starting Friday.
European officials said the change isn't likely to affect supplies. "For us, with regard to Putin's threat or announcement or plan — one doesn't really know what to call it anymore — to get paid in rubles, the main point is that the contracts are being kept," German Economy Minister Robert Habeck said.
When Putin first announced the ruble-payment demand last week, European officials rejected it, saying the move would violate contract terms. But the Kremlin Thursday published a presidential decree outlining the mechanism to allow foreign buyers to convert their dollars and euros into the Russian currency through a state-controlled bank.
European benchmark gas jumped after the order was published but pared gains later. Fear of a possible cutoff of Russian gas — worsened by the threats on ruble payments — had driven prices higher in recent days.
An official at the French presidency, speaking on condition of anonymity, said the new mechanism doesn't change the payments as mandated in the contracts, which will continue as before. But the official said France is preparing a contingency plan for gas, given all the uncertainties.
Putin initially portrayed the move against "unfriendly countries" as retaliation for sweeping Western sanctions imposed over his invasion of Ukraine. The Kremlin, seeking to use its leverage as Europe's largest gas supplier, hinted it might cut off countries that refused. But the Group of Seven leading industrial nations flatly rejected the demand, saying it violated contractual terms.
Authorities in Germany and Austria warned that the dispute could lead to an interruption in vital supplies.
Gas buyers were still seeking clarity on the change Thursday. Germany's E.ON said it's not clear which contracts are covered, while Denmark's Orsted said it hasn't been approached by Russian gas giant Gazprom and until that happens, assumes the contract conditions are unchanged.
Payments for gas shipped in April are due late in the month or in May, depending on the contract, according to a person familiar with Russia's supply deals.
German Chancellor Olaf Scholz, who discussed the issue in a call with Putin, said Thursday, "in any case, it remains the case that companies want to, can and will continue to pay in euros."
"We looked at the gas supply contracts and there it says that payment is to be made in euros, sometimes in dollars but most of the time in euros," Scholz told reporters in Berlin on Thursday. "And I made it clear in the conversation with the Russian president that it will remain this way. And what his ideas are that that can happen — that's something we're going to look at right now."
The Kremlin decree mandates that deliveries starting from April 1 be paid for in rubles. Foreign buyers need to open special ruble and foreign currency accounts at Gazprombank to handle payment, which can be done remotely. Buyers transfer foreign currency to pay for the gas into their accounts, Gazprombank converts the funds to rubles on the Moscow Exchange and transfers rubles into the buyer's ruble account for payment on to Gazprom. The payment is considered complete when the rubles reach Gazprom's account.
Putin said the goal of the new mechanism was to prevent western governments from attempting to seize the payments in foreign currency or the accounts through which they went.
"If gas is supplied and paid for under the traditional scheme, new dollar and euro payments can be frozen," he said.
"I think ultimately Russia wanted to send a message that as long as its gas is being paid for in time and in full (irrespectively of which currency is used), the gas will continue to flow," said Katja Yafimava, ​Senior Research Fellow at the Oxford Institute for Energy Studies. "If Europe were to lose supplies of Russian gas it would be not because of Russia cutting them off but because of Europe not paying for them."
Another motivation may have been to protect Gazprombank, one of the few major Russian banks that's so far avoided the most severe western sanctions, from future restrictions, she said.
Europe gets about 40% of its gas from Russia and is already grappling with fallout from record prices this winter.
Economists said the impact on the ruble would likely be limited because Gazprom is already required to sell 80% of its foreign-exchange earnings for rubles under the capital controls imposed after the latest sanctions hit. The shift would would effectively raise that to 100%, not a large enough change to have a major effect on the currency, according to economists.
Bloomberg's Chiara Albanese, Isis Almeida, Anna Shiryaevskaya, Elena Mazneva and Samy Adghirni contributed to this report.
---
---
---
---