Seven days in Chernihiv, a Ukrainian city under siege
By
Kostiantyn Khudov, Mary Ilyushina and Siobhán O'Grady
The Washington Post
March 26, 2022
---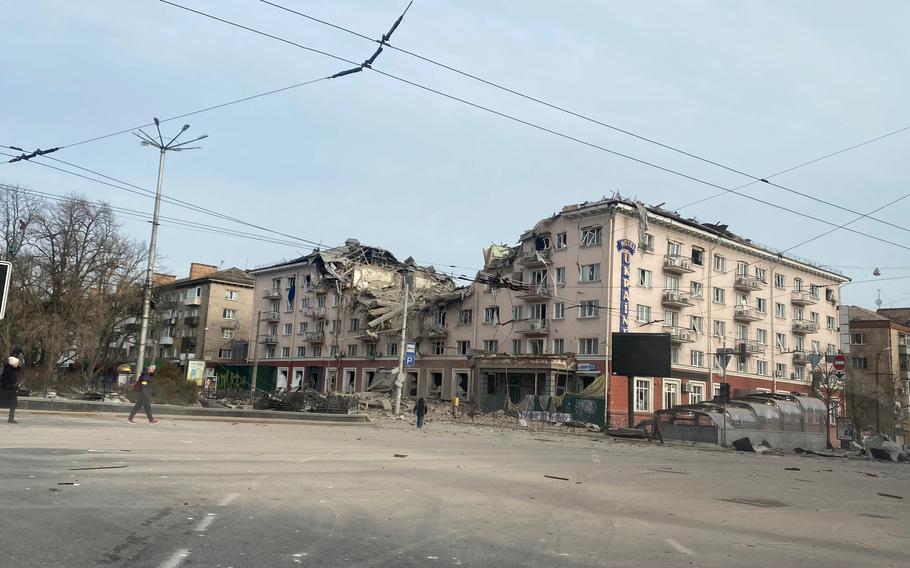 For weeks, the Ukrainian city of Chernihiv - about 95 miles north of the capital - has been under near-constant Russian attack. Power, water and gas have largely been cut off. Food is running out. Many residents are sheltering underground. Civilians trying to flee have braved artillery shelling.
The city of 285,000 became even more isolated this week, when Russians bombed a major bridge, Ukrainian forces said, cutting off another route to get residents out and humanitarian aid in.
With little electricity, getting up-to-date information out of the city has been challenging.
One of the few eyewitness accounts from inside the city comes from Chernihiv resident Alex, a 38-year-old who is volunteering with humanitarian aid efforts. Starting on March 12, he sent a team of journalists at The Washington Post updates about the situation in his hometown. He used his limited phone battery and connectivity to share voice notes, photos and videos.
His account has been translated from Russian and condensed for clarity. The Post is using only his first name for security reasons.
Day One: 'There is no electricity, no gas, no heating'
From what I understand, they hit the water pipes and cut them off. Almost the whole city was without water for almost two days. Just this evening, the water began to flow slowly, at least in some areas. There is also no heating or electricity in most of the city.
The Hotel Ukraine building was completely destroyed by an airstrike. Just last night, three Russian bomber planes hit the city and one was shot down. The humanitarian corridor is still not there. There is no passage via the Kyiv-Chernihiv highway. People who try to leave drive through a very strange and scary route on mud roads toward Anysiv.
Many people do not have gas. In the courtyards of houses, people are gathering and lighting fires, cooking some kind of soup in large pots. Because there is no electricity, no gas, no heating.
The grocery stores are running out of supplies. Finding meat or dairy is unrealistic. It's a catastrophic situation with baby food. People bring some things into the city but it is in very small quantities and brought by desperate drivers under shelling along the road. So they bring medicine, baby food and diapers. But pharmacies are empty. The lines are so long, so even if you manage to get to the counter it doesn't mean you're going to get what you need there, because it may not just be there.
The military still seems to think the city will not be taken. Multiple rocket launchers continue to shell the city. There are many unexploded shells - they are sticking out from the gardens, roofs and in the yards of houses.
But on the positive side, since yesterday, our connection and the internet are getting a little better.
Day Two: 'Already a humanitarian disaster zone'
Nighttime airstrikes continue. At midnight approximately and then at 4 a.m.
Today a residential area was hit. Multiple launch rocket attacks also continue. My friends found many parts from the Uragan multiple launch rocket system. There was a strike in the afternoon, apparently it was a dormitory at the radio factory. In general, they are bombing from all sides, using artillery and multiple launch rocket systems on the outskirts.
In terms of the humanitarian situation, it's all about the same. There are huge lines in stores which have almost nothing. People wander around the city in search of food. Pharmacies do not have medicine, it can only be found through volunteer centers. Food can also be found through volunteer centers. People continue to evacuate. Cars are going through an unsafe corridor; they are being fired at.
My friend's car was shot and they were lucky that there was just a pile of firewood between him and the explosion. It didn't hit the passenger side but hit the trunk.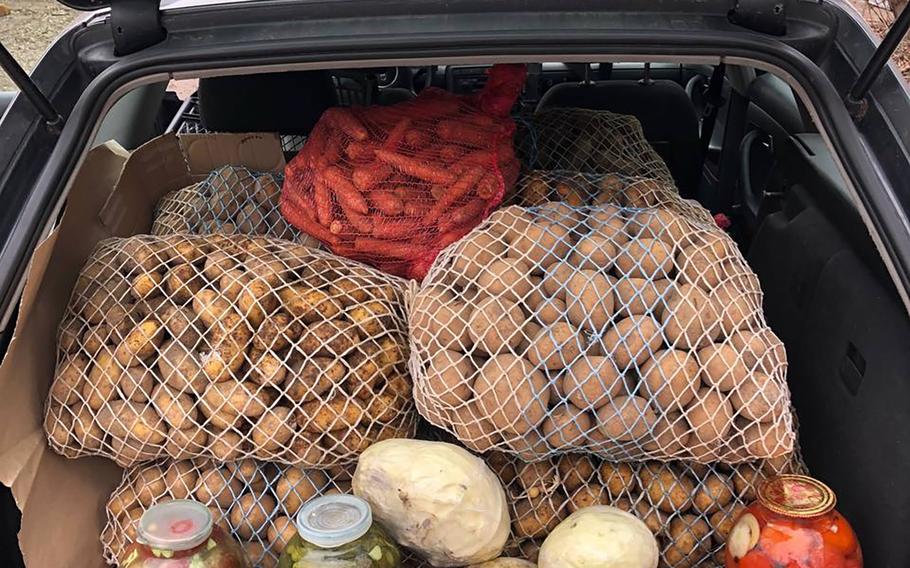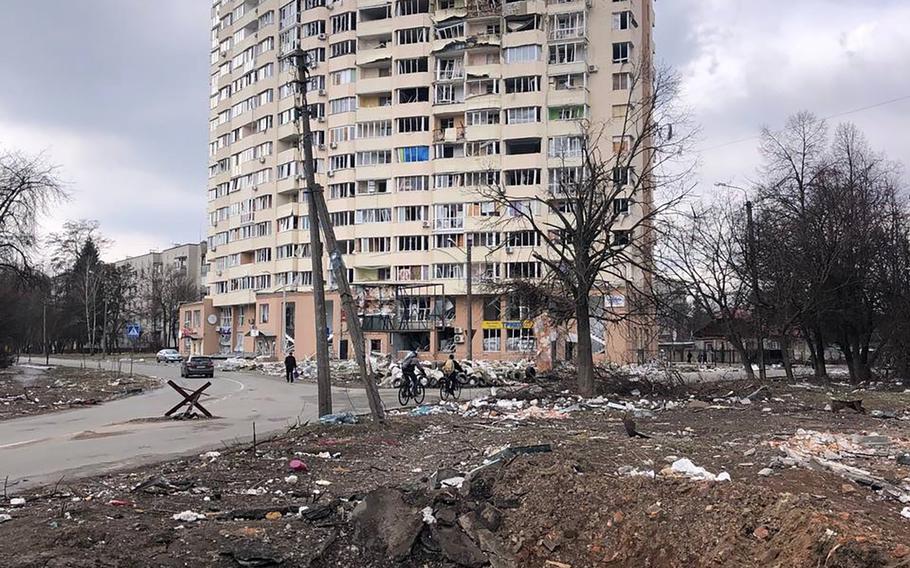 People are trying to find each other because there has been no electricity or communication for three days. The fact that they gave water make the situation a tiny bit easier. But overall it's a real mess.
Day Three: 'People are starving'
Today is a really hard day. There's been intensive shelling along the entire perimeter of the city. Bombs hit the gym next to the polytechnic university. And the question of food is getting more and more serious. We are delivering food to volunteer centers by just looking for people who have the most basic supplies at home: carrots, potatoes, anything to cook. There are huge lines everywhere and it is almost impossible to buy food.
They tried to hit the city's water facilities. Four people were killed. This is a purposeful policy to destroy the infrastructure and create a humanitarian catastrophe that has already been created, so this is done simply to worsen the situation which is already threatening the many people who cannot leave. There is no humanitarian corridor.
People call and every day the number of calls is increasing. They ask to bring at least something to them. They say people are starving: my mother, my sister. We try to bring something. But with no electricity or gas, it's really hard because they can't cook. We need dry rations, but there are none.
People are bartering. And the price of fuel is rising so much because there is simply none. So it's hard to escape from here. But there's nothing to eat here - do you understand? And there are very few people who will just drive around giving out bread. Someone gave us cookies. What do we do with these cookies? Well, we split them and give them to people, but [expletive]! People don't need cookies, people need food. And food can only be delivered on trucks. And trucks cannot drive. Even taking into account the fact that people are leaving, the humanitarian catastrophe is intensifying. It's all very sad to be honest.
Day Four: The water was gone almost all day'
(Because of difficulties with the internet, Alex was not able to send an audio message on this day. He sent a text message instead.)
Today they were shelling very hard. Seriously damaged a thermal power station, there was also no electricity all day, the water was gone almost all day. Attacks are unsystematic and on residential areas. It's getting harder to find food. There is no gas and people sell it at 350 UAH per liter. Another attack on the polytechnic university, the windows in the gym and in the house opposite the university were broken.
Day Five: No connection
Day Six: 'Everything is so sad'
The past two days there was heavy shelling, aircraft, mortars and artillery. They somehow got closer to the city and already began to strike, hitting the center and generally everywhere. The situation seems to be getting worse because there is still no water, there is no electricity, no heating, fewer and fewer products. Everything is so sad. In terms of the military situation, I don't know, they say "we are fighting." There's very heavy shelling, a bunch of destroyed houses. I will send you the pictures later. The connection is very bad, sometimes Kyivstar (a mobile provider) connects but in general, of course, sadness.
Day Seven: 'Chernihiv is still suffering'
Hi. The situation is not changing overall. There was a barrage of bombs this morning, I don't know where. Now there is artillery shelling, I think it is aimed at a thermal power plant. Smoke is everywhere.
It's a total disaster with groceries. The humanitarian aid comes in slowly. But very little. We are going to go deliver food now. We get more and more calls asking us to bring at least some products. In general, it is still sad. There are no normal roads. So something like this. In short, Chernihiv is still suffering.
___
Khudov and O'Grady reported from Kyiv. Ilyushina reported from Riga, Latvia. Julie Vitkovskaya in Washington contributed to this report.
---
---
---
---