EU looks to tighten Russia sanctions without touching energy
By
Natalia Drozdiak, Alberto Nardelli, John Follain
Bloomberg
March 23, 2022
---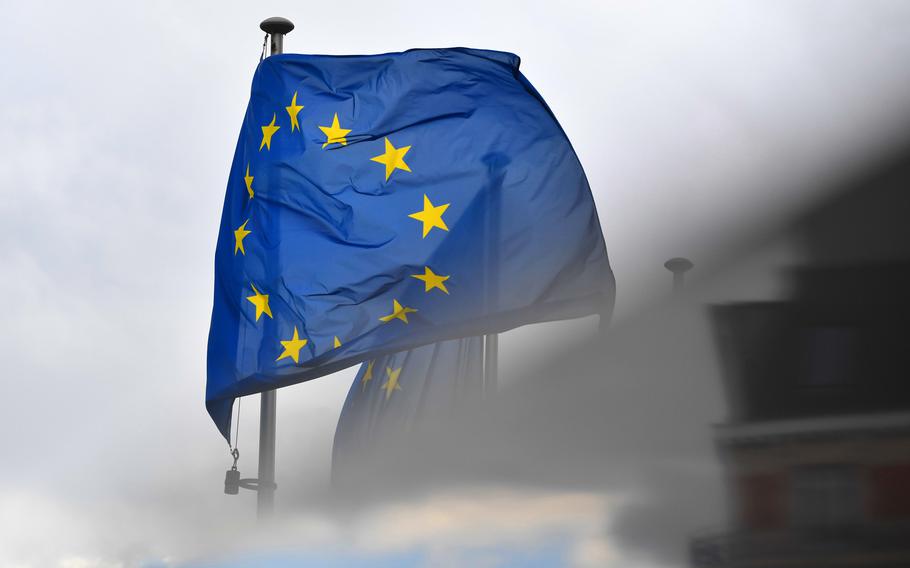 The European Union is considering tightening or expanding existing sanctions against Russia in coordination with the U.S., while refraining from major new steps to cut off oil and gas purchases amid a deepening divide within the bloc over how to limit Moscow's biggest source of revenue.
EU leaders, who start a two-day summit in Brussels on Thursday with an appearance by U.S. President Joe Biden, will not forge new penalties against Russia, officials in French President Emmanuel Macron's office told reporters on Wednesday. Any new measures countries can agree on this week would be limited in scope and possibly focused on closing loopholes, according to an EU diplomat.
The U.S. and EU could announce further asset freezes and travel bans against individuals and entities, according to another EU official. Biden's national security adviser, Jake Sullivan, said Tuesday that the U.S. and EU during Biden's trip would agree on further sanctions on Russia and tighten existing restrictions to crack down on evasion.
But several countries, particularly Germany, have argued that the bloc should focus on enforcing the current penalties before targeting Russian energy, on which Berlin remains highly dependent.
"With regard to the sanctions regime, we are constantly working on making it more precise," German government spokesman Steffen Hebestreit told reporters on Wednesday. "But there will be no big new package of which I would know."
Europe is continuing to purchase coal, oil and gas from Russia at high prices, while energy-related transactions are exempt from financial sanctions, shielding some of Russia's biggest banks from the bulk of penalties. Many contracts in place before the invasion have been allowed to continue while Europe is pressing the U.S. and others to help boost their energy exports to Europe. The net result is that the impact of sanctions imposed so far on Russia has been severely dented.
There is a growing push within the bloc to start hitting Russia's most vital revenue sources, with countries like Ireland adding their support to moves that Poland and the Baltic nations have been advocating for weeks.
Several member states want the EU to consider an oil embargo, higher tariffs on energy-related trade and cutting off more banks from SWIFT, the international payments messaging system, according to EU diplomats. EU leaders are expected to hold an intense debate on these proposals Thursday and Friday, but any decision would need the approval of all 27 member states.
"It's an obvious area where, if we want these sanctions to bite, we should be focusing," Irish Foreign Minister Simon Coveney told reporters on the sidelines of a gathering of EU foreign affairs chiefs in this week. Czech foreign minister Jan Lipavsky also called for stronger sanctions targeting areas where Russia makes money.
Those moves continue to face strong pushback from Germany and Hungary. The dispute risks opening cracks in the bloc as it seeks to project a show of unity given all 27 members would need to sign off on any new sanctions.
German Chancellor Olaf Scholz on Wednesday reiterated his country's view that coal, oil and gas shouldn't be included in the next round of EU sanctions. He said that other member states share this view because Germany isn't the only country that remains highly dependent on Russian energy imports. Hungary earlier this week said sanctioning energy was a "red line."
Germany has argued for keeping a Russian energy import ban as an option on the table for a scenario in which Russian President Vladimir Putin further escalates the war in Ukraine, for example by using chemical or biological weapons. EU leaders are likely to discuss what Russian moves could trigger harsher penalties, according a diplomat from the bloc.
Beyond the potential economic damage to European countries, there is also concern that sanctioning energy would lead to even higher prices that could hit some of the world's poorest and most volatile regions, possibly bringing some countries to the brink of collapse, according to an EU diplomat from a country opposed to the move.
Germany and others have instead pushed for the EU to close loopholes in existing sanctions. Some targeted oligarchs, for instance, have tried to evade measures, forcing authorities to chase after them, an EU diplomat said.
The EU, in coordination with its allies, has already banned most transactions with the Russian central bank, cut off a number of banks from SWIFT, imposed trade restrictions on key technological sectors and shut down EU airspace to all Russian planes, among other measures. That leaves a relatively short menu of options for the bloc to choose from to hit Putin over his ongoing assault on Ukraine.
In addition to energy, some countries have called on the EU to consider sanctioning metals like titanium, Russian shipping trade, and trust funds used to create shell companies, as well as cutting off additional banks from SWIFT and targeting other individuals with travel bans and asset freezes, diplomats familiar with the matter say.
But many of those areas are also indirectly tied to Russia's energy sector. Ports, for instance, are important for coal shipments from Russia, while some of the Russian banks that still can access SWIFT are critical for member states making payments for those energy transactions. An EU diplomat said that they were against banning some metals as it would hurt the EU more than it hurts Russia. An outright ban on ports would de facto target goods that have not been sanctioned, the diplomat said.
Ahead of Biden's visit to Europe, top U.S. officials tried to figure out ways to help Europe cope without Russian oil. Sullivan, U.S. Treasury Secretary Janet Yellen, and National Economic Council Director Brian Deese, met with Exxon Mobil Chief Executive Officer Darren Woods and senior officials from energy companies such as Marathon Petroleum Corp, according to a person familiar with the matter.
Among the topics broached during the discussion was how prepared U.S. oil and gas producers were to ramp of production, said the person. A second person said they discussed the possibility of making up for production shortfalls if the EU ultimately decides to join the U.S. in banning imports of Russian crude.
Bloomberg's Jorge Valero, Michael Nienaber, Samy Adghirni, Ania Nussbaum, Arne Delfs and Ari Natter contributed to this report.
---
---
---
---