Russian missile hits site near airport in west
By
Miriam Berger, Amy Cheng, Andrew Jeong, Adela Suliman
The Washington Post
March 18, 2022
---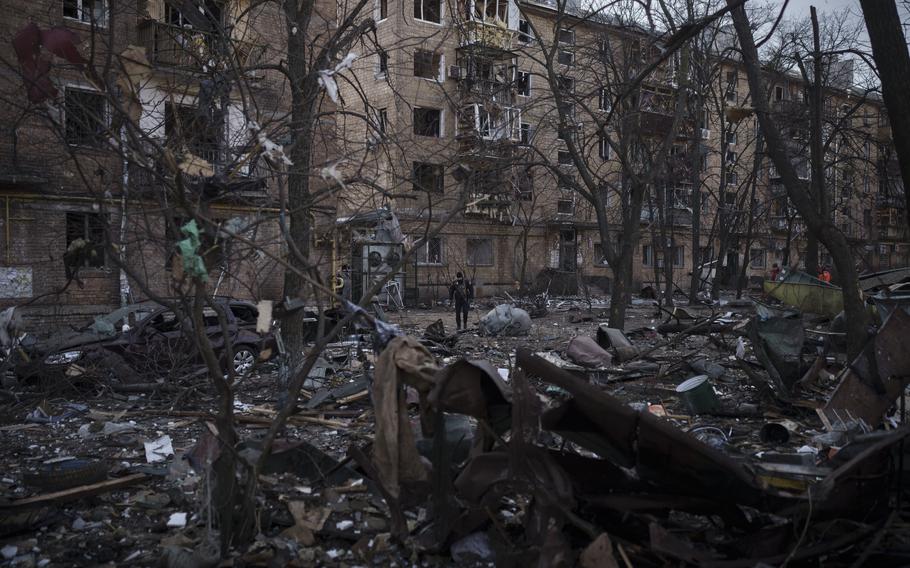 Ukrainian officials said Friday that Russian missiles struck an aircraft repair facility near an airport in Lviv - a western city near Poland that has been a relatively safe haven so far for foreign diplomats and a transit point for Ukrainians fleeing war-battered areas elsewhere in the country.
Other Russian strikes on airfields or military facilities in western Ukraine in recent weeks have led the Pentagon to conclude that Russia is broadening its targets, raising concerns over how long the region can remain a safe refuge. On Thursday, South Korea announced it would move its diplomats out of Lviv, citing "heightened military threats" around the city.
In the absence of major territorial advances, Russia - which has launched more than 1,000 missiles so far - is increasingly relying on sieges and unguided "dumb" bombs to wear cities and civilians down. The United Nations has confirmed 1,900 civilian casualties, including the deaths of 52 children, but its human rights agency and humanitarian groups have said the real tolls are far higher. The United Nations estimates that 55 children have fled Ukraine every minute.
Lviv Mayor Andriy Sadovy said Friday morning that the Russian missiles struck an aircraft repair plant next to the city's airport but that the airport itself was not hit.
Sadovy wrote on his Telegram channel that no casualties were immediately reported and that work had been suspended at the facility before the attack. Local authorities were at the scene, he added, and at a nearby bus repair facility that was also damaged.
A large cloud of smoke was seen in the airport's vicinity, according to images shared by news agencies and on social media. Lviv, a western Ukrainian city near Poland, has been a relatively safe haven for Ukrainians and foreign diplomats. But it has faced a growing number of Russian projectile attacks in recent days as Moscow's invasion stalls.
The aircraft repair plant was targeted by six winged missiles that were launched from the Black Sea, the Ukrainian air force's western command said Friday in a Facebook post. It added that two of the six missiles were shot down and that the "threat" was now over.
Lviv's regional governor, Maksym Kozytskyi, told reporters Friday that the country's air defense systems had worked, and he confirmed that two of the missiles were shot down. He said that while no fatalities were reported, one person was wounded, although not critically.
"This is an attack on the city of Lviv, on a humanitarian hub where there are currently at least 200,000 displaced people," Kozytskyi said in a video. "The attack on the city of Lviv once again confirms that they [the Russians] are not fighting the Ukrainian army - they are fighting the population, children, women, displaced people."
Also Friday, a Ukrainian official said 130 people have been rescued alive from a bombed theater in Mariupol - although the fate of an estimated 1,300 others who had been sheltering there remained unknown Friday.
The figures, which were could not be independently verified, are the first concrete details about the number of survivors rescued from the theater, which Ukrainian officials say was devastated by a Russian airstrike Wednesday.
Ukraine's human rights ombudswoman, Lyudmyla Denisova, told Ukrainian television that, according to her data, more than 1,300 people who were taking cover in a bomb shelter below the theater remained unaccounted for. Zelensky said "hundreds" of Mariupol residents were still under the theater's ruins.
"We'll continue the rescue work in spite of all difficulties," he said Friday in a video shared on Telegram.
Information has been scarce because of the siege conditions in Mariupol, a strategic southeastern port city that has faced intense Russian attacks and has been largely cut off from the outside world for weeks. Satellite images from before the attack showed the word "children" written in Russian in large white letters on the ground on both sides of the theater.
Russian Foreign Ministry spokeswoman Maria Zakharova denied Thursday that Moscow had bombed the theater, calling it a "lie."
In other developments:
- President Joe Biden and his Chinese counterpart Xi Jinping are set to speak at 9 a.m. Eastern time as concerns mount that Beijing will offer military equipment and aid to Moscow. The leaders of the world's two largest economies "have a lot to discuss," White House press secretary Jen Psaki told reporters Thursday, adding: "This is an opportunity for President Biden to assess where President Xi stands."
- Ukrainian President Volodymyr Zelensky, in a video address early Friday local time, pledged to fight for all Ukrainian cities under attack and appealed to Russian citizens to challenge the Kremlin. "We want you to love your children more than you fear your authorities," he said.
- The United States denounced Russia's decision to seek an emergency meeting at the United Nations Security Council on Friday to discuss what Moscow claims are American biological labs in Ukraine. Washington called the session a means for Moscow to promote "disinformation."
- Nearly 4,000 people were evacuated from embattled Ukrainian cities on Thursday, officials said, continuing the halting and sporadic effort to rescue civilians from the country's most war-torn regions.
- A U.S. citizen was killed amid Russian shelling in the besieged city of Chernihiv on Thursday. James Whitney Hill, 68, died while trying to obtain food for himself, his partner and other very ill patients at the local hospital, his sister told The Washington Post in an interview.
- In Kharkiv , where a Post reporter witnessed evidence of cluster bombs being used in civilian areas, body bags and coffins are in short supply.
The Washington Post's Amar Nadhir contributed to this report.
---
---
---
---