Russia starts new advance on Ukraine capital despite losing 5% of its invasion force, Pentagon says
By
Stars and Stripes
March 8, 2022
---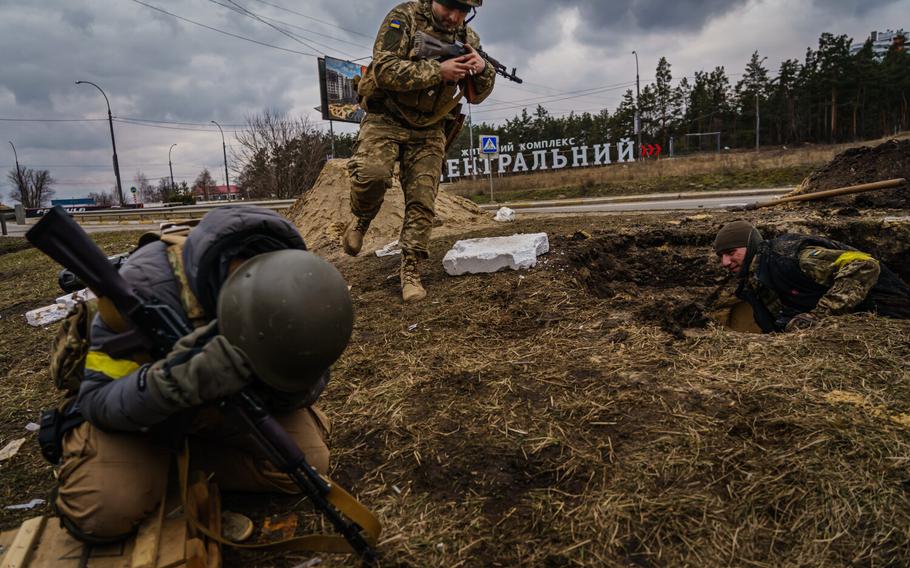 WASHINGTON – Russian forces have started a new line of advance on the Ukraine capital of Kyiv despite losing approximately 5% of its combat forces deployed for the invasion, a senior defense official said Tuesday. 
As a 40-mile Russian military convoy to Kyiv remains stalled about 15 miles from the city's center, other Russian forces are now advancing toward the Ukraine capital from the northeast, the official said on condition of anonymity. 
"This is a line of advance that we haven't seen much of recently," the official said. "There's been a Russian advance from the northeast, kind of skirting Chernihiv and skirting Kharkiv, and kind of moving on Kyiv from that direction." 
Those troops remained about 37 miles from Kyiv's center as of Tuesday morning, but "they have stepped up the bombardment of the city through a mixture of missile and rocket and artillery fire," the official said.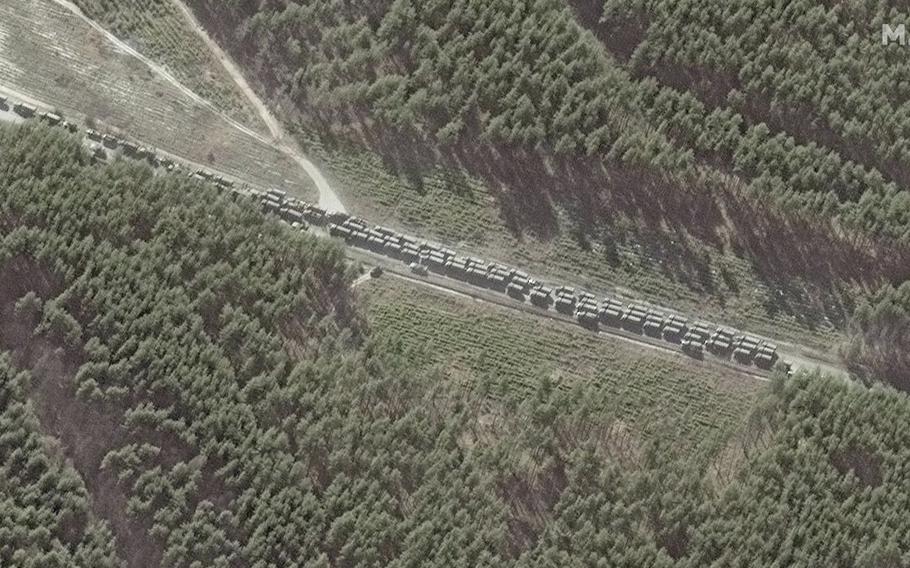 "We've seen nothing that would tell us that they are not still interested in encircling and enforcing the surrender of Kyiv. We still assess that that is a main objective of [Russia's]." 
The new advance comes as Russia has nearly all its forces amassed for the Ukrainian invasion now in the country, the official said. Russian President Vladimir Putin spent months this winter stacking more than 170,000 troops and combat capabilities along Ukraine's borders with Russia and Belarus before launching the war. 
Putin has lost about 5% of those forces in the conflict so far, the official said, without indicating how much of that percentage included troops. 
"If you count [Putin's] estimated losses just in terms of aircraft and vehicles that are either inoperable or not moving or not available to him, he still has a lot of combat power available," the official said. 
The U.S. has declined to estimate how many Russian troops have died in the conflict, and the official could not confirm recent media reports that an estimated 3,000 Russian troops had been killed. 
On Monday, Ukrainian Defense Ministry's main intelligence directorate reported Ukraine troops had killed and wounded "a number of senior Russian army officers," but the U.S. defense official could not confirm the claim Tuesday. 
Among those reportedly killed was Russian Maj. Gen. Vitaly Gerasimov, chief of staff and first deputy commander of the 41st Army of the Central Military District of Russia. The major general had received a Russian medal "for the return of the Crimea" for his efforts in Russia's 2014 Ukraine invasion that resulted in the Crimean Peninsula's annexation, according to the Ukraine intelligence directorate. 
Russian troops also continue to "advance on and isolate" Chernihiv and Kharkiv also in the north as Ukrainian forces continue to battle to keep control of those cities, the official said. 
Russia has had better success in southern Ukraine, where it has taken control of the coastal cities of Kherson in the southwest and Berdyansk in the southeast, chief Pentagon spokesman John Kirby said Monday. They also continue to control a nuclear power plant in Zaporizhzhia in south-central Ukraine after firing on and capturing the facility Thursday night. 
Russian forces are about 25 miles northeast of Mykolaiv, also in south-central Ukraine, but the Russian "shelling and violence" on the city is "obviously picking up again," the defense official said Tuesday. 
The Russians could want Mykolaiv to better facilitate a land attack to compliment an amphibious assault on the southwest Ukraine port city of Odessa, the official said, but the U.S. has not yet seen evidence of an imminent assault on the city of 1 million people. 
As of Tuesday, Russia had launched nearly 670 missiles at Ukraine, the official said. Most of those missiles were launched from Russian and Ukrainian territory, but more than 70 were launched from Belarus and about six from Russian vessels in the Black Sea. 
Though NATO has denied Ukrainian President Volodymyr Zelenskyy's repeated pleas for the alliance to enforce a no-fly zone over the country to thwart air assaults, the airspace over Ukraine remains contested, the official said. 
"Much of the airspace of Ukraine — north and south — is under some umbrella of a Russian surface-to-air missile capability … [yet] the Russians have not achieved air superiority over the entire country," the official said. "The Ukrainians still have at their disposal viable and effective air and missile defense and they are still able to and are flying aircraft in that very contested airspace." 
While the U.S. will not enforce a no-fly zone over Ukraine because it would draw American troops into combat with Russia, President Joe Biden's administration this week has discussed contributing to international efforts to supply Ukraine with fighter jets. 
The U.S. would not send its own aircraft to Ukraine, but Biden was "very, very actively" considering a proposal that would have Poland supply Kyiv with Soviet-made jets from its stockpile, which America in return would restock with F-16s to make up for the loss, Secretary of State Antony Blinken said Sunday. 
On Tuesday, Poland's Foreign Affairs Ministry announced it would donate all its MIG-29 fighter jets to Ramstein Air Base "and place them at the disposal of the government of the United States" and urged "other NATO allies — owners of MIG-29 jets — to act in the same vein." 
In return, Poland requested the U.S. "provide us with used aircraft with corresponding operational capabilities." 
U.S. European Command helps facilitate international efforts to donate weapons to Ukraine using an established coordination network of allies.
"Poland is ready to immediately establish the conditions of purchase of the planes," the defense ministry said.
However, the Pentagon said Poland's offer was not "tenable" because of logistical and other concerns.
"The prospect of fighter jets 'at the disposal of the government of the United States of America' departing from a U.S./NATO base in Germany to fly into airspace that is contested with Russia over Ukraine raises serious concerns for the entire NATO alliance," Kirby said Tuesday. "It is simply not clear to us that there is a substantive rationale for it."
He said the Defense Department was now in touch with the Polish government following its statement and emphasized the decision about whether to transfer Polish-owned planes to Ukraine is one for the Polish government.
"We will continue consulting with our allies and partners about our ongoing security assistance to Ukraine, because, in fact, Poland's proposal shows just some of the complexities this issue presents," Kirby said.
White House Press Secretary Jen Psaki on Monday said those challenges include how to deliver the jets to Ukraine because NATO forces cannot fly them into Ukrainian airspace and how the U.S. would backfill the Polish jet supply, "because returning new planes and transferring serious weapon systems often takes years to do from the United States."
"We're looking at all of those factors, but we are not certainly preventing or blocking or discouraging Poland," Psaki said Monday. "They are a sovereign country — they make their own decisions, but it is not as easy as just moving planes around."
Biden has repeatedly said he will not send U.S. troops into Ukraine to fight the Russians. Still, the U.S. so far has more than 90,000 U.S. troops in Europe, the majority of who were already stationed on the Continent or there on a rotational basis. 
The most recent deployment announced Monday will send an additional 500 troops and equipment to NATO's eastern flank. Kirby said 150 of them and an undisclosed number of KC-135 refueling aircraft would deploy from Fairchild Air Force Base in Spokane, Wash., to Greece. However, they will instead deploy to Germany, the defense official said Tuesday. 
"There's now been a subsequent decision by [EUCOM commander] Gen. [Tod] Wolters that he wants to move them to Spangdahlem, Germany, so that's where they're going to go," the official said. "The decision about where these enablers go is up to Gen. Wolters." 
The rest of the 500 will continue with their deployment plans announced Monday, including 40 personnel from Fort Stewart, Ga., to staff air support operations centers in Poland and Romania, and 300 troops from Fort Stewart and Fort Bragg, N.C., to form ordnance and maintenance companies in Germany. 
---
---
---
---