Word spread through a suburb of Kyiv: Get out now. It became a panicked rush amid fighting.
By
The Washington Post
March 7, 2022
---
IRPIN, Ukraine — As Russian and Ukraine forces traded artillery shells, hundreds of panicked residents of this city on the northern outskirts of the capital Kyiv fled across a damaged bridge on Monday, seeking to escape advancing Russian forces.
Many of those fleeing were elderly people, some too frail to walk on their own. Others were in wheelchairs or crutches struggling to cross over narrow wooden planks placed over the Irpin River, which at this time is more of a stream that flowed under the bridge — destroyed by Ukrainian forces to hamper a possible Russian move toward the capital.
As they crossed under the bridge, the incessant thuds of artillery shelling could be heard, deployed by both the warring sides. The attacks came despite an agreement by both sides to create a humanitarian corridor in Kyiv and other cities to allow civilians to escaped the intensifying war.
The blasts did not target the fleeing civilians, but they did instill fear and panic in many of them, forcing many to run or take cover at every shell that reverberated.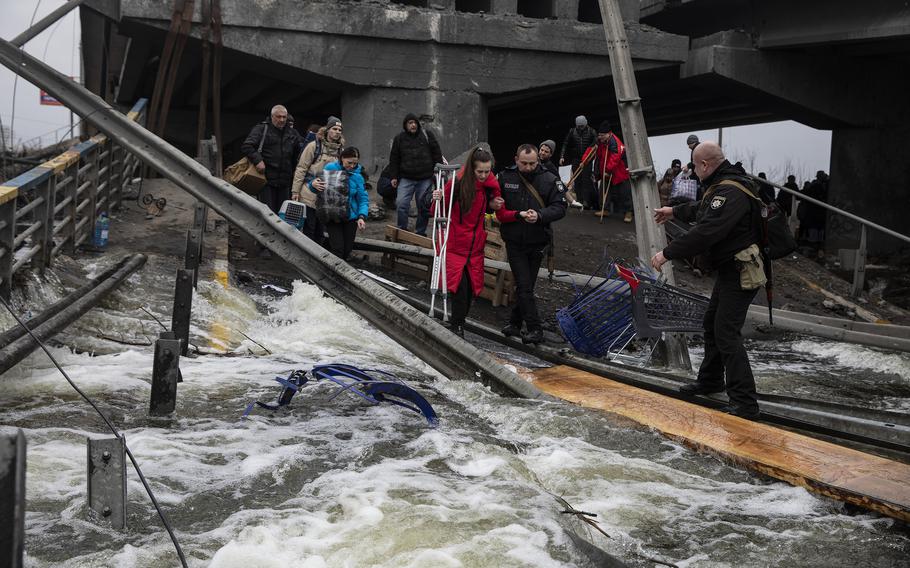 On Sunday, at least four civilians were killed after they crossed the under the bridge and were hit by mortar shells on a street, not far from vehicles waiting to take them to safety.
At the Irpin River, at least one elderly woman was pushed in a wheelbarrow.
While many were helped by their sons, daughters or grandchildren, others were arriving alone and needed the help of members of the Ukrainian territorial defense units or caring strangers to reach safety.
The desperate also included parents pushing kids on strollers or carrying them in their arms. Others were holding their dogs on leashes and their cats in bags.
Everyone carried small suitcases or plastic bags with the few possessions they could carry to move fast and avoid the bombings and gunfire. Some only came with what they were wearing on their body, forced to take a decision to leave their city before they become trapped in an all-out urban war.
Vans, ambulances and buses were waiting to take them to safer locations inside Kyiv.
---
---
---
---