Putin likens sanctions to 'declaration of war,' says invasion pushback risks future of Ukrainian statehood
By
The Washington Post
March 5, 2022
---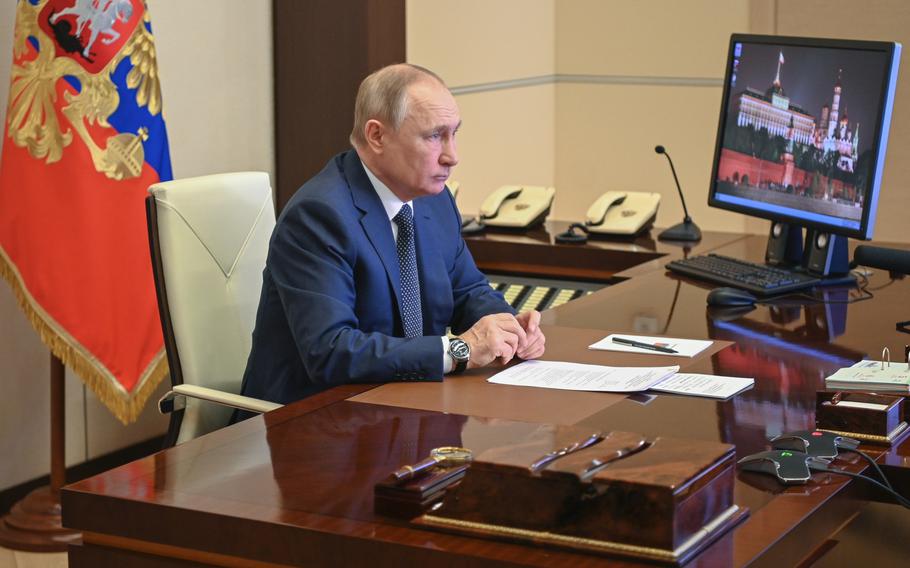 Russian President Vladimir Putin on Saturday said that sanctions and pushback from leaders in Ukraine and around the world in response to the invasion are risking "the future of Ukrainian statehood."
At a meeting in Moscow, Putin claimed that the wide-ranging, extensive sanctions leveled by the United States and the international community in response to Russia's invasion of Ukraine was "a means of fighting against Russia."
"These sanctions that are being imposed are like the declaration of war," he said.
He then suggested that pushback from Ukrainian and world leaders over an invasion that's gone on for more than week could result in an uncertain future for the country.
"The current leadership needs to understand that if they continue doing what they are doing, they risk the future of Ukrainian statehood," he said. "If that happens, they will have to be blamed for that."
Putin's comments, his first extended remarks since the invasion began, come after evacuation efforts in the Ukrainian city of Mariupol were stopped. Ukrainian officials accused Russia of breaching a temporary truce meant to allow people to flee the battle zone less than three hours after both sides were supposed to have laid down arms in the southern cities of Mariupol and Volnovakha.
Mariupol and at least three other Ukrainian cities - Kharkiv, Chernihiv and Sumy - are "highly likely" to have been encircled by Russian forces, according to Britain's Defense Ministry.
As the war rages on, Ukrainian President Volodymyr Zelensky has urged NATO to impose a no-fly zone after Russian troops seized Europe's largest power plant in Ukraine's southeast. The International Atomic Energy Agency in Vienna said Ukrainian officials informed the U.N. nuclear watchdog that a projectile hit a training building in the vicinity of one of the plant's reactor units. That caused a localized fire that sparked alarm but triggered no release of radioactive material, the agency said.
The United States, Britain and others have so far ruled out supporting any no-fly zone, stating that it would be likely to severely escalate the conflict.
But Putin went one step further Saturday, saying that any third-party declaration of a no-fly zone over Ukraine would be considered "participants in a military conflict." The Russian president claimed that his country would see "any movement in this direction" as an intervention in its military operations in Ukraine that would "pose a threat to our service members."
"We'll instantly view them as participants in a military conflict," the Russian president said.
The worldwide enforcement of the extensive sanctions against Russia has intensified in recent days. The Russian economy in particular has taken the brunt of the international community's actions. The value of the ruble plummeted to less than 1 U.S. cent this week, and the Russian government is still unable to tap into a large portion of its $640 billion in central bank reserves, a lifeline that would skirt the impact of global sanctions.
The pressure led Putin on Friday to call for the "normalization" of relations with other states, saying Moscow has "absolutely no ill intentions with regard to our neighbors."
"I think that everyone should think about normalizing relations and cooperating normally," he said.
He said Russia saw no need to aggravate tensions with other countries, claiming that Moscow's actions in Ukraine came only "in response to unfriendly actions toward Russia." Putin added that there was "no need" to escalate the situation or impose further sanctions.
But his remarks Saturday, which were made in a meeting with Russian female pilots and flight attendants ahead of International Women's Day, featured a more defiant and threatening tone.
When he addressed the developments in Mariupol, he unsurprisingly blamed Ukraine for the actions in the city, claiming that Ukrainian officials "treat even worse the people they themselves consider their own citizens."
"They just really, directly cover themselves using the people as a human shield," Putin said. "This situation is now unfolding in Mariupol."
The Russian president also noted that while there were no preconditions or plans to introduce martial law in Russia, he reiterated that it can be introduced at any time "in case of aggression from the outside, a military threat."
"I hope this won't happen, despite irresponsible statements by some officials," he said.
___
To ensure the safety of its staff, The Washington Post is withholding the name of one of the contributors to this story.
---
---
---
---