Russian invasion raises stakes in fight over foreign-backed broadcasts
By
Cristiano Lima, Aaron Schaffer
The Washington Post
March 3, 2022
---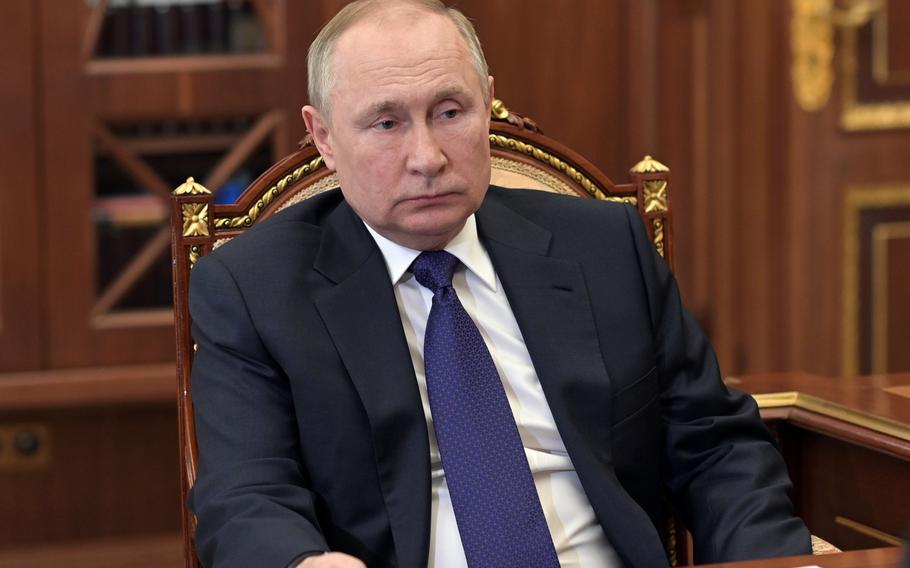 On Tuesday, a prominent trade group that represents thousands of television and radio stations made a rare plea to broadcasters across the country: stop carrying Russian state-media.
The call to action by the National Association of Broadcasters (NAB) was "somewhat surprising," The Hollywood Reporter's Alex Weprin wrote, given the group's "long-standing and vocal support of freedom of speech and the First Amendment."
But just days prior, lawyers for NAB called on the courts to reject a federal order that would require broadcasters to identify and disclose when programming they have leased is sponsored or provided by a foreign government.
The legal dispute highlights how television and radio networks are grappling with some of the same thorny questions about foreign influence and free speech as the social media giants, who have faced intense pressure over the past week to clamp down on Russian state media.
The standoff between NAB and regulators at the Federal Communications Commission predates the Russian invasion of Ukraine, but it has gained fresh significance in the wake of the war in Europe.
"In light of recent events, this effort - which is all about transparency - has taken on new importance. It's time for these rules to go into effect," Democratic FCC Chairwoman Jessica Rosenworcel told The Washington Post.
In April, the FCC voted unanimously to adopt an order that would require broadcasters to either disclose that programming they have leased is sponsored or provided by a foreign government at the time of the broadcast or to independently verify that it is not.
In August, NAB and other industry groups filed a petition objecting to the order, arguing that the agency overstepped its authority and that the new rules would be "unnecessary and overly burdensome." The issue of undisclosed foreign entities driving programming, broadcast groups argued at the time, was "above all" associated with "social media and the Internet."
Just because a program runs on a broadcast network doesn't mean the two sides struck a deal. Programming can be brokered through a complex web of arrangements with third parties that lease out time on networks, which may not fully know what they are airing.
The case is heating up at a prescient moment, as companies are thrust into the middle of the conflict between Russia and Ukraine.
The two sides filed final briefs in D.C. District Court last week and are slated to head into oral arguments in April. The case will decide the fate of the FCC's more stringent disclosure rules.
NAB said Wednesday it "unequivocally supports" disclosures for programming that is sponsored by foreign governments - such as broadcasts of the television network RT or radio outlet Sputnik - just not the FCC's proposed requirements for vetting those arrangements.
"Unfortunately, the FCC adopted an unlawful and unwieldy mechanism to determine when such disclosures might be necessary, and one that has a disproportionately negative impact on small and minority broadcasters," NAB spokesperson Ann Marie Cumming said.
But FCC leaders argue that it's a common sense solution to address concerns about U.S. consumers unknowingly being exposed to messaging from foreign governments, an issue that has gained massive attention over the past week.
"The wisdom of that targeted disclosure requirement is even more clear today, in light of the Russian government's propaganda machine, which has gone into overdrive with their invasion of Ukraine," Republican FCC Commissioner Brendan Carr told The Technology 202.
While there are few known examples of programming with ties to Russia on U.S. airwaves, the FCC warned in its news release announcing the order in April that "foreign governmental entities are increasingly purchasing time on domestic broadcast stations."
The debate mirrors the one unfolding informally in Silicon Valley.
Social media companies including Facebook, YouTube and Twitter have taken a slew of steps in recent days to make it more evident when consumers are engaging with content from Russian state media, including by labeling their accounts and posts. Amid mounting scrutiny from European officials, tech companies have blocked access to the outlets in certain countries.
The pressure campaign has recently spilled over into the television and streaming space, with DirectTV, Roku and others dropping Russian state media outlets such as RT from their services.
But questions remain about how far companies should go to make sure they are not unwittingly serving as mouthpieces for Russian propaganda.
In the statement Tuesday, NAB President Curtis LeGeyt cast decisions not to broadcast Russian state media as a moral choice.
"While the First Amendment protects freedom of speech ... it does not prevent private actors from exercising sound, moral judgment," LeGeyt said.
As the war unfolds overseas, it's a question U.S. businesses are increasingly being forced to confront at home.
---
---
---
---