Ukrainian forces hold Kyiv amid fierce fighting
By
Chico Harlan, David L. Stern, Amy Cheng, Andrew Jeong and Ellen Francis, Timothy Bella, Marisa Iati and Kim Bellware
The Washington Post
February 26, 2022
---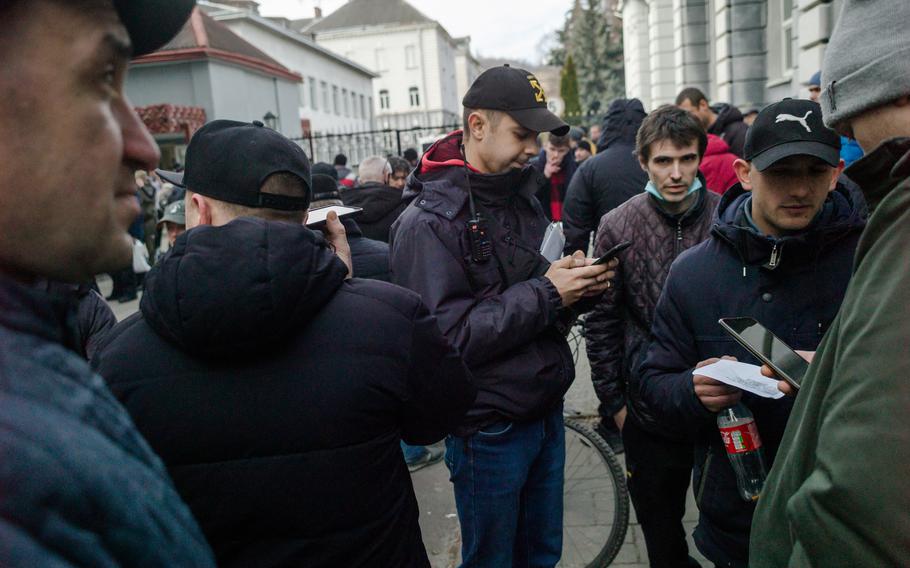 Outmanned Ukrainian forces held on to their capital, Kyiv, after resisting an overnight onslaught that included explosions and bursts of gunfire. As fighting receded during daylight hours, the city remained in government hands. Authorities imposed a 5 p.m. curfew and air raid sirens could be heard as night fell Saturday evening.
Ukrainians who ventured outside in the afternoon found a city transformed by war. There were sandbags in the streets, burned-out cars, and lines at sites distributing guns. The metro had stopped running, its stations now used solely as underground bunkers.
Ukrainian President Volodymyr Zelensky posted a video of himself at daybreak Saturday, unshaven, on the capital's streets, appearing resolved to remain in Kyiv even as Western officials warned that Russia plans to capture or kill him.
Ukraine's health minister said that a total of 198 Ukrainians have been killed in the fighting, up from 137 a day earlier, with more than 1,000 wounded. There were already signs of a mass exodus - the United Nations said Saturday that more than 150,000 Ukrainian refugees have fled the country.
A cargo ship and an oil tanker off the southern tip of Ukraine in the Black Sea were struck by missiles Friday, sparking fires, a Ukrainian shipping company said.
At about 12:10 p.m. local time, missiles hit the bunker of the Moldovan-registered vessel Millennium Spirit, according to a statement from Vladimir Ivantsov, manager of Stark Shipping Ukraine.
The ship was targeted, Ivantsov said, because it was carrying about 600 metric tons of fuel for Ukrainian forces.
Two members of the 10-person crew were seriously injured, Ivantsov said.
Less than an hour later, Ivantsov said, a rocket hit the stern of the Panamanian-registered vessel Namura Queen. The ship had been on its way to load grain at a port near Odessa when the missile struck, he said.
Ukrainian Ambassador to the United States Oksana Markarova confirmed to reporters Saturday that Ukraine attributes the attacks on both ships to Russia. She called it "a flagrant violation of the international law of the sea."
In a message meant to bolster strength and solidarity in the face of Russian invasion, Zelensky on Saturday praised his fellow citizens for being willing to defend their nation and vowed to fight "for as long as it takes to liberate the country."
"The world has seen that Ukrainians are powerful. Ukrainians are brave. Ukrainians are on their native land and will never surrender it," Zelensky said in a video shared on the messaging app Telegram. "If babies are already being born in shelters, even as shelling continues, then the enemy has no chance in this, undeniably, people's war."
The onetime comedian turned president, Zeleksny has thus far remained in the capital of Kyiv despite telling Ukrainians he is Russia's "Target No. 1," refusing U.S. efforts to evacuate him and his family to safety.
On Saturday, Zelensky says that he spoke "every hour" with world leaders - those he called "friends" of Ukraine, including Italy and India, the latter which he said gives its "full support."
He also voiced support for the prospect that European allies could cut Russia off from the Society for Worldwide Interbank Financial Telecommunication, the bank messaging network known as SWIFT. The sanction would be a severe blow to Russia, but it remains a controversial move because of the effects it could have on other European economies.
On Saturday, German officials who had long been holdouts of using SWIFT to sanction Russia signaled openness to the move if done in a "targeted" manner.
"Our diplomats fought days-long and inspiringly, so that all European countries agreed to this very strong and just decision, to cut off Russia from the international interbank network," Zelensky said, who underscored SWIFT's importance to Russia. "We have this very important victory - this is billions and billions of losses for the Russia, a concrete price for this despicable invasion into our country."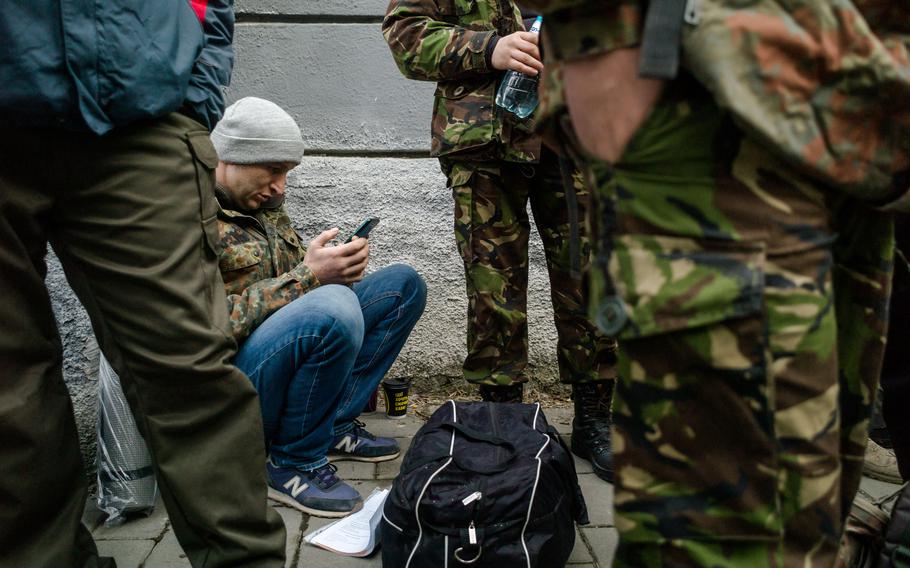 Cranes moved huge concrete blocks into roads leading into Lviv on Saturday, as volunteers filled and stacked sandbags in an attempt to fortify the western city against Russian attack.
As fears of an invasion built in recent weeks, Lviv, 50 miles from the border with the European Union, was considered a safe haven, with some embassies initially evacuating their staff to the city. But now it is bracing for an assault.
Air-raid sirens sounded across the city throughout the day, though no strikes followed. On Saturday morning, a few hundred people gathered at the gates of a military compound to sign up to fight with the city's territorial defense force. They were told to form units of 10 people.
"Get together in tens, exchange phone numbers and organize," an officer announced over a loudspeaker. While in other cities volunteers were handed guns, here they were told to wait.
"Enroll, go home, pack, get your documents ready and wait for the call," the officer said.
Orest Gaworsky, 70, had gathered a group, writing down their names and numbers to submit. He said he was happy with his new comrades.
"There are no losers here," he said.
Gaworsky served as a civil volunteer in Donbas in 2015, where his vehicle was hit in an explosion.
"I'm too old to run with a gun, but I can sit and shoot," he said. "We will shoot, we will make molotov cocktails, we will do everything. We'll fight them with pitchforks!"
In other developments, British lawmakers Saturday urged the government to do more to offer safe passage for people fleeing Russia's invasion of Ukraine.
Unlike some other countries, Britain has not offered to waive its current rules to take in Ukrainian refugees.
Julian Smith, a senior member of the ruling Conservative Party, urged the government to "rip up" the bureaucracy. "Let's just say they are welcome & we will make it as easy as possible to be here," he said on Twitter.
Yvette Cooper, a politician for the opposition Labour Party also tweeted that even though Ukraine is "under fire," Britain's Home Office "still applies normal visa restrictions inc salaries, language, close relatives."
"This isn't solidarity w Ukraine, it's immoral," she said.
Yasmin Qureshi, a Labour politician whose constituency has an active Ukrainian community, told the Washington Post that "Ukraine nationals don't need a visa to come to Ireland and I think we should do the same."
"We say, 'we need to help people.' Well, this is a practical way of helping people," Qureshi said.
Polls show that a majority of Brits believe that their country should take in Ukrainian refugees.
Many on social media criticized the Home Office office for "gesture politics" after it tweeted a video of the Ukrainian flag flying above its building along with the hashtag #StandWithUkraine.
Germany on Saturday announced plans to send 1,000 antitank weapons and 500 Stinger missiles to Ukraine, a major shift in post-World War II German defense policy that marked a significant escalation in Europe's military support for Kyiv.
"The Russian invasion marks the turning of an era. It is our duty to support Ukraine to the best of our ability in defending against Putin's invading army," German Chancellor Olaf Scholz said in a statement.
The decision was a significant reversal after months of foot-dragging from Berlin about military support for Ukraine. Until Saturday, German leaders had refused to send lethal weaponry and had also blocked other countries from doing so with German-made armaments. Under pressure, they earlier agreed to send helmets and a field hospital, a decision for which they were mocked.
Germany has rarely sent weapons into conflicts, a long-standing political taboo that is related to its guilt over World War II. (Detractors note that the German defense industry has nevertheless sold extensive armaments to authoritarian leaders around the world.) The country has been especially cautious about sending weapons that would be used against Russia, one of the Nazi regime's World War II-era opponents and a country that many Germans partly credit for their liberation.
That meant that Saturday's move was especially notable. It could open a flood of German-made armaments from other countries to Ukraine as well. Earlier in the day, the country had already signed off on the Netherlands sending 400 German-made rocket-propelled grenade launchers to Kyiv.
The 400 RPG launchers are currently owned by the Dutch government but were manufactured in Germany; when Germany sells or transfers its weaponry to other countries, it retains control over whether those arms get moved elsewhere.
The German government said Saturday that it supports cutting off Russia from a key financial transactions mechanism in a "targeted and functional" way, marking a possible breakthrough for governments that had urged Berlin to back more decisive action against Moscow.
In a statement, Foreign Minister Annalena Baerbock and Economy and Climate Minister Minister Robert Habeck said they were working to determine how "the collateral damage of a SWIFT decoupling can be limited in a way that it hits the right targets."
It remained unclear on Saturday how such a targeted decoupling would look - and whether Germany would back less-targeted measures if the plans cannot be implemented in the way it is hoping for.
Germany, the European Union's biggest economy, has strong trade ties with Russia and heavily depends on its supply of natural gas. It had been a key skeptic of cutting Russia off from SWIFT - a move French Finance Minister Bruno Le Maire called a "financial nuclear weapon" on Friday.
SWIFT - short for the Society for Worldwide Interbank Financial Telecommunication - is a messaging network connecting banks around the world. The Belgian-based consortium links more than 11,000 financial institutions operating in more than 200 countries and territories, acting as a critical hub enabling international payments.
Italy, which had also been reluctant to back a SWIFT cutoff, appeared to change course earlier on Saturday, saying that it is now also open to such a move.
British Prime Minister Boris Johnson has been among the biggest supporters of such a measure, the Financial Times reported Thursday. France has also become increasingly vocal in its support.
Ukraine's Foreign Minister Dmytro Kuleba said Friday he had pressed Secretary of State Antony Blinken "to use all US influence on some hesitant European countries to ban Russia from SWIFT."
In Russia, where spontaneous mass protests are illegal, people across the country got creative Saturday, pouring out their opposition to a war that has shocked liberals and unsettled its comfortable urban class.
Some mounted individual pickets, holding antiwar posters while standing alone on a street outside Russia's lower house of parliament in Moscow and in city squares around Russia - the only form of protest that was legal until March 2020 when authorities ruled even that out because of the pandemic.
Others adopted the strength-in-numbers philosophy: Hundreds marched in Yekaterinburg chanting "No to war!" according to the Telegram channel Avtozak Live.
And others played a game of cat and mouse with police. Instead of massing in one place - difficult in Moscow or St. Petersburg, given the massive deployments of riot police - many protests were smaller, some just a few dozen people, moving from place to place to avoid arrest.
Even so, more than 325 protesters were arrested in 30 cities and towns across Russia on Saturday, almost half of them in Moscow, according to the rights group OVD-Info. In the three days since the invasion of Ukraine began, more than 2,776 people have been arrested in protests across the country.
One group of anonymous St. Petersburg protesters donned skull masks and hoodies to mount a demonstration in a cemetery, carrying placards with slogans, "Don't they have enough bodies" and "There are no patriots among the dead," the Vot Tak news website reported.
Instead of holding a poster, artist Anzhela Aganina wore a traditional Ukrainian shirt and stood in a Moscow street, severed blonde braids and flowers arranged at her feet, according to online news site SotaVision.
In St. Petersburg, police led away one young woman carrying a black tote bag with the words "No war," the site reported.
___
The Washington Post's Michael Birnbaum, Robyn Dixon and Karla Adam contributed to this report.
---
---
---
---