Biden gathers Western allies amid unconfirmed reports of evacuations from separatist area
By
Andrew Jeong, Steve Hendrix, John Wagner, Robyn Dixon, Mary Ilyushina
The Washington Post 
February 18, 2022
---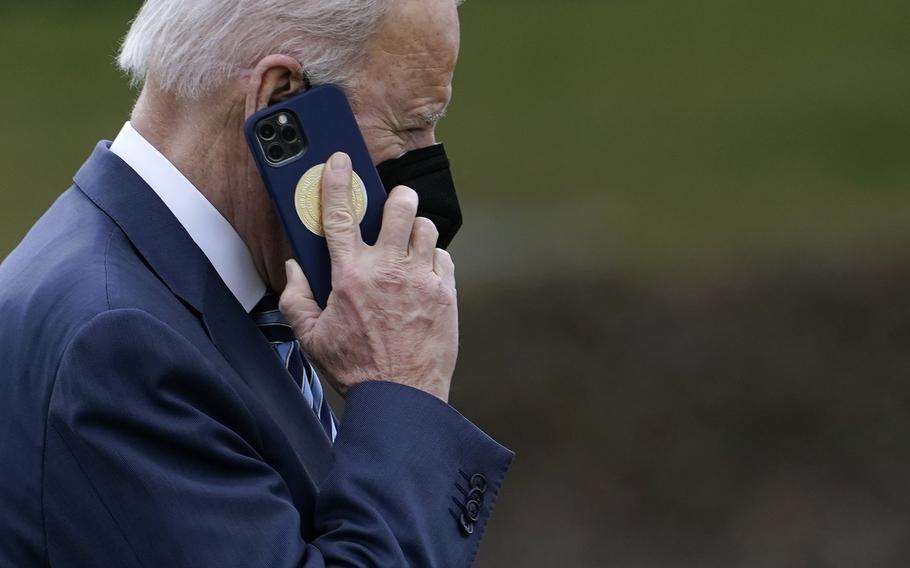 President Joe Biden will hold talks with other Western leaders Friday about the Ukraine crisis, as 11th-hour efforts to prevent a Russian attack continue against the grim backdrop of widespread shelling in eastern Ukraine and Moscow's continued troop buildup at the border.
The fear of an imminent assault rose Friday when the Russian-backed leader of a separatist-controlled area of eastern Ukraine said officials there were launching a mass evacuation of civilians into neighboring Russia, citing the threat of military action by Ukrainian troops. He said the evacuation was "by agreement" with Russian leadership.
But confusion surrounded the announcement by Denis Pushilin, head of the self-proclaimed Donetsk People's Republic in Ukraine's Donbas region. Kremlin spokesman Dmitry Peskov said he had "no information about what is happening."
Any such evacuation would be particularly worrying because of fears it could be used by Moscow as a pretext to launch an attack as a response to purported Ukrainian military aggression.
The White House will host a call with top officials - including French President Emmanuel Macron, German Chancellor Olaf Scholz and British Prime Minister Boris Johnson - during which the Kremlin's military buildup will be discussed. Biden told reporters Thursday that the threat of a renewed invasion remains "very high" and that a Russian attack could happen in the "next several days."
Vice President Kamala Harris, in Munich for a major security conference, met with NATO Secretary General Jens Stoltenberg and representatives of NATO's three Baltic states and was set to confer with Ukraine's president, Volodymyr Zelensky. Secretary of State Antony Blinken agreed to meet Russian Foreign Minister Sergei Lavrov next week under the condition that Moscow refrains from attacking Ukraine.
The United States asserted Friday that Russia has "probably" massed as many as 190,000 personnel in and near Ukraine, a significant jump from an estimate of 100,000 on Jan. 30.
The assessment was included in a statement by the U.S. mission to the Organization for Security and Cooperation in Europe.
"[T]his is the most significant military mobilization in Europe since the Second World War," said the statement, as delivered by U.S. Ambassador Michael Carpenter.
According to the statement, the United States believes Russia has amassed between 169,000 and 190,000 military personnel in and near Ukraine.
"This estimate includes military troops along the border, in Belarus, and in occupied Crimea; Russian National Guard and other internal security units deployed to these areas; and Russian-led forces in eastern Ukraine," the statement said. "While Russia has sought to downplay or deceive the world about their ground and air preparations, the Russian military has publicized its large-scale naval exercises in the Black Sea, Baltic Sea and the Arctic."
Pushilin, the Russian-backed leader of a separatist-controlled area of eastern Ukraine said in a video address that Russia had agreed to accept residents of the region and that checkpoints and border crossings were ready to speed their movement.
"First of all, women, children and the elderly are subject to evacuation," Pushilin said. "By agreement with the leadership of the Russian Federation, places to take in and accommodate our citizens are ready in the Rostov region" of western Russia.
But Kremlin spokesman Dmitry Peskov, in a response to a question from a reporter about the reports of an evacuation from Donbas, said, "I have no information about what is happening there now."
Pushilin beseeched residents of the region to leave the area, at least temporarily, to "save their life." Pushilin claimed without presenting evidence that Ukrainian President Volodymyr Zelensky "will soon give an order to . . . invade the territory of the Donetsk and Luhansk People's Republics."
The evacuation announcement is particularly worrying, coming after Russian President Vladimir Putin twice accused Ukraine of "genocide" in the separatist east during a news conference with German Chancellor Olaf Scholz on Tuesday. There are fears that the evacuation itself could be used by Moscow as a pretext to launch an attack, on the basis of claims that Ukraine's military mounted major attacks. Peskov warned this week of the "high risk" of a Ukrainian attack on the separatist regions.
Many civilians in the region fled over the border to Russia during fighting in 2014 and 2015, but there was no organized mass evacuation.
Russia's Interfax news agency, citing an unnamed source, said officials were planning for the evacuation of "several hundreds of thousands of people."
"Accommodation centers have already been set up for them," Interfax quoted the source as saying.
Putin noted the spiking tensions, which he also blamed on Ukraine and its Western allies, during a news conference Friday in Moscow. "All Kyiv needs to do is sit down at the negotiating table with representatives of Donbas and agree on political, military, economic and humanitarian measures to end the conflict," Putin said.
"Unfortunately now we are seeing the opposite - the escalation of the conflict in Donbas."
Ukrainian Foreign Minister Dmytro Kuleba rejected accusations that Ukraine was poised to launch a major attack on Donbas. "We categorically refute Russian disinformation reports on Ukraine's alleged offensive operations or acts of sabotage in chemical production facilities," Kuleba wrote on Twitter. "Ukraine does not conduct or plan any such actions in the Donbas. We are fully committed to diplomatic conflict resolution only."
David L. Stern in Lviv, Ukraine, contributed to this report.
---
---
---
---