Ukraine and Moscow-backed separatists trade accusations of shelling in potential eastern flash point
By
Alex Horton, Isabelle Khurshudyan, Rachel Pannett
The Washington Post
February 17, 2022
---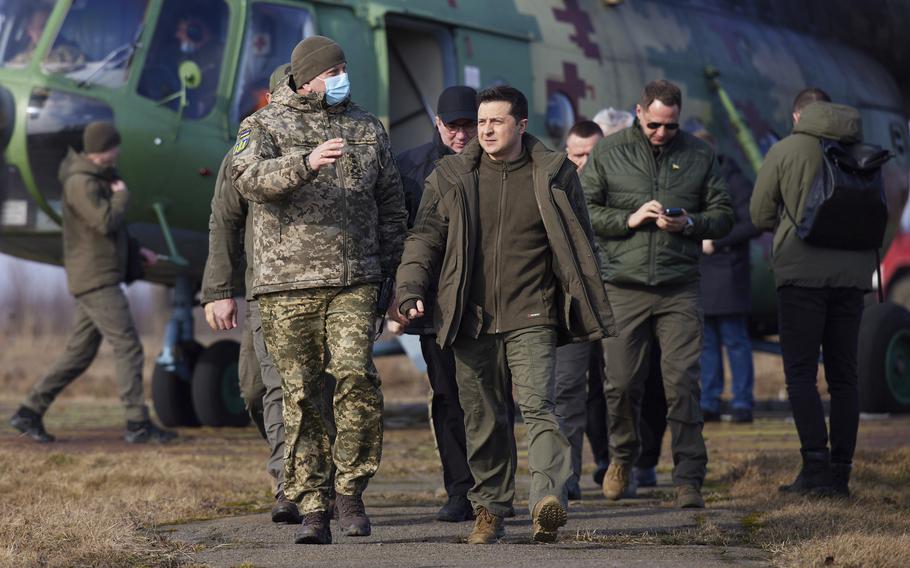 KYIV, Ukraine - Ukraine and Russian-backed separatists accused each other Thursday of violating a cease-fire in the eastern part of the country, a potential flash point in what Western officials say are Russian preparations for a possible attack by growing forces massed near Ukraine's borders.
In Moscow, the Russian government has expelled the U.S. Embassy's second-ranking diplomat, Deputy Chief of Mission Bart Gorman, the State Department confirmed Thursday. No reason was immediately given for the expulsion of Gorman, whom a department spokesperson described in a statement as "a key member of the Embassy's senior leadership team." The statement called the move "unprovoked" and "an escalatory step" and said the United States is "considering our response." A State Department official said later that Gorman departed last week.
Separately, Russia on Thursday made public a written response to U.S. proposals submitted Jan. 26 regarding Moscow's demands on halting NATO expansion. "In the absence of the readiness of the American side to agree on firm, legally binding guarantees of ensuring our security by the United States and its allies, Russia will be forced to respond, including through the implementation of military-technical measures," it said.
The letter from the Russian Foreign Ministry did not elaborate on "military-technical measures" but again denied any plans for a "'Russian invasion' of Ukraine, as has been officially claimed by the U.S. and its allies since last fall." It added that "claims of 'Russian responsibility for the escalation' cannot be interpreted other than as an attempt to pressure and devalue Russian proposals on security guarantees."
The Ukrainian military reported 29 cease-fire violations up and down the border before noon, the vast majority of them with weapons that violate previous agreements. Separatists rained down artillery, mortar rounds and other munitions at the front, the military said in a statement posted to social media. In the village of Stanytsia Luhanska near Luhansk, an artillery strike blew a hole through a kindergarten building. Three adults suffered concussions, officials said. No children were reported injured.
The Ukrainian military said the village was struck by 32 artillery rounds.
It was not immediately clear whether the reported shelling in the Luhansk region of eastern Ukraine amounted to more than the usual flare-ups in an eight-year war there, but the United States has warned that Russia could instigate an incident as a pretext for an attack.
At the White House, President Joe Biden told reporters Thursday that the threat of invasion remains "very high" and that Russia may be creating an excuse to do so.
"We have reason to believe that they are engaged in a false flag operation to have an excuse to go in," Biden said before departing on trip to Ohio. "Every indication we have is they're prepared to go into Ukraine, attack Ukraine." He added that "my sense is it will happen in the next several days."
But he said a diplomatic resolution is still possible, which is why he dispatched Secretary of State Antony Blinken to address the U.N. Security Council on Thursday.
In New York, Blinken told the council that a potential Russian false flag action could include a "fabricated so-called terrorist bombing inside Russia," a fake mass grave, a staged drone attack on civilians or a "fake, even a real, attack using chemical weapons."
He added: "I am here today not to start a war but to prevent one." He called on Russia to renounce any future invasion of Ukraine and send its forces back to their barracks. "The world will remember that commitment," he said. "This is a moment of peril for the lives and safety of millions of people, as well as for the foundation of the United Nations charter and the rules-based international order that preserves stability worldwide." He said he has asked his Russian counterpart to meet with him in Europe next week.
U.S. Defense Secretary Lloyd Austin, attending a NATO meeting in Brussels, told reporters that the reports of shelling are "certainly troubling" and that the United States is still gathering details. "But you know we've said for some time that the Russians might do something like this in order to justify a military conflict, so we'll be watching this very closely."
The Security Council meeting was called by Russia, which currently holds its rotating presidency, to discuss implementation of the 2014-2015 Minsk agreements on ending the war in eastern Ukraine.
Western officials said Wednesday that Russia was showing no sign of pulling back its troops from Ukraine's border with Ukraine but was reinforcing them instead, contrary to President Vladimir Putin's public statements that Russia was carrying out a partial withdrawal. A senior U.S. official accused Russia of making "false" claims about its purported drawdown, saying Washington has confirmed that Moscow added as many as 7,000 troops along the Ukrainian border, with some arriving as recently as Wednesday.
"Every indication we have now is they mean only to publicly offer to talk and make claims about de-escalation while privately mobilizing for war," the official told reporters, speaking on the condition of anonymity under ground rules set by the White House.
Russia denied that it has moved 7,000 more troops close to the border, saying the charge was just as false as claims that Russia could invade Ukraine this week.
At a news conference Thursday in Brussels, Austin said of Russia's claims to be pulling some of its forces from the border: "We don't see that. Quite the contrary. We see them add to the more than 150,000 that they already have arrayed along their order even in the last couple of days. We've seen some of those troops inch closer to that border. We've seen them fly in more combat and support aircraft. We've seen them sharpen their readiness in the Black Sea. We've even seen them stocking up their blood supplies."
He added: "You know, I was a soldier myself not that long ago, and I know firsthand that you don't do these things for no reason, and you certainly don't do them if you're getting ready to pack up and go home."
The U.S. Army will deploy a Stryker company to Bulgaria in the coming days, Austin said, joining thousands of U.S. troops who have mobilized along NATO's eastern flank. They will depart from their home base in Germany, which has already sent Stryker vehicles and soldiers to Romania. Other service members and their equipment arrived in Poland, part of a growing U.S. presence there.
Stanytsia Luhanska, a government-held village in Ukraine's contested eastern territories where the kindergarten was struck, sits outside the separatist-controlled city of Luhansk and has not often been targeted. A hole was blown through a wall, and soccer balls were scattered among debris, according to photos posted to social media.
Earlier Thursday, a separatist leader told Russian state media that Ukrainian government forces had opened fire on several separatist positions, seeking to escalate conflict. He did not provide evidence for his claim, and Ukraine denied shelling Kremlin-backed forces in its east, according to Reuters. The separatists described the purported Ukrainian shelling as a "large-scale provocation" and said they returned fire.
Ukrainian Foreign Minister Dymtro Kuleba denounced the shelling of Stanytsia Luhanska, which he blamed on Russia. He wrote Thursday on Twitter: "We call on all partners to swiftly condemn this severe violation of Minsk agreements by Russia amid an already tense security situation." Kuleba referred to 2014-2015 accords aimed at ending the separatist rebellion in eastern Ukraine.
The U.S. assessment of Russian troop strength was buttressed by Britain's chief of defense intelligence, Lt. Gen. James Hockenhull, who said in a rare public statement that Russia "continues to build up military capabilities near Ukraine."
"This includes sightings of additional armored vehicles, helicopters and a field hospital moving towards Ukraine's borders," he added. "Russia has the military mass in place to conduct an invasion of Ukraine."
In Belarus, where thousands of Russian troops have been conducting joint exercises just across the border from Ukraine, President Alexander Lukashenko injected some uncertainty into previous pledges that the massive Russian force would withdraw when the drills conclude Feb. 20. During an appearance at a joint exercise Thursday, the Belarusian leader said he would consult Friday with Putin in Moscow on how long the troops should stay.
"If we decide so, we will withdraw them in a day," he told reporters. "If we decide a month, they will stand here for a month. The armed forces will be here for as long as necessary." He also did not rule out maintaining some Russian military equipment permanently in his country, contradicting previous Belarusian statements that all of it would be withdrawn.
The head of Estonia's external intelligence service, Mikk Marran, predicted Wednesday that Russia will launch a "limited" attack on Ukraine that avoids major cities. The Baltic NATO member state this week released an annual intelligence report steeped in concerns about Russia's growing military capabilities and willingness to use the threat of war as a "key foreign policy tool."
Some Russia experts noted that Kremlin claims of a pullback have historical precedent: Reports of the last Russian troops leaving a rebel-held region of Georgia in 2008 were followed days later by an attack.
NATO Secretary General Jens Stoltenberg said in Brussels that Russia's willingness to challenge the post-Cold War European security order means the bloc faces a "new normal."
The Western alliance is considering adding more battle groups in central, eastern and southeastern Europe - including possibly in Romania and Bulgaria - to complement the four established in Estonia, Latvia, Lithuania and Poland after Russia annexed Crimea from Ukraine in 2014.
Separately, Britain confirmed Wednesday it will double the size of its force in Estonia under NATO command. "NATO and our allies have been clear that an invasion of Ukraine will be met with severe consequences," British Defense Secretary Ben Wallace said in a statement.
Russia is demanding that NATO halt eastern expansion - precluding Ukraine from ever joining - and the Kremlin also wants the alliance to significantly scale back its presence and activities in Eastern Europe. The United States and its partners have said the alliance's open-door policy is nonnegotiable but that progress could be made on other issues, including reciprocal arms-control measures and limitations on military exercises.
As Ukrainians marked a "day of unity" to confront possible Russian aggression, President Volodymyr Zelensky visited service members near the country's border with Russia on Wednesday. He also attended a tactical exercise in Ukraine's west - a counter to the expansive drills undertaken between Russia and Moscow-friendly Belarus in recent days - and inspected Javelin missiles and other weapons donated by the United States and other Western partners.
Ukrainians woke up not knowing whether Feb. 16 was to be a date that would live in infamy, following predictions it could be the day Russia invaded. In a hip Kyiv neighborhood the predictions about a looming war didn't worry Anastasia Kuznetsova.
"Everyone is talking about war and what will happen and blah blah blah. But for people who are working, it's all the same. Just an ordinary day," said the 24-year-old, who was wearing headphones and working a vape pen.
Eleventh-hour talks aimed at achieving a diplomatic resolution to the crisis are continuing, even as the West and Russia offer alternative versions of reality on the ground. Ukraine has reportedly asked the United Nations Security Council to discuss a move by Russian lawmakers to ask Putin to recognize contested territories in eastern Ukraine as independent states. There is unlikely to be any concrete action against Russia, which is one of five permanent members of the council and could veto any resolution.
Vice President Kamala Harris will arrive in Germany on Thursday night for the Munich Security Conference, a gathering launched by Western nations at the height of the Cold War to address security challenges. The Kremlin has said it won't send any officials. Harris, who will be joined by Secretary of State Antony Blinken, is set to meet NATO's Stoltenberg and the leaders of the three Baltic states. Germany's Foreign Ministry announced Wednesday that foreign ministers of the Group of Seven nations will hold crisis talks on Ukraine on the meeting's sidelines.
Despite the contradictory claims about Russian troop withdrawals, Wolfgang Ischinger, a German diplomat who chairs the Munich conference, expressed guarded optimism following this week's visit to Moscow by German Chancellor Olaf Scholz.
"The news out of Moscow are encouraging. Chancellor Scholz should be congratulated: he can return home not having been humiliated by Putin," he wrote on Twitter Wednesday. "Basis for meaningful relationship. Peace at Hand?"
Pannett reported from Sydney. The Washington Post's Karen DeYoung, John Hudson, Missy Ryan and William Branigin in Washington, Robyn Dixon and Mary Ilyushina in Moscow, Emily Rauhala in Brussels and Serhiy Morgunov and Steve Hendrix in Kyiv contributed to this report.
---
---
---
---