Scholz says response to Russia will be 'united and decisive' if Ukraine is invaded
By
The Washington Post
February 7, 2022
---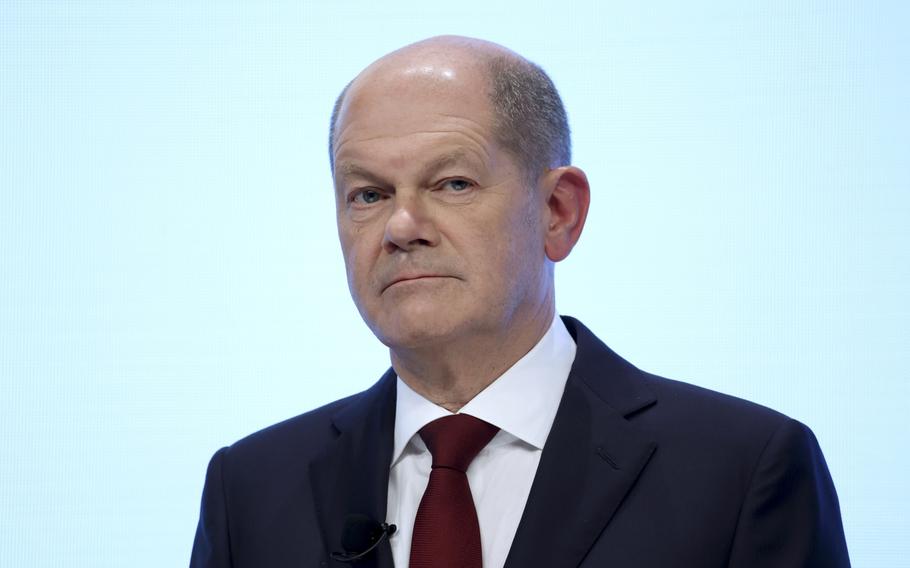 German Chancellor Olaf Scholz is making his first visit to Washington since taking office Dec. 8 and will meet President Joe Biden at the White House on Monday. He has been thrust into a major security crisis as Russia masses troops around Ukraine, threatening a new war in Europe. Scholz's government is facing criticism that it has not done enough to support Ukraine and deter Russian President Vladimir Putin. Scholz spoke to The Washington Post's Souad Mekhennet on Friday. The interview, his first with the international press, was conducted in English and has been condensed and edited for clarity.
Q: Is it bothering you that there has been so much commentary depicting Germany as an unreliable ally during the Ukraine crisis?
A: Reality is more important than rumors. The reality is that Germany is the biggest NATO partner in continental Europe, that we are continuously strengthening our military forces, that we are a very good partner. We are cooperating with our allies in NATO and [the European Union], and with the United States, on the question of how to react to this threat to Ukraine that is coming from Russia. Our strict response is saying it will have very high prices if they intervene and that we work very hard to get a way out of this situation. Being a partner in NATO and the E.U. and doing our job is, I think, the best for solving the crisis.
Q: What do you say to the criticism that Germany has not been a strong enough ally, both to Ukraine and within NATO?
A: We are the strongest economic supporter of Ukraine. And we will continue to be. … It is approximately 2 billion U.S. dollars so far, [in the past 7 years]. … We are working together in renewable energies and future technologies that are important for giving Ukraine … the chance for having more economic and financial resilience.
Today, Germany has the largest defense budget in continental Europe. … We contribute to the NATO response forces with thousands of German soldiers, have deployed hundreds of troops to Lithuania, where we lead the NATO Enhanced Forward Presence, and we currently dispatched several fighter jets to Romania to patrol the skies together with allies. And we will do so again in the Baltic countries.
Q: People have criticized Germany for sending 5,000 helmets to Ukraine but no weapons?
A: First, it was Ukraine that put in the request to send helmets, and we reacted to that. Second, there are strict export criteria we are following on the export of weapons into crisis regions. There is a long continuity of German export restrictions on weapons, which has been handled by the former government, and there is just continuity in that.
Q: Would the German government halt the process to open the Nord Stream 2 pipeline if Russia launches another invasion of Ukraine?
A: We are ready to take together with our allies all necessary steps. And we have a very clear agreement with the United States government on gas transit and energy sovereignty in Europe. We already also agreed that we will support Ukraine, that we will fight for the gas transit via Ukraine intensely and that we will be very strong if this gas transit would be endangered. Also, it is absolutely clear that in a situation like this all options are on the table. Please understand that I will not get into any specifics, but our answer will be united and decisive.
Q: U.S. lawmakers have suggested the current sanctions waiver for Nord Stream 2 would end if Russia invades Ukraine. What do you say to that?
A: We are working very hard with our allies in NATO and in the European Union to make clear what we can do in the specific situation [that Russia invades]. But we are also clear about the necessary strategic ambiguity. This is also critical for giving this strong message that it will be very costly — so they cannot go to a computer and count whether it will be too expensive or not. It is something they should avoid, and it would be too high a price to intervene in Ukraine.
Q: What will your message to Putin be [when you visit Moscow on Feb. 15]?
A: First, that it will have a very high price if Russia would intervene into Ukraine with its military troops … and on the other hand, that we are working very hard to use all the channels of talks that we have now: talks between the United States and Russia, the NATO-Russia Council, the [Organization for Security and Cooperation in Europe], and obviously it's also the Normandy format [involving Ukraine, Russia, France and Germany] that is coming to life again with the strong activities of President [Emmanuel] Macron and me.
Q: You are visiting Ukraine before going to Moscow?
A: Yes, on the 14th. We are in intense talks together with Macron and President [Volodymyr] Zelensky about the common prospectus on the Normandy format. It is of essence that we work together. … It's so important that we make some progress, that we come further with the components of the Minsk agreement, which is the basis for this Normandy format. While we had no meetings for a long time, we had no progress, now a lot of meetings are taking place.
Q: The secretary of Ukraine's National Security and Defense Council recently said that the fulfillment of Minsk, and now I'm quoting him, "means the country's destruction." What do you say to that?
A: I don't think that this is the view of the president of Ukraine, and Ukraine is part of the agreement, and they are working very intensely and constructively.
Q: What steps are you taking … to reduce Germany's energy dependence on Russia?
A: We are starting a complete modernization of energy production and supply in Germany. In just 25 years, in 2045, we will be absolutely independent of the import of gas, oil and coal to Germany, because we just will rely on renewable resources. This is one of the key activities of the newly formed government, and this is why we increase the production of electricity, offshore wind farms, wind farms on shore and with solar. We will intensely increase the strength of our grid, and we will go into the production of hydrogen as a supply for industry, and for those aspects of energy supply where we need some sort of gas, this should then be hydrogen, and not natural gas. This is from a situation where you should know that it's just 25 to 26% of our energy that is natural gas and just a part of it is coming from Russia. There are also parts coming from Norway or the Netherlands. … But just on the middle range, Germany will not import gas anymore, and this will be very soon.
Q: What do you hope to achieve during your visit to the United States?
A: Strengthening our transatlantic partnership. The United States are the most important ally of Germany and of Europe; we are together in NATO, and it is absolutely key that there is a strong unity between all the major partners, the transatlantic parties and between the United States and Germany. We worked hard to send a clear message to Russia that it will have a high price if they were to intervene into Ukraine. I really appreciate what President Biden is doing in the bilateral talks between the United States and Russia. They are very difficult. They have a very difficult agenda. But it is strength and leadership — what he is doing there.
Q: One other topic that you will probably discuss during your visit in Washington is Iran. How far away are the negotiations from making a deal?
A: It depends on Iran. We gave them a clear message that now this is the time for decisions and for progress, and not for prolonging the process. We will not accept the ability of Iran of having a nuclear bomb that can be used. This is the decisive moment, and we hope that they will use the chance. We have not too much time left. Because we know about the progress of the nuclear program of Iran.
Q: If there is no returning to an agreement, what is the strategy you think that needs to be taken against Iran, if diplomacy fails?
A: Now we are in a situation where we wait for the answer. Let's wait.
Q: Some … demand that the negotiations with Iran should no longer be just about the nuclear matters but also address questions of ballistic missiles and Iranian proxies.
A: I think we all know that we have a lot of questions to tackle when looking at Iran. We are now discussing how to deal with this [nuclear] agreement, and if there is a future which will have a good impact on peace and the situation over there. So it is absolutely critical that we now hear if Iran is willing to solve the problem.
Q: There is an increasing issue with right-wing extremism in Germany, which is particularly concerning given Germany's history and has been highlighted in particular by Jewish organizations. How do you plan to counter this now as chancellor?
A: We really understand that there is a real danger coming from right-wing extremists in our country, and this is one of the top priorities of our security services and our police to fight against them. … So I think we have to be aware of these right-wing extremists, but we have a democratic society behind us that will give us the chance to fight against them successfully - and to give all the necessary support to our Jewish citizens.
- - -
The Washington Post's Paul Sonne contributed to this report.
---
---
---
---