Ukraine's president criticizes West's handling of Russia crisis
By
David L. Stern, Robyn Dixon, Rick Noack, John Hudson
The Washington Post
January 28, 2022
---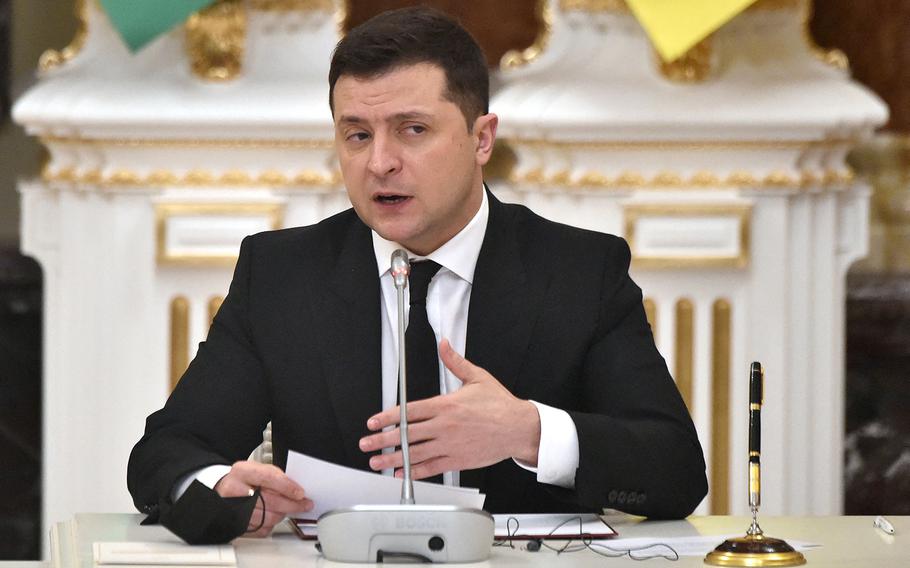 KYIV - Ukrainian President Volodymyr Zelensky on Friday criticized Western nations, including the United States, for their handling of Russia's military buildup at his border, taking aim at his most important security partners as his own military braced for a potential attack.
The 44-year-old leader faulted the West for waiting to impose more damaging sanctions on Moscow - "that's not the way to do it," Zelensky said - while assailing decisions by the United States, Britain and Australia to withdraw some embassy staff and families, and accusing Western leaders of inciting "panic" with repeated suggestions that an invasion was imminent.
"I can't be like other politicians who are grateful to the United States just for being the United States," Zelensky told reporters during a news conference here.
As his country takes in billions of dollars of economic and military assistance from the West, Zelensky expressed frustration with the public assessments made by the United States and other allies who believe an incursion is increasingly likely, and he appeared to criticize President Joe Biden directly for statements earlier this week indicating Russian forces could advance on Ukraine as soon as next month.
"These signals have come even from respected world leaders, who speak openly and with undiplomatic language. They say simply 'tomorrow there will be war.' This is panic," he said.
Zelensky's criticisms have rankled and confused U.S. officials, who have tried to project an image of Western unity in support of Ukraine. Russia has deployed more than 100,000 troops along with tanks and heavy artillery across large sections of the border while denying any intention to invade. Zelensky said satellite imagery alone was not sufficient to assess the Kremlin's objectives.
"We're grateful to the United States for its constant support of our sovereignty and territorial integrity," Zelensky said. "But I am the Ukrainian president. I'm located here. I know . . . deeper details than any president."
Kyiv's concerns about causing a panic came as the Biden administration continued to broadcast an ominous outlook about Ukraine. At the Pentagon, Gen. Mark. A Milley, chairman of the Joint Chiefs of Staff, predicted a catastrophe if Russia follows through on a major invasion.
"Given the type of forces that are arrayed - the ground maneuver forces, the artillery, the ballistic missiles, the air forces, all of it packaged together - if that was unleashed on Ukraine, it would be significant. Very significant," Milley said.
"It would result in a significant amount of casualties, and you can imagine what that might look like in dense urban areas, along roads, and so on and so forth. It would be horrific. It would be terrible," he added.
The U.S. military has issued "prepare to deploy" orders to 8,500 personnel, including Army combat units and elite paratroopers, who could be called upon to augment NATO's rapid response force and help enhance security in areas of Eastern Europe that remain vulnerable. As of Friday none had been sent overseas, with defense officials expressing their hope for a diplomatic resolution.
But efforts to resolve the crisis peacefully continued to falter. Earlier in the day, Russian President Vladimir Putin reiterated his call for "lasting, legally binding security guarantees" from the United States and NATO in a phone call with his French counterpart, Emmanuel Macron, the Kremlin said, after a top Russian official threatened that Russia would "retaliate" if its demands were not met.
Putin warned Macron that further NATO expansion was "unacceptable" to Russia, saying that the United States' and NATO's response to Russia's demands did not take into account Russia's key security concerns, the Kremlin said. Russia also has called on the alliance to withdraw military personnel and weapons from the region.
It was Putin's first conversation with a Western leader since Wednesday when Washington and NATO formally rejected Russia's red line on NATO expansion. The Russian leader showed no sign of blinking in the face of transatlantic unity over NATO's open-door policy and the rights of Ukraine and other nations to choose their own alliances. He complained that Western leaders were ignoring Russia's concerns.
Both Washington and NATO ruled out ending NATO's open-door membership policy in a formal written communication delivered to Moscow this week. But Putin told Macron he would study the documents carefully and agreed to keep in close contact with the French president, the Kremlin said, leaving the door open to further diplomatic efforts.
A French government official said the tone of the call, which lasted for over an hour, was "serious" but "respectful."
"Unsurprisingly, the Russian President reiterated the Russian vision of the current situation," the official continued.
In response, Macron told Putin that Russia needs to respect the "essential principle of state sovereignty" to ensure security in Europe, the official said.
There were no signs Macron managed to persuade Putin to de-escalate or pull back Russian forces and equipment massed near Ukraine. After the call, Putin met with members of the Russian Security Council.
Despite the setbacks, the Biden administration continues to seek a diplomatic solution in an array of international forums. On Monday, the United States will square off with Russia at the United Nations Security Council, a meeting requested by Washington. In New York, the Biden administration hopes to rally the council's support for Ukraine's territorial integrity, an exercise U.S. officials are calling "preventative diplomacy" aimed at forestalling war.
"This is a really important opportunity for all the world's powers to be on record about whether they see a path forward for diplomacy or whether they would prefer to see a path towards conflict," a senior State Department official told reporters Friday, speaking on the condition of anonymity under guidelines set by the administration.
Earlier, Russian Foreign Minister Sergei Lavrov said Moscow would "retaliate" if its demands for a halt to NATO expansion were not met. He said the decision would be made by Putin.
Speaking on Russian radio, Lavrov ruled out a war "if it depends on the Russian Federation," even as the country's warships conducted live firing exercises in the Black Sea. But he said there was "no room for compromise" on Russia's key demands.
U.S. officials have warned that Russia would face devastating sanctions designed to cripple its economy if its forces attack Ukraine.
Lavrov said any effort to cut Russia off from the world's financial system would be equivalent to severing all diplomatic ties.
The crisis is a major test of the Biden administration as Putin challenges Washington's dominance of transatlantic security, dragging the administration's eyes away from core security concerns in China.
Putin has numerous options available to him, including the seizure of Ukrainian cities, Defense Secretary Lloyd Austin said during remarks alongside Milley on Friday. Russia, he added, also could carry out provocative actions like recognizing new breakaway territories or manufacturing pretexts for invasion.
President Biden has ruled out U.S. troops fighting in Ukraine, where roughly 200 American personnel are among a small contingent of Western forces providing training for the Ukrainian military, but Austin declined to rule out the military getting involved in an evacuation of U.S. citizens should that become necessary.
Lavrov, the foreign minister, said Moscow was willing to hold a bilateral meeting with Zelensky in Russia - not the trilateral meeting with Biden present that Zelensky recently called for. He said any meeting would be limited to bilateral relations and ruled out discussions about the war in eastern Ukraine, where Russia has backed pro-Kremlin separatists since 2014 and has issued more than 500,000 passports to Ukrainians in recent years.
Zelensky has rejected a meeting in Russia, citing Lavrov's refusal to discuss the war in eastern Ukraine. On Friday, the Ukrainian leader called Russia's military buildup "dangerous," saying that any attack would lead to "a horrible war" and asking why Moscow felt it needed to deploy so many troops and conduct military exercises so close to Ukraine's border.
"Why are you doing this?" Zelensky said. "To threaten us? What is this sadomasochism? What is the pleasure of this, of someone being afraid."
Secretary of State Antony Blinken has said the U.S. and NATO responses to Russia's demands, written in coordination with Ukraine, set out a serious diplomatic path forward. But the Kremlin may not budge from its desire for a grand bargain.
There was never much optimism that Macron's phone call would make a decisive difference - throughout his five-year term, his diplomatic initiatives have so far yielded limited results. Just this week, four-way talks involving Paris, Berlin, Moscow and Kyiv ended without a deal, though the parties agreed to resume face-to-face talks in two weeks.
Biden and European Commission President Ursula von der Leyen on Friday agreed to work together to ensure Europe's energy security, should Moscow block supplies in retaliation for any Western sanctions.
The Kremlin, which has sought to leverage any signs of disunity in Europe, announced Friday that Putin would hold a joint news conference Tuesday with Hungarian Prime Minister Viktor Orban. Orban told local radio that he would be asking Putin to increase gas supplies to Budapest.
In September, Hungary, which is both a member of the European Union and NATO, signed a 15-year-deal with Russian gas giant Gazprom for 4.5 billion cubic meters of gas per year - around half of the country's supply. The deal was sharply criticized by EU leaders and Kyiv, with the new gas flowing through a route that bypasses Ukraine. Orban has closer ties to Putin than other alliance leaders.
Ukraine's security service announced Friday it had arrested a Russian spy in Kyiv who had been feeding information to Russia's security services. Meanwhile, ordinary Ukrainians are preparing for the worst.
Oleksiy Bida, a 47-year-old graphic designer, has been training as a reservist member of the 130th defense battalion for the past two years. He said he had long been a committed pacifist, but Russian threats have changed the equation.
"I thought that any conflict could be resolved through peaceful means," he said. "But I don't believe that anymore - not with Russia."
- - -
Dixon reported from Moscow, Noack reported from Paris and Hudson reported from Washington. The Washington Post's Andrew Jeong in Seoul and Loveday Morris in Berlin contributed to this report.
---
---
---
---