Putin is unrelenting on Ukraine demands in meeting with France's Macron aimed at heading off invasion
By
Robyn Dixon, Andrew Jeong, Rick Noack
The Washington Post
January 28, 2022
---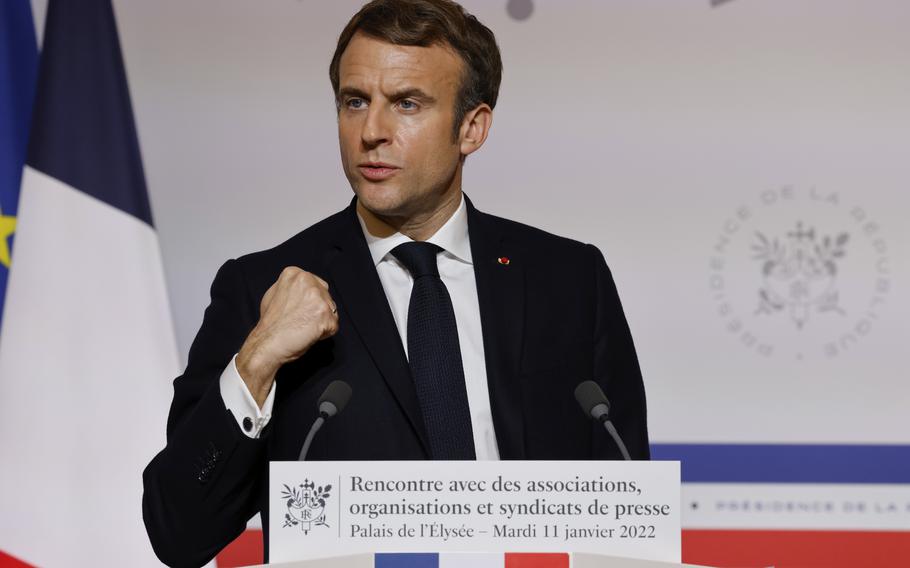 MOSCOW — Russian President Vladimir Putin reiterated his call for "lasting, legally binding security guarantees" from the United States and NATO in a phone call Friday with his French counterpart, Emmanuel Macron, the Kremlin said, after a top Russian official threatened that Russia would "retaliate" if its demands were not met.
Putin warned Macron that further NATO expansion was "unacceptable" to Russia, saying that United States' and NATO's responses to Russia's demands did not take into account Russia's key security concerns, the Kremlin said.
Both Washington and NATO ruled out ending NATO's open-door membership policy in the responses handed to Moscow on Wednesday. But Putin told Macron he would study the documents carefully and agreed to keep in close contact with the French president, the Kremlin said, leaving the door open to further diplomatic efforts.
Macron's search for a diplomatic solution came amid Western alarm that Putin may launch a new attack on Ukraine in the wake of a massive Russian military buildup near Ukraine.
Putin repeated some of Russia's other key demands, notably that NATO remove its military equipment and forces from former Soviet and Warsaw Pact countries and agree not to deploy missiles close to Russia's borders, the Kremlin said.
There were no signs Macron managed to persuade Putin to deescalate or pull back Russian forces and equipment massed near Ukraine. After the call, Putin met with members of the Russian Security Council.
Earlier, Russian Foreign Minister Sergei Lavrov said Moscow would "retaliate" if its demands for a halt to NATO expansion were not met. He said the decision would be made by Putin.
Speaking on Russian radio, Lavrov ruled out a war "if it depends on the Russian Federation," even as the country's warships conducted live firing exercises in the Black Sea amid a massive military buildup near Ukraine. But he said there was "no room for compromise" on Russia's key demands, which include an ultimatum that the United States and NATO permanently bar Ukraine from joining the Western alliance. Washington and its allies have rejected that demand.
As U.S. officials warn that Russia could attack Ukraine at "any time," Putin has a choice of either accepting the few compromises offered by the West, or launching a war that would devastate Ukraine and trigger sweeping sanctions designed to cripple Russia's economy.
The crisis is a major test of President Joe Biden's presidency as Putin challenges Washington's dominance of transatlantic security, dragging the administration's eyes away from core security concerns in China.
Diplomatic talks between the West and Russia over the Ukrainian crisis have failed to persuade the Kremlin to deescalate, with Russian officials repeating that Moscow has no plans to attack Ukraine. French officials said before the call that Macron would seek clarification from Putin on the aim of the military buildup near Ukraine.
The situation is "very serious," said French Foreign Minister Jean-Yves Le Drian on RTL radio Friday morning. "But for the moment, we believe that the dialogue can still develop and this is the objective of the conversation that President Macron will have with President Putin today."
Russia has insisted that Washington and NATO accept all its main demands.
Lavrov said Friday the West's proposals contained some positive elements, but only on issues of secondary concern to Moscow.
Lavrov said Russia was willing to hold a bilateral meeting with Ukrainian President Volodymyr Zelenskyy in Russia — not the trilateral meeting with Biden present that Zelenskyy recently called for. He said any meeting would be limited to bilateral relations and ruled out discussions about the war in eastern Ukraine, where Russia has backed pro-Kremlin separatists since 2014 and has issued more than 500,000 passports to Ukrainians in recent years.
Lavrov said that Western sanctions designed to cut Russia off from the world's financial system would be equivalent to severing all diplomatic ties.
Secretary of State Antony Blinken has said the U.S. and NATO responses to Russia, written in coordination with Ukraine, set out a serious diplomatic path forward. But the Kremlin may not budge from its desire for a grand bargain, while NATO has said it will maintain an open-door policy for potential members.
There was little optimism that Macron's phone call would make a decisive difference — throughout his five-year term, his diplomatic initiatives have so far yielded limited results. Just this week, four-way talks involving Paris, Berlin, Moscow and Kyiv ended without a deal, though the parties agreed to resume face-to-face talks in two weeks.
"You have to place it in a broader context of a president who tries — and often fails — to solve crises," said Bruno Tertrais, deputy director of France's Foundation for Strategic Research.
"Shaky diplomacy continues, which is the only option we have," said Marie Mendras, a French political scientist at the Paris Institute of Political Studies who focuses on Russia.
On Thursday, U.S. officials again sought to consolidate support in Europe. Defense Secretary Lloyd Austin held his first phone call with his counterpart in Romania, a NATO member near Ukraine. And in a phone call with Ukrainian President Volodymyr Zelenskyy, Biden pledged more financial and diplomatic support, while reaffirming that Washington would "respond decisively if Russia further invades Ukraine," according to a White House readout.
Zelenskyy expressed hope that the United States would take further steps to enhance defense cooperation, his office said.
On the same day, the Pentagon said for the first time that elements of the 101st and 82nd Airborne Divisions, XVIII Airborne Corps and the 4th Infantry Division were among the 8,500 troops put on high alert ahead of a possible deployment to Eastern Europe.
The Russian threat to Ukraine has also helped unify the West in a way that is potentially surprising to the Kremlin, said Tara Varma, head of the European Council on Foreign Relations' Paris office. "I don't think Russia takes Europe seriously when it comes to military issues, and they thought that it would be very easy to destabilize the continent."
One notable crack in the Western response includes diverging energy interests between Germany and other European Union members. The continent depends on Russia for about 40% of its natural gas needs, and Berlin has been working to set up Nord Stream 2, a major pipeline that would carry Russian gas to the German coast. Many fear that the activation of the pipeline would increase German dependence on Russia.
And Hungarian Prime Minister Viktor Orban said Friday that he wanted to increase gas supplies to his country from Russia, according to Reuters. Budapest is a NATO member, though Orban has closer ties to Putin than other alliance leaders.
Nearly half of every dollar spent on brand medicine goes to middlemen like insurance companies, PBMs, the government and others. Learn about what's missing from the drug pricing legislation and why we must fix it so middlemen share these savings with patients.
Germany has also been scorned by Ukraine and some other allies for refusing to send defensive weapons, instead choosing to provide the beleaguered country with 5,000 helmets.
But Foreign Minister Annalena Baerbock, one of the more hawkish members of the German government, told lawmakers Thursday that Berlin would be open to scrapping the Nord Stream 2 project as part of a "broad range" of potential punitive measures in the event Russia renews its aggression against Ukraine. The remarks came after U.S. State Department spokesman Ned Price declared that Nord Stream 2 would not proceed if Russia launched an attack.
Ukraine's security service announced Friday it had arrested a Russian spy in Kyiv who had been feeding information to Russia's security services. Meanwhile, ordinary Ukrainians are preparing for the worst.
Oleksiy Bida, a 47-year-old graphic designer, has been training as a reservist member of the 130th defense battalion for the past two years. He said he had long been a committed pacifist, but Russian threats have changed the equation.
"I thought that any conflict could be resolved through peaceful means," he said. "But I don't believe that anymore — not with Russia."
Jeong reported from Seoul. Noack reported from Paris. The Washington Post's Missy Ryan in Washington, Loveday Morris in Berlin and David L. Stern in Kyiv, Ukraine, contributed to this report.
---
---
---
---