Analysis
In showdown with Russia, Germany struggles over economy, unity and history
By
The Washington Post
January 26, 2022
---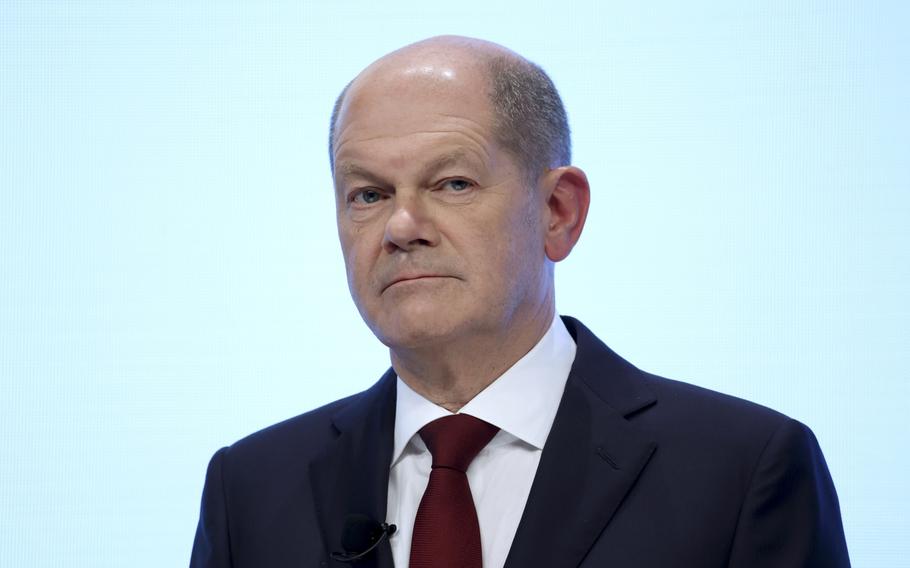 BERLIN — Just seven weeks into the job, German Chancellor Olaf Scholz is struggling to shape Berlin's response to the Ukraine crisis, triggering withering criticism from Kyiv and behind-closed-doors cajoling from the United States.
The messages emanating from Germany are "much too soft" and can be interpreted by President Vladimir Putin as a "sign of weakness and hesitation," Andriy Melnyk, Ukraine's ambassador to Germany, wrote in comments to The Washington Post. "The vast majority of Ukrainians even believe that this unwillingness of Germany to act preventively and not to put the Kremlin under extreme pressure is nothing else [than] a pure appeasement politics."
For Germany's new chancellor - who took over from the crisis-vetted Angela Merkel after 16 years - steering the country's Russia policy has meant trying to helm a three-party coalition, negotiating with pro-Russian voices within his own party and navigating questions over the 750-mile, $11 billion Nord Stream 2 gas pipeline between Germany and Russia.
The stakes are high, with an estimated 100,000 Russian troops amassed on the edges of Ukraine. But as NATO attempts to present a united front, Germany has appeared as a weak link that has often left it on the defensive with allies.
On Saturday, Berlin's ambassador in Kyiv was summoned by the Ukrainian government to stress the "categorical unacceptability" of the German navy chief's comments that Putin "probably deserves" respect. Meanwhile, Berlin faced questions over reports that it has blocked the transfer of decades-old howitzers from Estonia to Ukraine. (It says it has not done so, and just hasn't made up its mind about whether to issue resale permissions, but has agreed to ship 5,000 helmets.)
It has been a baptism of fire for Scholz, who is known for his cautious public style. The fumbling may, in part, be a new government finding its feet. But analysts and foreign officials say it's also the result of a years-overdue need for Berlin to reassess its policy toward Moscow, which has long tried to separate expanding trade and energy ties from politics.
- - -
"You see this German government still negotiating within itself and really, in the past week, putting up a very disunified front, which is frankly dangerous at this time," said Cathryn Clüver Ashbrook, director of the German Council on Foreign Relations.
On Wednesday, German government spokesman Steffen Hebestreit defended Berlin's reliability. "All options are on the table," he said.
Germany's position was of sufficient concern to the Biden administration to be brought up during a visit to Berlin by CIA Director William J. Burns earlier this month, according to two U.S. officials, who spoke on the condition of anonymity to discuss internal details of the visit. Burns encouraged German officials to take a stronger line against Russia despite Berlin's concerns about how it might affect energy markets in Europe, which are deeply reliant on Russian exports, one official said.
"On the very functional level, it was definitely a sharing of intelligence," said the second official. "Then, delivering a very specific message that we need solidarity right now. It was also a political-level talk."
Since that Jan. 13 meeting, Scholz has stopped referring to Nord Stream 2 as a purely private project and said that "all options" are on the table for sanctions in the case of a Russian invasion. Western diplomats said Scholz's clearer comments in recent days have alleviated some concerns.
In his public comments, Scholz has consistently stressed the importance of avoiding escalation, keeping the peace and leaving a door open to Russia. When it comes to sanctions, it is "prudent" to choose measures that will have the greatest effect on those who violate agreed principles, he told German newspaper Süddeutsche Zeitung when asked about whether Germany was prepared to accept the high cost of putting Nord Stream 2 on the line, or blocking Russia from the SWIFT international banking system.
"We have to consider the consequences this has for us," he said. "Nobody should have the illusion that there is some measure that has no consequences for us."
Even aside from Nord Stream II, Germany and wider Europe are heavily dependent on Russian gas. Germany is Russia's largest trading partner after China, much of which is accounted for by gas imports. Natural gas accounts for about a third of Germany's energy consumption, second only to oil - and that could grow because of pledges to wean off coal and nuclear.
That also means Russian dependence is growing. Russian gas is currently estimated to account for between 50 percent and 75 percent of Germany's gas imports. That's up from 35 percent in 2015.
"I think what we are seeing is an expression of long-standing questions about Germany's Russia policy and its Eastern Europe policy," said the second U.S. official who described the CIA director's visit. "I think it really is a question of where does the government stand, and in essence it boils down to where does Scholz stand. The language being used is not clear."
- - -
Scholz, 63, squeaked a win in the country's September elections and was officially sworn in early last month after forming a coalition made up of his center-left Social Democrats (SPD), the Greens and the more libertarian Free Democrats.
"This government wanted to do something about climate change, they want to change the face of Germany and want to make it carbon-free, and all of a sudden they are completely mired in a huge foreign policy crisis," said Markus Ziener, a fellow at the German Marshall Fund. "And I think they are struggling with this quite a bit."
The Social Democrats are divided. While Scholz is from its more pragmatic wing, there are still strains within the party rooted in its historic Ostpolitik, or Eastern Policy, which favors change through rapprochement, as espoused by the party's Cold War chancellor Willy Brandt. And Scholz's influence over his party is limited. He lost its leadership contest last year even though he was picked as the chancellor candidate.
"On the main points there is consensus in the party," said Ralf Stegner, the SPD's parliamentary group's representative for transatlantic relations and part of the party's more left-leaning wing. "Everybody is clear that the integrity of territory in Europe cannot be violated."
However, there are differences over "whether it's appropriate to give public interviews threatening the other side with sanctions," Stegner said.
Particularly since Russia's annexation of Crimea in 2014 and the outbreak of war in eastern Ukraine, many in Scholz's party have taken a more realistic view of Ostpolitik. But that legacy remains.
"It's very stupid to think all of that is just old business and doesn't count anymore," said Stegner. "Of course the circumstances have changed. What hasn't changed is history, what hasn't changed is geography, what hasn't changed are the interests."
"I don't think anyone could really argue that Putin is worse than Brezhnev," Stegner said of former Soviet leader Leonid Brezhnev. "It's fair and necessary to see the other side's interest, to talk about interests, rather than threatening the other side in public interviews."
It's a sentiment that's also been echoed by Markus Söder, a leader of Germany's Christian Democrats and one of the country's most popular politicians. Russia is "a difficult partner, but not an enemy of Europe," he said.
Past sanctions on Russia have had "hardly any effect," and new ones could hurt Germany just as much, he said.
"What you have is a lot of people in the parliamentary group of the SPD and in the opposition, questioning the wisdom of sanctions," said Constanze Stelzenmüller, a Germany expert at the Brookings Institution.
For some in Scholz's SPD, providing weapons to Ukraine that might be used against Russian soldiers is simply a "no-go," said Ziener.
"The Social Democrats have a couple of convictions when it comes to Russia. One is 'never again' - that we should never go to war with Russia again, even through proxies," he said. "That is one of the reasons why the government has such issues with allowing others even to send weapons."
- - -
German Foreign Minister Annalena Baerbock also has dueling pressures. She touted a hard line toward Russia during the election campaign, and was praised for her clear words during a joint news conference with her Russian counterpart Sergei Lavrov last week on her first visit to Moscow, saying it was hard not to take the buildup of troops as a threat.
But she hails from the Green party, which, with its roots in the peace movement, has its own issues with arms deliveries.
Baerbock has cited Germany's wartime history as the reason for not being able to help Ukraine with defensive arms. Germany has stressed that it is contributing to NATO troop reinforcements in Eastern Europe, and a military hospital in Kyiv.
While Germany's arms exports hit a record $10 billion last year, the new government has said it hopes to pursue a more restrictive arms policy. Wednesday's announcement to send 5,000 helmets is a "joke," Vitali Klitschko, the mayor of Kyiv, told Germany's Bild newspaper. "What does Germany want to send next in support? Pillows?" he said.
During her trip to Moscow, Baerbock acknowledged the wartime "suffering and destruction" Germans wrought upon the people of the Soviet Union.
But Melnyk, the Ukrainian ambassador to Germany, has said that - if history is the issue - Germany's responsibility should be toward the Ukrainian people, who lost at least 8 million lives during the Nazi occupation. He called on Germany to "finally demonstrate a true leadership and not hide itself behind artificial excuses."
"The Ukrainian government calls once again upon Germany, as one of the worldwide biggest arms-exporting nations, to change its restrained, incomprehensible attitude and join other Western allies in a common endeavor to immediately send necessary weapons to Kyiv," he said.
In general, German policy needs to be revisited immediately, he said. "The time is running out."
- - -
The Washington Post's Liz Sly in London, Vanessa Guinan-Bank in Berlin, and Shane Harris and John Hudson in Washington contributed to this report.
---
---
---
---