These countries are withdrawing embassy staff from Ukraine amid growing fears of an invasion by Russia
By
Claire Parker, Sammy Westfall
The Washington Post
January 26, 2022
---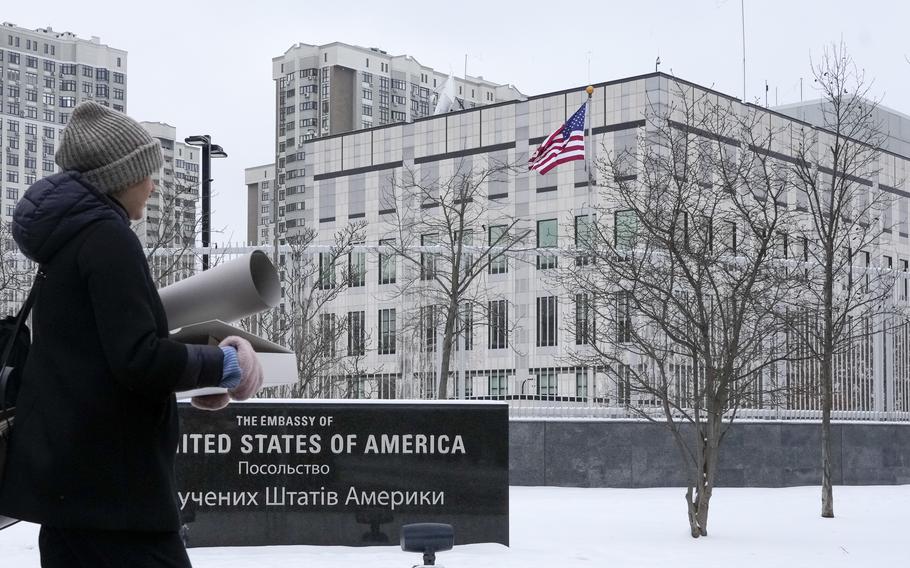 As tensions over the Russia-Ukraine conflict soared this week, the United States ordered the departure of all family members of U.S. Embassy personnel, citing the "threat of Russian military action." It also told nonessential staffers that they could leave.
The move prompted U.S. allies such as Britain and Canada to follow suit and temporarily withdraw some staffers amid a buildup of Russian troops and weapons on Ukraine's borders. But others, including the European Union, have opted to stay, instead urging more diplomacy as a way to stave off war.
The differing approaches highlighted a growing rift among Western nations over how to confront Moscow.
Ukrainian Foreign Ministry spokesman Oleg Nikolenko called the evacuation of diplomatic families this week "premature."
"It is extremely important to avoid activity that could be used in the information space to increase tensions in society and destabilize the economic and financial security of Ukraine," Nikolenko wrote on Twitter on Monday.
He said that only a handful of the 129 diplomatic missions in Ukraine have announced evacuations. Here is where some of those nations stand.
United States
After the order for diplomats' families to leave Ukraine, U.S. officials in Kyiv held a virtual town hall Tuesday and warned hundreds of Americans that the embassy would not be in a position to evacuate them in the event of a conflict.
The embassy also issued an alert advisory ranking Ukraine as "Level 4: Do Not Travel." According to the alert, security conditions along Ukraine's borders, in Russia-occupied Crimea and eastern Ukraine "are unpredictable and can deteriorate with little notice."
The advisory said that U.S. citizens "should consider departing now using commercial or other privately available transportation options."
U.S. officials declined to offer more details about why the departure order was being made now, but they relayed President Joe Biden's recent remarks that an invasion "could happen at any time."
The United States also warned citizens in nearby Belarus - where Russia has repositioned forces in recent days - to keep an eye on "political and military tensions in the region" and avoid public demonstrations. It urged Americans there to "regularly reevaluate possible departure plans in the event of an emergency."
The decision to remove some staff from Ukraine was "based on one factor only: the safety and security of our colleagues and families," Secretary of State Antony Blinken said.
"I want to be clear that our embassy in Kyiv will remain open and we continue to maintain a robust presence to provide diplomatic, economic and security support to Ukraine," he said.
Canada
Global Affairs Canada announced Tuesday that it would "temporarily withdraw" the children of embassy staff and family members accompanying them. In a statement, it also cited "the ongoing Russian military buildup and destabilizing activities in and around Ukraine."
An adviser to the Ukrainian president's chief of staff, Mykhailo Podolyak, told Canada's Globe and Mail newspaper that the move to send diplomats' families home was understandable. But he warned that it was having a negative effect on Ukraine's morale.
"Overreacting to what the Russian Federation has been doing . . . is making Ukrainian society nervous," Podolyak said in an interview in response to Canada's announcement.
Britain
Britain temporarily withdrew some staff and dependents from its Ukraine embassy Monday, Prime Minister Boris Johnson said in a statement.
He called it a "responsible precaution" but said that the embassy will remain open and continue to provide consular assistance for British nationals in Ukraine.
About half of the embassy staff will return to Britain, the BBC reported.
European Union
E.U. foreign policy chief Josep Borrell said Monday that most member nations would not immediately be scaling back their embassy staff.
"We are not going to do the same thing because we don't know any specific reasons," Borrell said ahead of a meeting of E.U. foreign ministers, Reuters reported.
"Negotiations are going on," he said.
Germany's Foreign Ministry said Monday that families of key staff were able to leave but that diplomats would stay.
"This is the appropriate measure in the current situation," said ministry spokesman Christofer Burger.
Australia
The Australian government urged its citizens to immediately leave Ukraine due to the "increased risk of armed conflict," Australia's ABC News reported Monday.
"Australians in Ukraine should leave now by commercial means, where safe to do so, noting that flight availability could change or be suspended at short notice," the Department of Foreign Affairs and Trade said in a statement.
It raised its advisory for Ukraine to "Do Not Travel."
---
---
---
---