Russia ratchets up pressure on Europe, says 'no grounds' for further talks on security amid heightened tensions
by
Robyn Dixon
The Washington Post 
January 13, 2022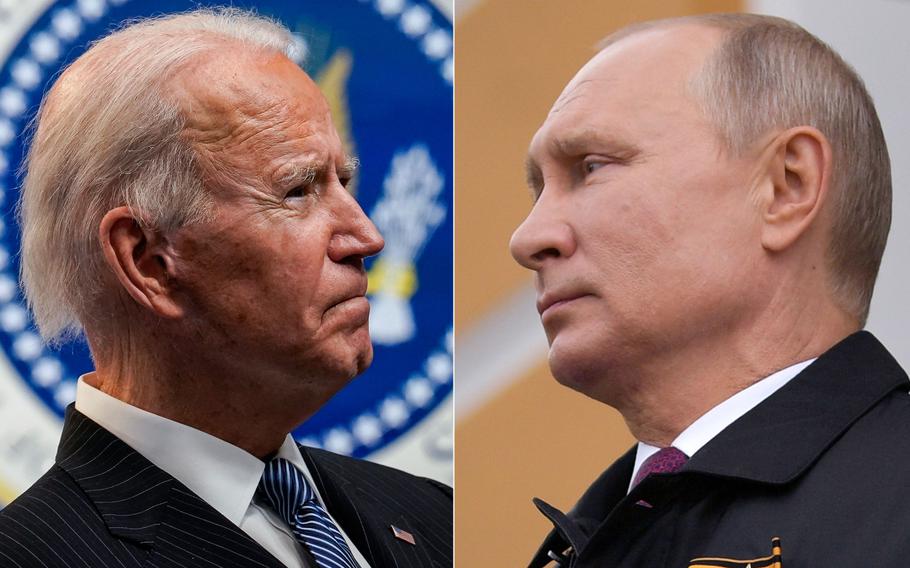 BELGRADE, Serbia - Russia increased its pressure Thursday on NATO and Europe, dashing hopes of further talks to defuse the crisis over Ukraine's aim of joining the Western alliance.
Russian Deputy Foreign Minister Sergei Ryabkov said he saw "no grounds" to continue the talks, in a blow to the ongoing efforts to ease tensions. His comments came as the Organization for Security and Cooperation in Europe met in Vienna in the latest attempt to avert a major European crisis as Russia masses troops on Ukraine's border.
Speaking on Russian television, Ryabkov said the United States and its allies have rejected Russia's key demands - including its call for an end to NATO's open-door policy for new members - offering to negotiate only on topics of secondary interest to Moscow.
"There is, to a certain extent, a dead end or a difference in approaches," he said. Without some sign of flexibility from the United States, "I do not see reasons to sit down in the coming days, to gather again and start these same discussions."
The comments are the latest in a campaign of steady pressure by Russia on the United States and NATO in recent months, which has included escalating military operations on Ukraine's borders, amping up rhetoric and demanding sweeping changes to Europe's security architecture.
Russian Foreign Minister Sergei Lavrov, who described the Western position as "arrogant, unyielding and uncompromising," said that President Vladimir Putin would decide on further action after receiving written responses to Moscow's demands next week.
The OSCE meeting ended in Vienna without any signs of a breakthrough. Secretary General Helga Schmid said afterward that the situation in the region remained "very perilous," echoing the meeting's opening remarks.
"It seems the risk of war in the OSCE area is now greater than ever before in the last 30 years," the group's Permanent Council chairman, Zbigniew Rau of Poland, said at the start.
Europe faces "a particularly grave threat to peace," he added, and must cleave to its founding principles that states are equal and should not use military force or threats.
In addition to calling the talks unsuccessful, Kremlin spokesman Dmitry Peskov on Thursday highlighted a bill announced the day before by U.S. Democratic senators for tough new sanctions against Russians, including Putin, if there is military action against Ukraine.
Peskov called it "extremely negative, especially against the background of the ongoing series of negotiations, albeit unsuccessful, but negotiations." Sanctioning a head of state "is an outrageous measure that is comparable to breaking off relations."
Peskov also accused the United States and NATO of escalating the conflict, not Russia, with its efforts to "entice" new countries to join NATO.
The meeting of the OSCE Permanent Council, which includes Russia and Ukraine, was part of a series of diplomatic steps this week designed to defuse tensions over the massing of Russian troops near the Ukrainian border, which has raised fears that Putin may be planning a renewed attack.
Russian officials have denied any such plans and have rebuffed NATO calls to de-escalate, saying it has a right to move troops and forces on its own territory. Russia has also demanded sweeping security guarantees from the United States and NATO, including a halt to any further expansion eastward by the alliance.
The impasse also marks a crucial challenge for the Biden administration's effort to show that democracies can prevail over authoritarianism and the defiance of international norms.
Thursday's talks follow a meeting between U.S. and Russian officials in Geneva on Monday and a meeting of the NATO-Russia Council on Wednesday, the first of its kind in two years.
The OSCE plays a key role in Ukraine, monitoring a cease-fire under the Minsk peace deal that was designed to end the war in eastern Ukraine between Kyiv and Russian-backed separatists. The war has killed more than 13,000 people since it began in 2014, in the wake of Russia's annexation of Crimea.
Russia denies any part in the war, calling it an "internal" Ukrainian conflict. The Minsk agreement has made no progress in ending the crisis and returning eastern Ukraine to Kyiv's control. In recent years, the Kremlin has intervened by issuing passports to residents of eastern Ukraine, enabling them to vote in Russian elections.
---
---
---
---