'Bring your own booze!': Another party at 10 Downing Street during UK lockdown damages Boris Johnson
by
William Booth
The Washington Post
January 11, 2022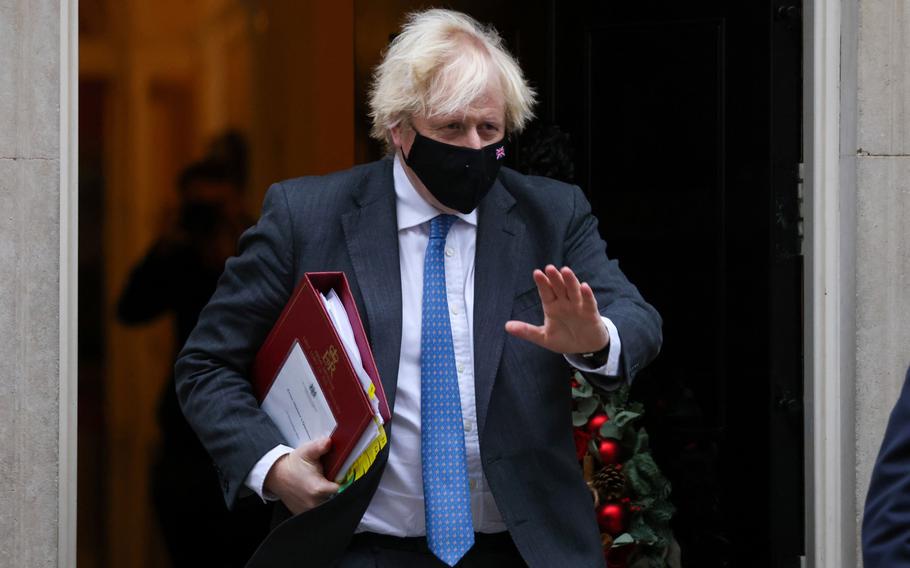 Stars and Stripes is making stories on the coronavirus pandemic available free of charge. See more stories here. Sign up for our daily coronavirus newsletter here. Please support our journalism with a subscription.
LONDON — Prime Minister Boris Johnson has another banger of a headache on his hands after British news media reported that his office and residence of 10 Downing Street hosted yet another party during a strict coronavirus lockdown.
Or as the BBC put it in a headline: "How Many Lockdown Parties Were There?"
The latest revelations prompted a heated session in Parliament on Tuesday that Johnson opted to skip, even as calls from the opposition parties rang out for him to resign (he won't).
First there were reports of a Christmas party that took place in December 2020, as hospitals filled with the sick and dying. Then the Guardian published a photograph of the prime minister and his wife in their sunny garden, alongside 17 staffers and half-empty bottles of wine, from May 15, 2020, when gatherings of more than two people were banned in outdoor public places.
Now ITV News reports that it has a copy of an email invitation for a second garden party, this one on May 20, 2020 (or five days after the last party), from Johnson's private secretary, Martin Reynolds, to more than 100 staff members at Downing Street.
"Hi all, after what has been an incredibly busy period it would be nice to make the most of the lovely weather and have some socially distanced drinks in the No 10 garden this evening," the email reads. "Please join us from 6pm and bring your own booze!"
The exclamation point was noted.
ITV News reports that "around 40 staff gathered in the garden that evening, eating picnic food and drinking. Crucially, they included the Prime Minister and his wife Carrie Johnson."
The BBC also has found witnesses who say Johnson attended.
On Tuesday at the House of Commons, in a session to answer "urgent questions," the prime minister sent a low-ranking minister from the Cabinet Office, Michael Ellis, to sweat it out.
After Ellis began by apologizing on behalf of the government "unreservedly for the upset these allegations have caused," the chamber erupted in scornful laughter.
The Speaker of the House Lindsay Doyle took pity and appealed for decorum, saying, "He's got a tough job as it is, let's not make it harder."
A leader of the opposition Labour Party, Angela Raynor, tore into Ellis, asking why the prime minister himself was not in the chamber to answer whether he knew about the party, approved of it, and attended.
The prime minister's "absence speaks volumes," Rayner said "The public have already drawn their own conclusions."
Ellis replied he could not say more, as the gatherings were now under investigation by career civil servant, Sue Gray. "We should wait to see what the results of this investigation are," Ellis said, before the House of Commons plays the role of "judge, jury and executioner."
Ellis acknowledged, too, that as the Metropolitan Police are now looking into the matter, the Gray inquiry could be "paused."
More catcalls were heard from the opposing benches.
Ian Blackford, head of the Scottish National Party in the Parliament, said, "this is a prime minister who has lost his moral authority."
The former leader of the Scottish Conservative Party, Ruth Davidson, tweeted that the stalling maneuvers from Downing Street "won't survive 48 hrs. Nobody needs an official to tell them if they were at a boozy shindig in their own garden."
The alleged festivities at Downing Street are so controversial - and grating for many - because they occurred as Johnson's government was enforcing lockdown measures that kept families and loved ones apart, even in hospitals and at funerals.
Hannah Brady, spokeswoman for the group Covid 19 Bereaved Families for Justice, tweeted on Monday that her father had died four days before the "BYOB" party.
"At the time, everyone would have known that going to a party was wrong, so how can those running the country have thought it was OK?" she wrote.
During the House of Commons session on Tuesday, Labour lawmaker Afzal Khan stood up to say that although Johnson's staff partied behind the garden walls in March 2020, his family followed the government's rules. Khan said he sat in the car outside the hospital where his mother died, alone, "trying to be as close to her as I could." There were 363 COVID-19 deaths announced the day of the May 20 party.
The existence of this second May garden party was mentioned in a blog post by Johnson's former senior adviser Dominic Cummings, who has dismissed the prime minister as a broken supermarket cart that can't steer a straight line.
Cummings, once called "Johnson's brain," who was instrumental in winning the Brexit vote to leave the European Union, is not without sin. During the first lockdown, in March 2020, he flouted strict rules and damaged public trust in the government's handling of the pandemic. He drove six hours north, to shelter at his family farm, after he and his wife were infected with the coronavirus. Later, he drove to a nearby castle known for sightseeing - to test his eyesight, he claimed.
All these actions have led critics to assert that there appears to be one rule for the people, and another for the elites.
On its broadcast on Monday, ITV News reminded viewers that on May 20, 2020, the same day as the BYOB invite, Culture Secretary Oliver Dowden told the public at a media briefing: "You can meet one person outside of your household in an outdoor, public place provided that you stay two meters apart."
Also at the time, police were breaking up gatherings of young people meeting in parks.
A spokesman for Downing Street said earlier that no rules were broken at the May 15 gathering, as the garden is private, not a public space, and that this was not a party but a "work meeting" that was deemed "essential."
Many Britons mocked that assertion. Labour Party leader Kier Starmer called it "a stretch."
On Tuesday in Parliament, Conservative Party lawmaker Christopher Chope asked: "Why can't all the dirty linen be washed at once? Why are we getting this drip feed of parties?"
Johnson, too, has denied that any rules were broken, but under pressure from his own Conservative Party, he ordered an internal inquiry by Britain's top civil servant, Simon Case.
Case was forced to recuse himself from the probe after reports that a party was held in his own office about the same time.
---
---
---
---