'A woman is a woman, a man is a man': Putin compares gender nonconformity to the coronavirus pandemic
By
The Washington Post
December 23, 2021
---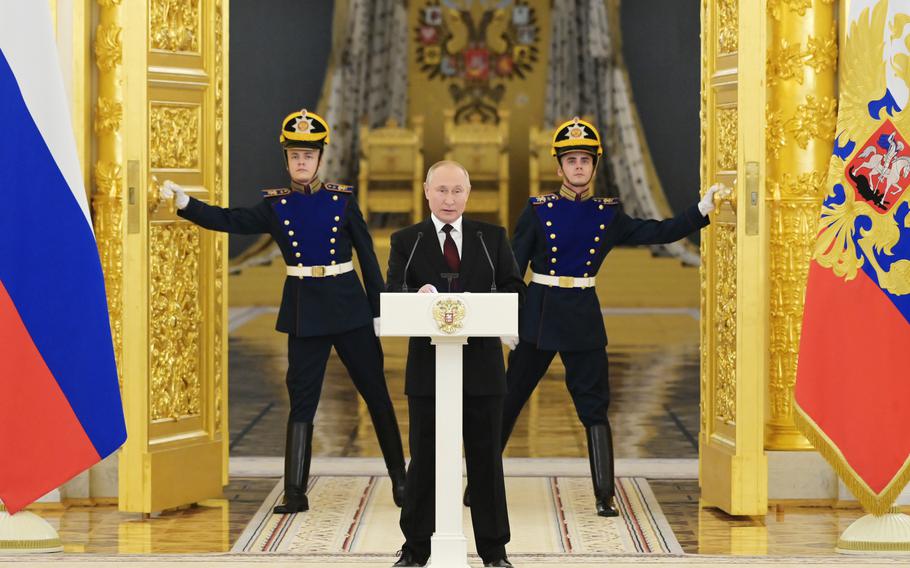 During a wide-ranging televised annual news conference Thursday that last some four hours, Russian President Vladimir Putin, moving between topics including harvest yields, the coronavirus and military buildup on the border with Ukraine, veered into a discussion of traditional gender roles. He compared gender nonconformity and the push for trans rights to "new strains" of a "pandemic" much like the coronavirus.
In response to a question from a reporter for RT, a state media company, about his views on "problems in Western society," "cancel culture" and Harry Potter author J.K. Rowling's views on gender, which many people consider transphobic, Putin doubled-down on long-held views on the correctness of traditional conceptions of gender, and his opposition to rights and inclusion for transgender people.
"If someone thinks that women and men are the same thing, then be my guest. But there is common sense," he said. "I stick to the traditional approach that a woman is a woman, a man is a man, a mom is a mom, and a dad is a dad."
He said that in the case of athletes, if a man "declares himself a woman and decides to compete in weightlifting or some other sport, women's sports would cease to exist altogether."
"We can't get away from it," he said. "We need to look for antidotes that are effective."
Putin has frequently used public appearances to take conservative position on culture war issues that he sees as Western, liberal viruses spreading in Russian society.
In remarks at the annual meeting of the Valdai Discussion Club in Sochi in October, he said the fact that children in the West are "taught that a boy can become a girl and vice-versa" is "on the verge of a crime against humanity."
Since taking over as Russia's leader, Putin has cultivated a macho image, posing shirtless in many occasions while riding wild animals, and has upheld conservative positions on LGBT issues. In 2013, Russia passed a law banning expressions of "gay propaganda," which made it illegal to equate a gay relationship with a heterosexual one and provide materials about gay rights to minors.
In 2020, the government used the "gay propaganda" ban to persecute a LGBT rights activist, according to Human Rights Watch report. A 2020 constitutional referendum in Russia added the definition of marriage as a union between a man and a woman.
The Washington Post's Isabelle Khurshudyan in Moscow contributed to this report.
---
---
---
---