Prosecutors use words of British ISIS militant against him
by
Rachel Weiner
The Washington Post
December 18, 2021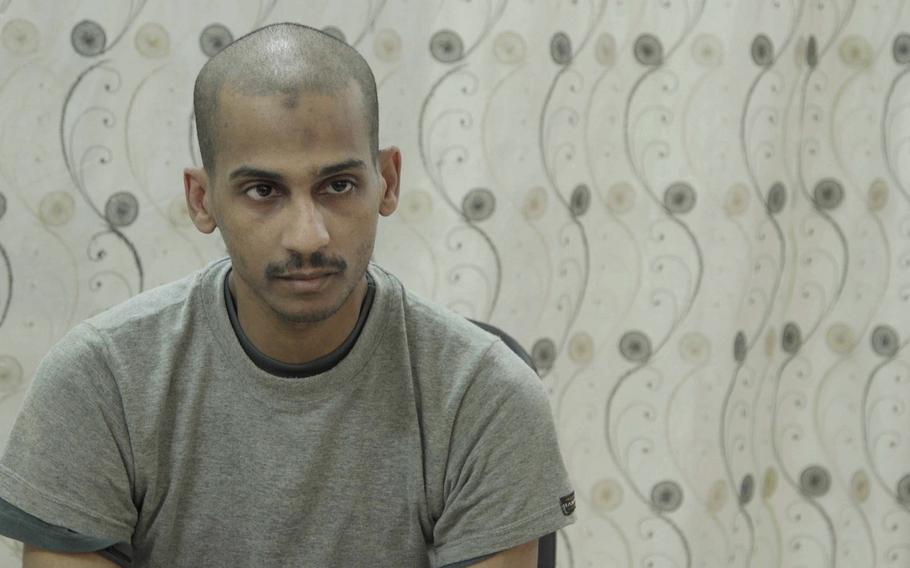 WASHINGTON - A British former member of the Islamic State has sought to minimize his role in the captivity of journalists and aid workers, several of whom were killed. But in 2018, court records show he told Department of Defense investigators he was intimately involved in ransom negotiations and privy to details of some hostages' deaths.
El Shafee Elsheikh, who is facing a January trial in Alexandria, Va., federal court, is accused of being part of a notorious quartet of ISIS hostage-takers, known as "The Beatles" because of their British accents.
The man who beheaded some of those hostages in horrific propaganda videos, Mohammed Emwazi, died in a drone strike in 2015. Conspirator Alexanda Kotey has pleaded guilty in Alexandria federal court. A third is imprisoned in Turkey. Elsheikh's trial will be the first and possibly last time much of the evidence against the group is aired in public.
He is accused of kidnapping and conspiring to murder American journalists and aid workers James Foley, Peter Kassig, Kayla Mueller and Steven Sotloff. The three men were killed in 2014 and their bodies used in propaganda videos by a masked Emwazi, who became known as "Jihadi John." Mueller died in captivity under unclear circumstances in 2015.
Kotey and Elsheikh were captured by the Kurdish-led Syrian Defense Forces (SDF) in early 2018. Over the next two years, they both gave numerous interviews to media outlets in which Elsheikh acknowledged guarding hostages who were later killed and getting information from them for ransom negotiations.
In his court case, Elsheikh argued that all the admissions he made in those interviews are false, forced out of him by his captors through torture. On Friday, U.S. District Court Judge T.S. Ellis III rejected Elsheikh's request to bar prosecutors from using his statements to journalists against him at trial.
As prosecutors in recent weeks worked to rebut his claims of torture, they revealed that Elsheikh was more forthcoming with U.S. military intelligence than he was in subsequent media appearances. In the process, the government released some details of those Defense Department interviews, which cannot be used at trial and remain partially classified.
According to the documents presented by prosecutors, Elsheikh was interviewed by a Department of Defense team not long after his capture. He told the intelligence interviewers he personally contacted the Norwegian and Japanese consulates to negotiate ransoms for hostages taken from those countries. Emwazi, who spoke in the most infamous ISIS videos, was concerned that his voice was becoming too recognizable and that if he made the calls he would be tracked, Elsheikh told the interviewers. The two Japanese hostages were later beheaded by Emwazi on camera; a photo depicting the body of the Norwegian hostage appeared in an ISIS magazine.
According to the court record, Elsheikh also told the Department of Defense that Emwazi had told him he had buried Foley, an American journalist, near Raqqa, Syria, where the militants engaged in target practice. U.S. investigators searched that area shortly after the interview and failed to find Foley's body.
Elsheikh told the interviewers Emwazi had burned the body of another American journalist, Steven Sotloff, because the ground was too hard for a burial and he was afraid of spending too long outside, according to the court record.
Elsheikh also spoke in detail about the death of British aid worker David Haines, an FBI agent testified in court during a November hearing.
British freelance filmmaker Sean Langan testified that when he interviewed Elsheikh and Kotey in Kurdish custody, he tried unsuccessfully to learn more about the deaths of Foley, Haines and other hostages. He "failed," he said, in part because he got in an emotional argument with Kotey and the SDF barred him from speaking to them again.
Foley was a friend, he explained: "It was too close to home."
Only a brief portion of Langan's interview with Elsheikh has been released; prosecutors plan to use more of it at trial.
Court documents show Kotey told U.S. investigators he was beaten in Kurdish custody. In private recorded conversations after their transfer to U.S. military custody in Iraq, both he and Elsheikh described abuse. But in the same recordings, according to the court record, Kotey told Elsheikh he preferred the SDF prison because they had more space, social contact and recreation. "I would swap places with one of them any day," Kotey said. "Same here," Elsheikh replied.
Three officials in the SDF came to Alexandria court in person to rebut Elsheikh's claims of torture, the first time anyone from the U.S.-allied Kurdish fighting force has appeared in an American court.
The testimony offered a rare, if limited, perspective on the detention centers where thousands of former Islamic State supporters are held.
International human rights monitors have reported overcrowding, and shortages of food, water and medicine at Kurdish-run prisons and camps. The SDF officials, who testified anonymously through interpreters, acknowledged that they were using dilapidated schools as prisons and that influxes of ISIS prisoners strained their resources.
"Our own families and our own communities lack electricity," the man in charge of coordinating with international allies testified. "We are a war zone ... the general population, we're not able to access medications."
But the SDF leaders denied hurting Elsheikh in any way.
"We're not angels; I'm not saying we're perfect," said the head of one prison where Elsheikh was housed. But, he added, "the purpose of our work is to get important information that we can use on the battlefield, and to use force or pressure will not give you the results that you need."
Moreover, he added, the SDF didn't have the capacity to translate English-language media interviews into Arabic or Kurdish and so had no stake in what detainees told Western reporters.
"We have no idea what's going on" in the media interviews, he said.
Defense attorney Nina Ginsberg suggested that he might be reluctant to acknowledge abuse because he could lose his job.
"My job?" he asked incredulously. "My job is all hardship."
Ginsberg later argued the testimony was "ludicrous," with SDF officials making the prisons sound like "not a bad place to go and spend a week" when U.S. observers described people sleeping on top of each others and bug infestations.
Ellis agreed in court that the SDF officials had reason to understate problems in their prisons, but he said that didn't "come close" to showing Elsheikh was forced into confessions.
Prosecutors said Elsheikh made no complaint to the Red Cross of abuse during his detention; he was given a medical examination when taken into U.S. custody that showed only a "prostration mark" from praying.
"There were no signs of abuse or mistreatment whatsoever," First Assistant U.S. Attorney Raj Parekh said in court. "The victims in this case, those are the individuals that were tortured, that were beaten, that were given threats."
---
---
---
---