Pope Francis brings light to the refugee crisis
by
Chico Harlan and Stefano Pitrelli
The Washington Post
December 4, 2021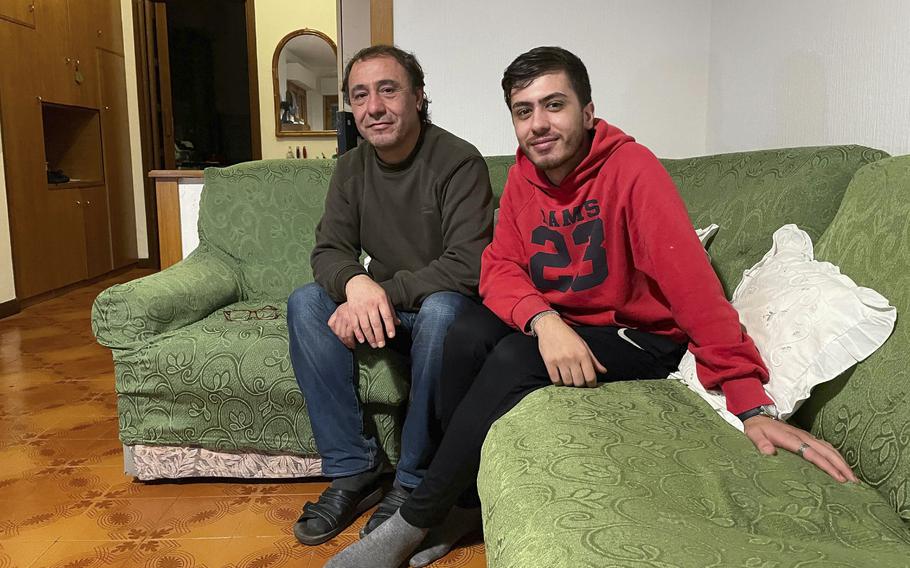 ROME - Five years ago, in a dismal Greek island migrant camp, a Catholic aid group showed up offering tickets to a lucky few. The group met with rounds of migrants. One person remembers being pressed to answer quickly whether she and her family were open to resettling in Italy. Another recalls there was no mention of the most extraordinary part: that the flight to Rome would be on the papal plane accompanied by Pope Francis.
"A total surprise," said Majid Alshakarji, 20, who fled Syria after the Islamic State choked off his city's food supply and whose family was one of three that ended up on the plane.
As Francis now prepares for a return trip on Sunday to Lesbos, an island symbolic of Europe's migration crisis, his 2016 move to relocate those three families - all Syrian and Muslim - stands as one of the enduring gestures of his pontificate, an admonition to welcome those escaping repression and war.
That message, five years later, looks increasingly forgotten in a Europe that has built razor-wire fences, cut deals to choke off migration flows, constructed highly surveilled facilities for asylum seekers and launched legal proceedings against search-and-rescue groups.
But the gesture has also worked in its narrowest way, opening the chance for 12 people, six of them children, to succeed, struggle and try to build new lives in safety.
Though the 12 who flew to Italy with Francis are regularly mentioned in articles about the pope and migrants, their stories have not been widely documented. All have since earned refugee protection. One of the families relocated to Genoa in Italy's north. The Washington Post met with members of the other two families who remain in Rome.
Nour Essa, 36, who worked in biotechnology in Damascus, has become a researcher at a Catholic hospital. Her husband just earned an architecture degree.
She said that when leaving Syria, they had imagined making it to France, where several years earlier she had studied at a university. But after being interviewed ahead of Francis's arrival, they had to quickly weigh what was best for them and their young child.
"It was all so fast," Essa said. "There was such an emotion. Such a sense of confusion." What prevailed for her family was an agreement that any country was okay, so long as it was an "escape from Lesbos."
In the Alshakarji family, Ahmad Ramy describes the opportunity they received as a "joy born from the womb of sadness."
A history professor in Syria, he now works 60 hours a month cleaning a hospital. His wife, Suhila Ayiad, also works as a hospital janitor, with steadier hours. They barely manage to pay the rent. Their son Majid says what they've received in Italy is a chance "to stand on our own feet again."
Some of the 12 Syrians have seen Francis several times since their initial journey out of Lesbos. And this week, before departing for his trip, Francis met with a handful of refugees inside the Vatican, including some who'd come on the papal plane in 2016, the church said.
On the first leg of his trip, in Cyprus, Francis on Friday led migrant families in a prayer service, in which he decried a "culture of indifference" and repeated his contention that some of the camps where people are held are like "concentration camps."
In a Europe where migrants' odds have only diminished since 2016, a model depending on the pope and his goodwill is hardly sustainable. But there are indications the pontiff is trying to replicate the move as he travels through Cyprus and Greece this week. On Thursday, Cypriot President Nicos Anastasiades thanked the pope for arranging to help 50 migrants transfer from Cyprus. The Vatican has not confirmed any resettlement arrangement.
"We're looking at several possibilities," said Matteo Bruni, a Vatican spokesman.
Sant'Egidio, the lay Catholic association that helped to select the migrants from Lesbos in 2016, said the main criteria had been "vulnerability" and that the group had been looking specifically for families. Religion was not a factor.
According to news accounts at the time, the work to select the migrants stretched to the eve of the pope's arrival. Francis said the idea for the resettlement had surfaced only a week before the trip.
"These three families had the papers in order, the documents in order, and it could be done," Francis said.
That first papal trip to Lesbos came just after a historic jolt to the continent, a year when more than a million migrants sought refuge in Europe, the greatest influx since World War II. By 2016, the early welcome was long over. Xenophobic populist parties were gaining momentum. Countries were imposing new border controls, though it was not yet clear whether the backlash would be permanent.
Lesbos, a landing point for migrants crossing from Turkey, was seen as ground zero for Europe's unresolved migrant crisis.
"This trip is somewhat different than others," Francis told reporters on the flight from Rome to Lesbos. "We are going to - and we will see - so many people who are suffering, who do not know where to go, who had to flee. We will also go to a cemetery, the sea, where many people have drowned."
Francis arrived at the camp to find people lined up shoulder to shoulder, some holding hand-painted flags of their own countries, waiting to shake his hand. Some had been at the camp for days, others for weeks. Many had paid thousands of dollars to smugglers with the hope, however diminishing, of making it to specific European countries, in some cases where they already had relatives. But based on a newly signed deal between the European Union and Turkey, many in Lesbos were due to be sent back across the very sea they'd just risked their lives to cross.
"Freedom, freedom," migrants chanted at one point during the pope's visit.
"You are not alone," Francis said soon after, delivering a short address.
From the camp, the pope and the chosen asylum seekers traveled in separate cars to the island's main airport, where everything was ready with a red carpet and an Alitalia plane. Francis greeted all 12 people, and then they climbed aboard.
Majid, who was 15 at the time, said he remembers feeling like he was stepping on a flight "with the most powerful person in the world."
Then, exhausted, he fell asleep.
In the five years since, Majid, charismatic and talkative, has written rap songs about his experience in Syria, including one called "Beneath the Rubble." He went from knowing only one Italian word - "grazie" - to becoming highly conversational, graduating from an Italian high school, making Italian friends, even appearing on an Italian television studio show where he talked about his life.
But since graduating from high school in 2020, he has also discovered there are few job opportunities for somebody with his experience. He and his older brother have found work only here and there.
"On one hand, the stability is there," he said. "But having financial problems leaves you a bit shaken."
The refugee families received housing assistance for a year after arriving in Rome, and they continue to receive help for integration and studying, a Sant'Egidio official said.
The Alshakarji family lives in a second-floor apartment on the outskirts of Rome, where much of the furniture is donated, and where one of the only decorations is a flag used by Syria in periods before the Assad family took power. Aside from that, they have few other reminders of home. Ahmad Ramy, the father, said the family brought only one object on their journey across Turkey into Greece and then to Rome: a metal utensil for scooping and shaping falafel.
One recent evening, he went to the kitchen to retrieve it. He described how, shortly before boarding the papal plane, there'd been a disagreement among security officials about whether the sharp-edged object was okay to have on the flight.
"We thought the plane might not take off," Ahmad said with a laugh.
But it did, and now in Rome, they make falafel about once a month.
---
---
---
---