Belarus condemns new penalties
by
Missy Ryan, Isabelle Khurshudyan
The Washington Post
December 3, 2021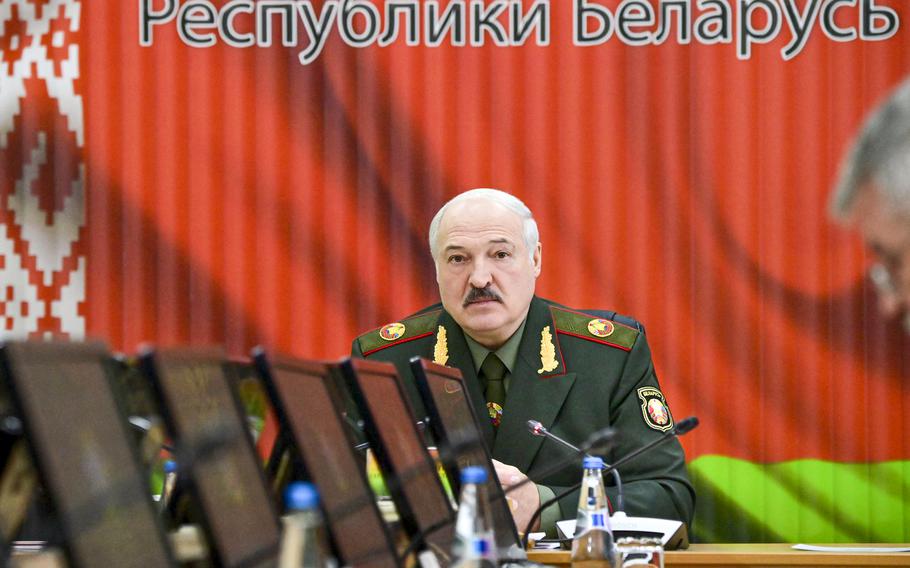 Belarus on Friday condemned new economic sanctions from the United States and its allies, promising a "tough response" as the West increases pressure on President Alexander Lukashenko over his use of migrants in battles with the European Union and wider crackdowns on opposition to his regime.
"Tough, asymmetric, but appropriate measures will be taken by us exclusively as a response," the Belarusian Foreign Ministry said in a statement a day after the European Union, Canada, Britain and United States unveiled new sanctions targeting people and entities associated with Lukashenko's government.
"Our economy is under unprecedented outside pressure in terms of scale and depth," Lukashenko said on Friday, according to Belarus' presidential press service. "And that means the measures we are taking need to be thoroughly analyzed. I think it has already been done."
The new measures the Biden administration announced on Thursday - the fifth U.S. tranche of sanctions since the August 2020 Belarus elections that were widely criticized as fraudulent - target government organizations the administration says are involved in using migrants to punish Europe for previous sanctions, or have taken part in political repression and violations of human rights.
Lukashenko, who has been in power since 1994, has been denounced for permitting thousands of migrants, many of them from conflict-affected places in the Middle East, to come to Belarus and then travel to E.U. borders with Lithuania and, most recently, Poland. Many migrants, after being blocked by Polish authorities in recent months, have found themselves trapped without adequate shelter.
"Today's actions demonstrate our unwavering determination to act in the face of a brutal regime that increasingly represses Belarusians, undermines the peace and security of Europe, and continues to abuse people seeking only to live in freedom," Secretary of State Antony Blinken said in a statement on Thursday.
"We will respond to Belarus' intransigence by directly raising the costs of doing business for and with the Lukashenko regime," Blinken said.
The U.S. sanctions also seek to limit the country's ability to issue sovereign debt, bringing American policy closer in sync with that of partner countries, the Treasury Department said.
The moves to ratchet up pressure on Belarus occur as tensions mount between the West and Russian President Vladimir Putin, Lukashenko's main ally, over a Russian troop buildup along its border with Ukraine, which American officials say is part of Russian planning for a possible invasion.
On Thursday Blinken met with his Russian counterpart, Sergei Lavrov, in Stockholm to discuss Ukraine and other matters, but the two diplomats appeared to reach no breakthrough in the standoff.
Lukashenko referenced his relationship with Putin in remarks about the sanctions, which state-run news agency BelTA said he made at a meeting in the Belarusian city Minsk. Lukashenko has previously said he would respond to sanctions by cutting off supplies of Russian natural gas that cross Belarus en route to Europe.
"It's not a secret that there is a hybrid war going on. Not only against us. In particular, against the Russian Federation, and we are a link in this pressure on Russia," the Belarusian leader said. "We are in the foreground. Therefore, we are the first to get hurt. The Russian president and I see that, assess it, and take relevant, appropriate actions."
Khurshudyan reported from Moscow.
---
---
---
---