Incoming German chancellor promises action amid Omicron variant fears
by
Stefan Heinemeyer
DPA
November 28, 2021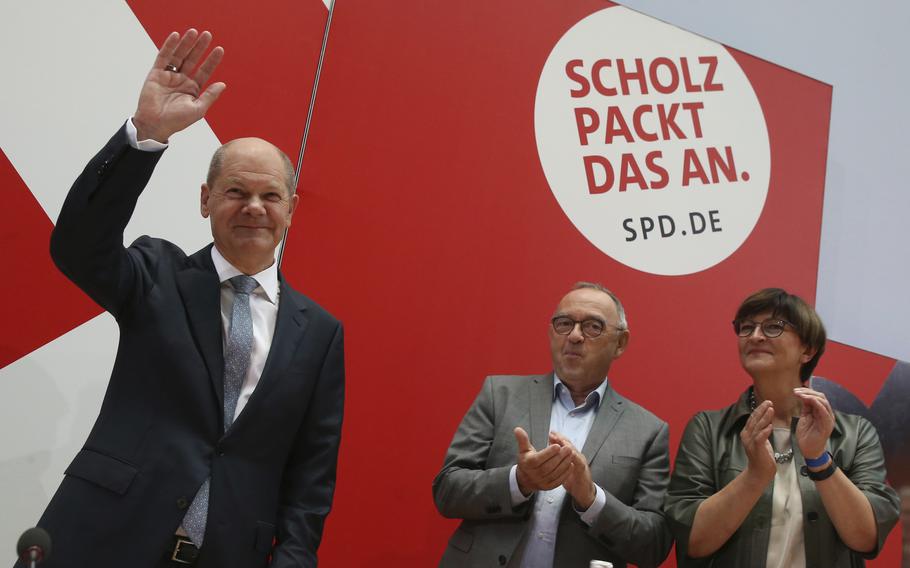 BERLIN (Tribune News Service) — Germany's chancellor-designate Olaf Scholz has promised to take tough action to prevent the spread of the coronavirus as case numbers rise, while fears grow that a new and potentially more dangerous variant has already reached the country.
Scholz, who is set to replace Chancellor Angela Merkel following elections in September, said everything that needed to be done would be done, in comments to a conference of young socialists on Saturday.
The country again faced "dramatic new challenges," Scholz said, calling on all adults to get a vaccine booster against COVID-19.
Scholz said the incoming government was working closely with the current government, in comments made on the sidelines of the conference. Negotiations on the formation of the new coalition government are ongoing, as Merkel prepares to step down after 16 years in power.
Meanwhile, Germany is grappling with record levels of COVID-19 infections, with hospital intensive care units gradually reaching capacity.
Patients are being transferred to areas with capacity, with the help of the military. On Saturday, a lawmaker suggested there might not be enough total capacity in Germany, so patients could have to be flown to other countries in Europe for treatment.
Green Party health expert Janosch Dahmen said new infection figures meant hundreds of intensive care patients would likely need to be transferred, in comments to the Welt am Sonntag newspaper.
At the same time, fears are growing that a new potentially more transmissible and more dangerous variant of the virus may have already reached the country.
It is highly likely that the Omicron variant has reached Germany, Hesse social affairs minister Kai Klose tweeted on Saturday morning, adding that several mutations typical of the new strain had been identified in a traveler returning from South Africa.
Klose said the individual, who entered Germany at Frankfurt airport, was isolating while sequencing of the strain was being carried out.
Meanwhile passengers who landed in Munich from Cape Town on Friday evening have all left the airport, a spokesperson said on Saturday. Some of the passengers have flown to destinations within and outside the Schengen area, while others who remained in the region are now subject to quarantine requirements imposed by the Bavarian health authorities.
The flight was a special case, as it landed after news of the new variant had emerged but before special regulations applied preventing passengers from flying to Germany who are not citizens or residents.
The variant, technically B.1.1.529, was named Omicron by the World Health Organization on Friday, when governments worldwide moved to restrict travel from multiple countries in southern Africa, where the strain was first identified earlier in the week.
In Germany, there were diverging views on how to respond to the new strain, with doctors demanding the tightening of existing restrictions.
The variant could cause the virus to multiply more quickly or even to become more infectious, Munich virologist Ulrike Protzer told radio station Deutschlandfunk. She called on the public to get booster vaccines against COVID-19.
So far, more than 10% of the German public have had a booster shot, according to the country's Robert Koch Institute for disease control, or RKI.
Asked whether current vaccines against COVID-19 would still be effective, Protzer said antibodies might not be able to neutralize the virus as efficiently. However, she said those who have been vaccinated recently were likely to have sufficient antibodies, while people who had been inoculated some time ago should get booster shots, while admitting it was not yet clear whether new vaccines would be needed, or if existing preparations could be adapted.
Governments worldwide are scrambling to prevent the spread of the new variant. On Friday, the European Union suspended air travel from seven countries in southern Africa, where the strain was first discovered.
One German doctor said he worried that potential new strains might emerge that are even more virulent and dangerous. "My great concern is that a variant could emerge that is as infectious as Delta and as dangerous as Ebola," Frank Montgomery, president of the World Medical Association, told newspapers of the Funke Mediengruppe.
So far the new variant has not been identified in Germany, but cases of COVID-19 are rising rapidly.
Germany reported a record seven-day incidence rate on Saturday, with 444.3 cases per 100,000 people over a week, the RKI said, announcing 67,125 new cases recorded over 24 hours and a daily death toll of 303.
Fears of a fresh German lockdown have led business leaders to speak out. Ludwig Veltmann, who heads an association of small and medium-sized businesses, told dpa that any new lockdown would reduce their competitiveness and affect hundreds of thousands of employees.
He called for the use of rapid testing to avoid a lockdown, to localize any outbreaks and combat them on a regional basis, meaning public life and the economy would not be affected across Europe's largest economy.
©2021 dpa GmbH. Distributed by Tribune Content Agency, LLC.
---
---
---
---