German patient airlifts start as COVID wave strains hospitals
by
Naomi Kresge, Patrick Donahue and Tim Loh
Bloomberg 
November 26, 2021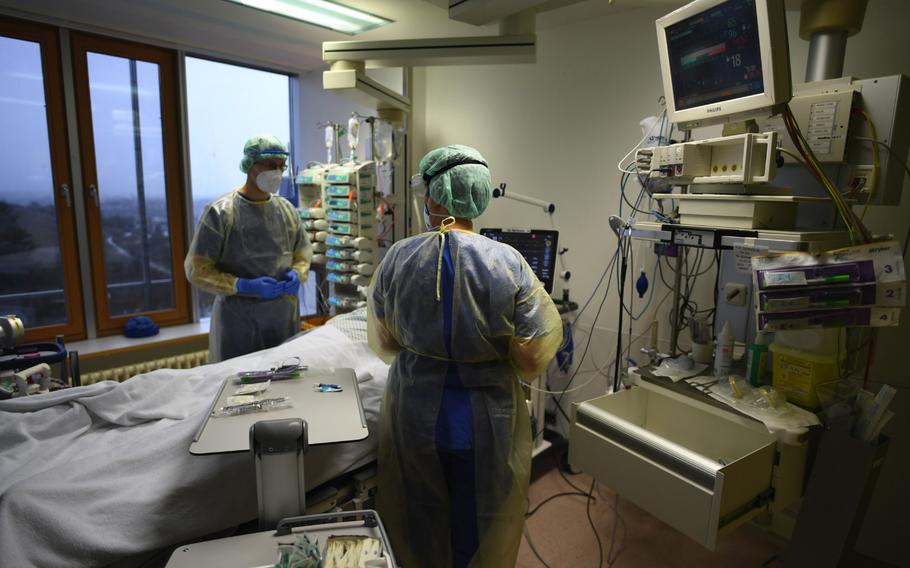 German health authorities warned that the current wave of COVID-19 cases may swamp the nation's health care system if residents don't act quickly to reduce their contacts.
The military is starting the transfer of intensive-care patients within the country from areas whose hospital capacity is the most strained, a Defense Ministry spokesman said.
An initial airlift will transport 10 patients from Memmingen in Bavaria to Muenster/Osnabrueck with an A310 Airbus/MedEvac on Friday. In total, three German Air Force planes are at the ready.
"We need to stop this wave now," Health Minister Jens Spahn said at a press conference on Friday. "Otherwise we will experience the thing we always wanted to prevent: the health system becoming overwhelmed."
Germany, whose COVID vaccine program has lagged neighbors such as France and Spain, now faces a double pandemic punch. Many of its hospitals are staggering under a rising wave of COVID cases, even as it joins the European Union in moving quickly to limit travel from southern Africa over concerns about a new variant that has arisen there.
Daily cases in Germany have repeatedly hit records this month. Deaths have risen too, although they remain below the levels seen last winter.
Without specifically calling for a lockdown, authorities are urging a return to the basics of social distancing in trying to throttle the current wave of cases.
"We need a massive reduction in contacts, immediately," said Lothar Wieler, president of the Robert Koch Institute. "We're standing at a crossroads. We have a choice. We can take the path that ends in chaos and disaster," he said.
Wieler still held out the possibility of a "peaceful Christmas" if people make different choices.
Spahn called for a meeting of regional leaders in coming days, which would be necessary in order to move toward a lockdown.
Doctors say it will be increasingly necessary to make tough decisions about which patients should get priority. The country's DIVI association of intensive-care and emergency medicine has issued an updated set of ethical recommendations on how to prioritize hospital resources.
While the body isn't recommending that sick patients be sorted according to their vaccination status, it's clear that people who are vaccinated generally have a much better chance of survival, Uwe Janssens, a head doctor at the St. Antonius Hospital in Eschweiler, said in a press briefing.
When hospitals are overwhelmed, doctors should prioritize resources for patients they think have the highest chances of survival, taking into account the seriousness of their sickness, whether they have other illnesses, and their overall health status, Janssens said.
Vaccines have picked up speed in recent days, with the highest daily inoculations seen since mid-July. Still, some 14.6 million German adults have yet to be fully inoculated, according to the health ministry — including 3.4 million people ages 60 and up who are often at the greatest risk if they catch the virus.
The panel pleaded with politicians to support doctors who are left making life or death decisions. Janssens lamented the fact that so many weeks have passed in Germany with too little action to stop COVID's spread. He called on Germany's politicians to take bold actions now to prevent the situation in German hospitals from deteriorating further.
Meanwhile, starting on Friday night, only German citizens will be allowed to fly back from South Africa. A 14-day quarantine will be mandatory even for fully vaccinated travelers.
---
---
---
---