Amid tensions with Russia, White House scrutinizes military exercises in Europe
by
Paul Sonne, John Hudson
The Washington Post
November 19, 2021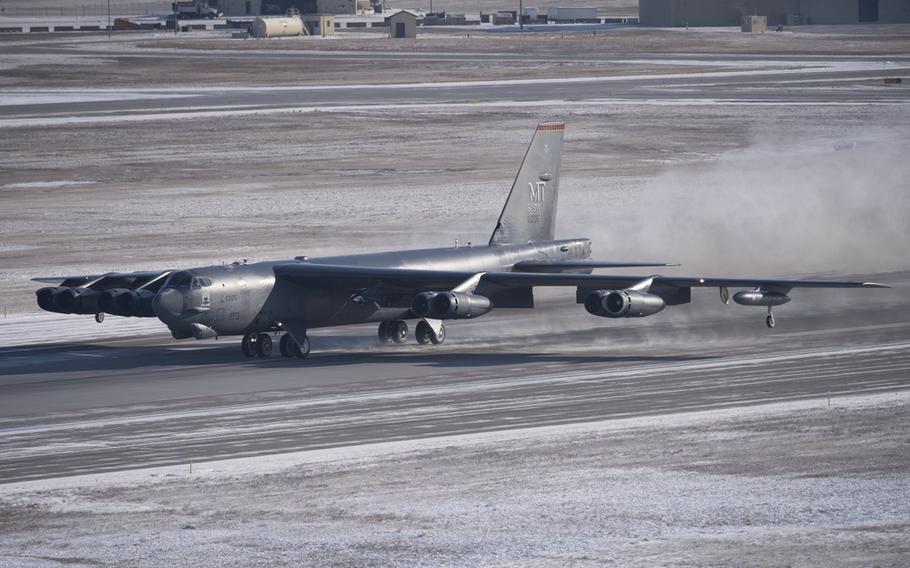 The White House has asked the Pentagon to provide a rundown of exercises the U.S. military has taken in recent years in Europe to deter Russia, as well as the justification for each mission, as the Biden administration takes stock of military operations in the air, on land and at sea that are designed to check Kremlin power and reassure U.S. allies and partners in Europe.
The purpose of the request, according to a senior Biden administration official, is to give the White House full visibility into U.S. military exercises and other deterrence activities in Europe, so new missions can be evaluated and scheduled in the context of past actions. The bulk of the exercises in Europe focus on protecting against Russia, but the request, which hasn't been previously reported, also related to other U.S. military activities on the continent, according to officials who spoke on the condition of anonymity to discuss internal deliberations.
U.S. military missions in Europe have grown in scope in recent years amid tensions with Moscow, leading to a slew of exercises, observation flights and maritime operations undertaken to ward off the Russian military from any further adventurism in Europe and reassure allies in the region that the United States takes seriously its commitments to their defense.
Some outside experts have raised concerns that some of the missions have become too provocative and should be reevaluated, even though the senior Biden administration official said the White House isn't seeking the information from the Pentagon with a view to curtailing the activities.
In many cases, the missions have extended beyond NATO allies to include partner nations bordering Russia, such as Ukraine and Georgia. The United States doesn't have a treaty obligation to defend those nations but has backed their right to sovereignty and provided support to their militaries. Both countries have endured Kremlin-backed incursions into their territory.
Russian President Vladimir Putin has become increasingly vocal in recent months about military activities by the United States and its allies near Russia, particularly in Ukraine.
In a speech on Thursday, Putin said NATO countries were crossing "certain limits" by flying strategic bombers 20 kilometers (about 12 miles) off the coast of Russia over the Black Sea that carry "very serious weapons," a reference to the nuclear warheads the planes can hold.
"We regularly express our concerns about this, we talk about red lines, but of course we understand that our partners are very idiosyncratic and - how to put it mildly - they treat all our warnings and conversations about red lines very superficially," Putin said.
U.S. allies on NATO's eastern flank, as well as partners in Ukraine and Georgia, have pushed for a continuation and expansion of military activities in Europe to send a clear message to Russia about unwavering U.S. support and prevent a replay of 2014, when Russia annexed Crimea from neighboring Ukraine and fueled a still-running conflict in the country's east.
U.S.-led exercises have taken on increased importance for European nations in recent months, as Russian forces massing near the Ukrainian border and a migrant crisis on Poland's border with Belarus have rattled European leaders and underscored Russia's power to destabilize the continent.
Ukrainian Foreign Minister Dmytro Kuleba underscored the point on a visit to Washington this month, saying the United States and Ukraine must send the right messages and take the right actions "not to provoke Russia, not to give it an excuse, but to deter Russia and demotivate it . . . from resorting to further escalation."
The White House hasn't made any decision to modify or curtail the U.S. military's missions and exercises in Europe, the senior Biden administration official emphasized.
"The important thing is that all we are looking for is basic information from the last several years of where we have done exercises, how many troops were involved, what policy objectives they were in support of," the senior administration official said, describing the request from the White House National Security Council to the Pentagon, which was sent earlier this year, as "regular order."
The senior official said the amount of information about such missions coming from the Defense Department to the White House when Biden took office was nowhere near what it was during the Obama administration, and the National Security Council was looking to restore the information flow.
Pentagon press secretary John Kirby said in a statement that coordination of U.S. military activities through the White House National Security Council is appropriate.
"The Defense Department's coordination with NSC, State Department and other interagency partners is in keeping with our collective desire to see a de-escalation of tensions in the region and to help create more space for diplomatic resolution," Kirby said.
- - -
In the years since Russia annexed Crimea in 2014, the United States and its NATO allies have backed Ukraine with training and arms, in addition to mounting regular exercises, at times with Ukrainian forces, to deter Russia from escalating the conflict in the country's east. U.S. and NATO troops from Western Europe rotate through Poland and the Baltics, keeping a constant presence on the alliance's eastern flank as a deterrent to a Russian invasion.
Despite President Donald Trump's perceived affinity for Russia, he surrounded himself with hard-liners at the Pentagon, State Department and National Security Council who stepped up military activities designed to send a message to Moscow.
At times, the result has been envelope-pushing missions.
In 2020, U.S. destroyers entered the Barents Sea, where Russia's Northern Fleet is located, for the first time since the Cold War unaccompanied by Russian vessels. U.S. supersonic B1-B Lancers trained with Ukrainian jets near Russia for the first time also in 2020 and, in another first, U.S. nuclear-capable B-52s flew through Ukrainian airspace, looping near Crimea alongside Ukrainian fighter jets.
Some of the activities have led to close calls. Last year, a Russian fighter jet came within 100 feet of an American B-52 conducting an exercise with NATO allies over the Black Sea, rocking the heavy bomber with its afterburner and prompting a condemnation by the Pentagon.
Earlier this year, Britain sent a destroyer, the HMS Defender, into the waters off Crimea, prompting more than 20 Russian fighter jets to surround the vessel and eliciting a heated response from Moscow.
Such activities have led to calls by some experts for the Biden administration to review and possibly rein in certain military activities in Europe that risk crossing the line into provoking Russia.
"Asking the question about the purpose of all this activity is totally legitimate and important, because if we are just doing stuff for the sake of doing stuff, which tends to be the default mode, then that can lead to problematic situations where we are having dangerous interactions with Russia for reasons unclear," said Samuel Charap, a senior political scientist and Russia expert at Rand Corp.
A study cataloguing nearly 3,000 incidents between NATO and Russian forces from 2013 to 2020, written by military analysts Ralph Clem and Raymond Finch, found significantly increased activity after 2016.
Clem, who has raised alarm bells about the risk of encounters between U.S. and Russian airplanes and the possibility of a mishap, said some of the U.S. deterrence activities aimed at Moscow aren't well thought-out in geopolitical terms, especially those involving non-NATO states such as Ukraine.
"The most troubling thing about these displays is that it puts U.S. strategic assets to use for a purpose which is not clearly defined - and to me that is very risky," Clem said. "Is anybody in the U.S. defense establishment thinking about fighting the Russians in the Black Sea over Ukraine? The answer to that has to be, must be, no."
Supporters of the current tempo of U.S. military activities in Europe emphasize that Moscow has been breaking norms of its own and engaging in threatening behavior that must be met with resolve and a heightened response, even if missions near Russian territory entail greater risk.
Earlier this month, Russia carried out its first-ever strike on a satellite in space using an Earth-based missile. Moscow has been developing and testing an exotic array of new nuclear weaponry. Russian operatives stand accused of poisoning an ex-spy on British soil with a chemical weapon and carrying out an assassination in broad daylight in a German park, in addition to menacing cyber activities, including a giant U.S. government hack through the software sold by SolarWinds.
Russia's military has also engaged in escalating activities of its own, most recently holding a joint exercise with Belarus called Zapad 2021, which reportedly involved 200,000 troops, making it one of Europe's biggest military exercises in decades.
"I think we have been responding to very aggressive Russian behavior," said Eric Edelman, a former U.S. ambassador to Turkey and top Pentagon official during the George W. Bush administration.
Supporters of forward-leaning joint activities with Ukraine say the message the United States is sending to Russia by flying strategic bombers over the country may not be that Washington is ready to go to war for Kyiv but that the United States is prepared to support Ukrainian forces and make it difficult for Moscow to further destabilize or seize territory from a neighboring nation that seeks closer ties to the West.
"I want Putin's constant concern to be: If they are willing to do this for someone who is not a treaty ally, what would they do if I tried to do something in Estonia, Latvia or Lithuania?" Edelman said.
He continued, "Given Russian behavior over the last six months, while you should always be reviewing things and always be careful not to do things that are unnecessarily provocative, you also don't want to give the suggestion that you are backing away because of threats being made by Putin."
---
---
---