Belarus's Lukashenko tells close ally Putin he de-escalated the migrant crisis with Europe
by
Robyn Dixon
The Washington Post
November 19, 2021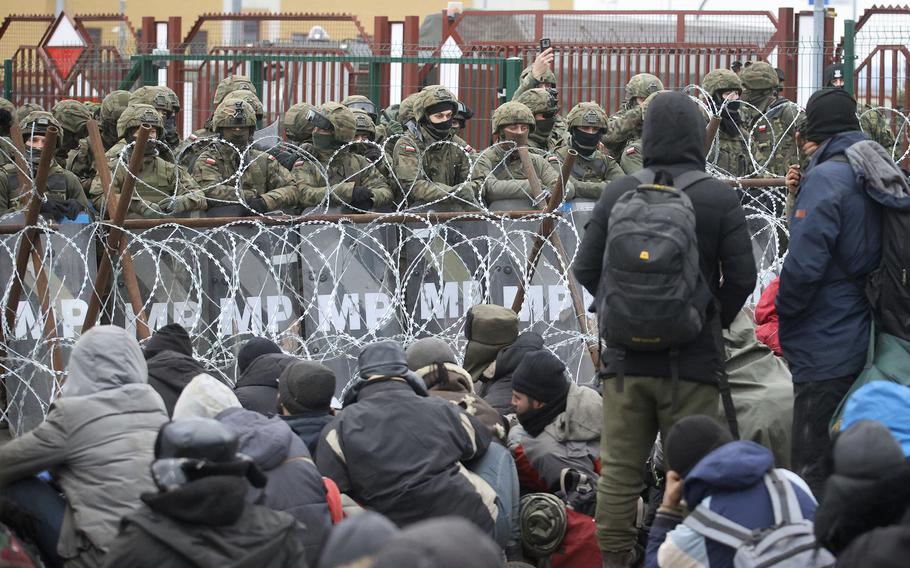 MOSCOW - Belarusian leader Alexander Lukashenko said he has taken steps to de-escalate a months-long border migrant crisis on the Polish border in a call Friday morning with his closest supporter, Russian President Vladimir Putin, according to the Kremlin press service.
The months-long crisis has worsened tensions between Europe and Belarus, with clashes earlier in the week when Polish border guards used water cannons to repel stone-throwing migrants trying to break across the border.
Lukashenko briefed the Russian leader on "measures taken by Minsk to de-escalate the crisis and to give humanitarian aid to the immigrants," the Kremlin said, condemning Poland for blocking the entry of migrants.
The first repatriation flight carried some 430 migrants to Iraq on Thursday, according to the Iraqi Foreign Ministry. It was the first concrete sign that Lukashenko was willing to ease a crisis that Europe accuses him of orchestrating.
But Kremlin spokesman Dmitry Peskov said the standoff over the migrants continues and that no solutions have yet been found to end the crisis. He urged European leaders to talk to Lukashenko.
"Of course, communication between Lukashenko and Putin is not enough to find a solution to this crisis," Peskov said.
Polish authorities accused Belarus on Friday of continuing to incite tensions on the border by pushing large groups of migrants to cross into Poland.
A migrant camp on the border near Bruzgi in Belarus was cleared Thursday, but Poland's border authority reported two mass efforts - one involving about 500 migrants and the other about 50 - to break across the frontier.
In all, Poland reported 255 attempted illegal border crossings Thursday and said 45 migrants were served with expulsion orders. It claimed that the migrants trying to cross were "aggressive," throwing stones and branches at Polish border guards.
Migrants in the border region have reported being driven back by border guards from both sides and being trapped in freezing conditions in the forest for weeks without food or adequate water as Poland and Belarus traded accusations and blamed each other for the humanitarian crisis.
All remaining migrants have been moved to a "logistics center," consisting of a warehouse and tents, according to Belarusian authorities.
But a spokeswoman for the Polish border authority, Anna Michalska, said Friday that Belarusian forces were spotted trucking hundreds of migrants to an area on the border where people were trying to force their way across, Reuters reported.
The Belarusians "were bringing more migrants to the place where there was a forced attempt to cross," Michalska said. "At the start, there were 100 people, but then the Belarusian side brought more people in trucks. Then there were 500 people."
Putin and Lukashenko condemned Poland over the "unacceptable, harsh actions of the Polish border guards, including the active use of brute force and special means," according to the Kremlin.
"Today both presidents expressed their deepest concern over the quite aggressive actions of Polish law enforcers and servicemen against these refugees, these migrants," Peskov said in a phone call with journalists.
At least 12 people have died in the border region of Poland and Belarus in recent weeks, including a 1-year-old Syrian child, the youngest known victim, according to local media reports and Polish aid workers.
The migrant parents of the child had been trapped in the forest between Belarus and Poland for six weeks, desperately trying to reach Europe, the Polish Center for International Aid said. It said the parents were injured when the group picked them up early Thursday. The mother reported that her 1-year-old child had died a month earlier, the center said.
Wojtek Wilk, a member of the center's team on the border, said on Twitter that many migrants were suffering from hypothermia, adding that "shelter is critical."
Belarusian authorities have announced plans to repatriate at least 5,000 of the migrants, but they called on Germany to accept 2,000 of them.
German Interior Minister Horst Seehofer on Thursday ruled out taking in the migrants from Belarus. Speaking at a joint news conference in Warsaw with Polish counterpart Mariusz Kaminsky, Seehofer said the migrants need humanitarian assistance but that "we won't accept them in our countries."
Isolated and denied European recognition, Lukashenko has been increasingly forced to turn to Russia for support.
After Lukashenko's failure to get Europe to take migrants, accept his political legitimacy or ease sanctions, Belarusian and Russian authorities have hailed a direct phone contact between German Chancellor Angela Merkel and the Belarusian leader as an important step, although the German position that he is not a legitimate leader has not changed.
Western leaders have rejected Belarus's 2020 presidential election as fraudulent. The European Union has imposed four rounds of sanctions over the election, police violence against protesters and political repression, and the bloc agreed Monday to a fifth round of sanctions targeting those responsible for the migrant crisis.
Peskov said Friday that the only way ahead was further direct negotiations between Europe and Belarus. "It is highly important to continue direct contacts between Lukashenko and E.U. representatives," the Kremlin spokesman said.
While Russia has watched complacently for months as Belarus instigated a crisis designed to pressure Europe and intensify divisions, Putin has lately shown some signs of impatience with Lukashenko.
He dismissed Lukashenko's threat last week to cut Russian gas supplies to Europe via a transit pipeline to Germany through Belarus.
Putin also called on Lukashenko Thursday to hold consultations with the Belarusian opposition, saying that "problems persist," although the conflict over the 2020 election has "calmed down."
---
---
---