Austria imposes nationwide lockdown and vaccine mandate amid coronavirus surge
by
Loveday Morris, Denise Hruby
The Washington Post
November 19, 2021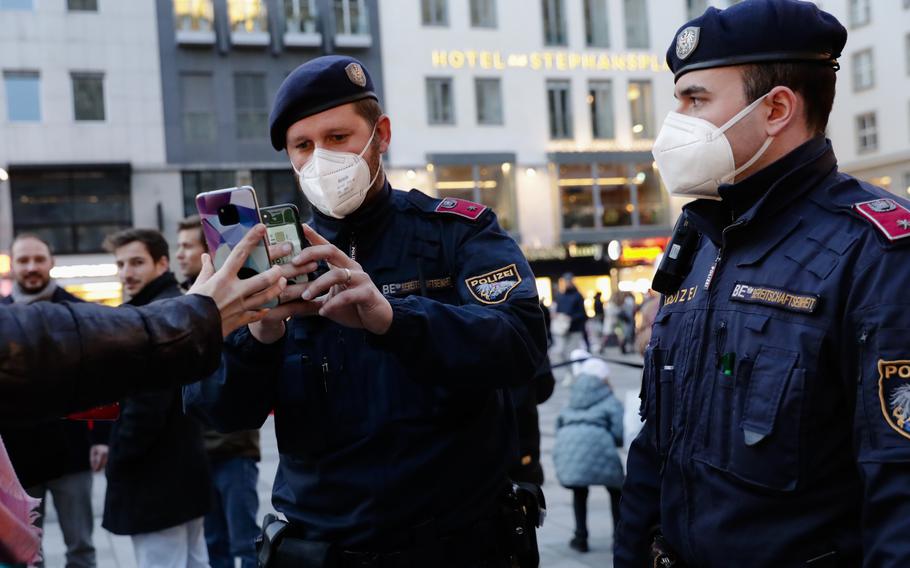 BERLIN - Austria on Friday became the first country in Europe to say it will mandate the coronavirus vaccine for everyone eligible, as it reimposed a nationwide lockdown amid a surge in infections that has gripped parts of Europe.
Austria's announcment comes as countries across Europe grapple with how to deal with rising coronavirus cases as winter sets in - and with people weary and frustrated after vaccinations had raised hope of an end to restrictions.
The World Health Organization said Tuesday that Europe was the world's only region with coronavirus deaths on the rise, jumping by 5% since earlier this month.
Vaccine rates range widely across Europe - from more than 80% in parts of western Europe to under 30% in places such as Bulgaria - while some countries including France and Italy have expanded rules that sharply limit workplace and social options for the unvaccinated.
But the move by Austria - with a fully vaccinated level of about 64% - pushes into full-mandate territory that other countries in the West have so far resisted because of worries of public backlash and other potential challenges.
"We now have to face reality," Austria's chancellor, Alexander Schallenberg, told reporters in Vienna. From February, vaccines will be required by everyone he said, without giving details of what would be the minimum age.
Recent scenes from hospitals in parts of Austria have been reminiscent of the early days of the pandemic, with doctor's preparing to make difficult life-and-death decisions on who they have the capacity to treat.
In one hospital in Upper Austria - an area on the Bavarian border and one of the hardest-hit provinces of the country - bodies were being piled up in the corridors, according to Austrian media reports.
Schallenberg said that introducing the new measures was not an "easy decision" but it was based on infection levels and "to protect all of us."
Austria's rate for fully vaccinated people is just 1 percentage point below the average across the European Union, but higher than the rate of 59% in the United States, according to the Centers for Disease Control and Prevention.
There has been political resistance to imposing a vaccine mandate in the past in Austria. But experts said they saw little potential for pushback on legal grounds over the mandate.
"In this current situation, things are so dramatic, catastrophic even, that there won't be any constitutional issues for a vaccine mandate," said Heinz Mayer, a constitutional expert and former dean of the law faculty of the University of Vienna.
"We've never had such a dramatic situation, each day dozens of people are dying, unnecessarily, it's out of control," he added.
Meanwhile, Austria's new lockdown begins Monday. Non-essential businesses will close and residents will asked not to leave home except for reasons such as going grocery shopping or visiting a doctor.
The new restrictions were an "enormous" thing to ask of the vaccinated population, but that too many people had "showed a lack of solidarity," said Schallenberg, who took over as chancellor last month after fellow conservative party-member Sebastian Kurz was forced to resign.
Austria's famed Christmas markets, some of which had just opened for the season, will be forced to shut down. The new restrictions will be reevaluated after 10 days and after 20 days could revert to a lockdown only on the unvaccinated.
Other measures, such as imposing a lockdown only on the unvaccinated earlier this week, have not sufficiently increased vaccination rates, the chancellor said. And infection numbers have continued to rise.
The seven-day incidence rate - the number of infections per 100,000 residents over the past week - had risen to 991 as of Wednesday in Austria, almost doubling from two weeks earlier. The U.S. seven-day new case rate on Wednesday was fewer than 200 per 100,000, according to the CDC.
One doctor interviewed by the public television reminded viewers that, at the beginning of the pandemic, Austria took on patients from France's overburdened intensive-care units. He said he was now hoping the French would reciprocate.
"We have to undertake hard measures otherwise the health-care system will collapse," said Günther Platter, the governor of Austria's Tyrol region, who spoke at the same news conference with the chancellor.
Platter said the vaccine mandate is the only way to break the "vicious cycle" of a surging infections and lockdowns.
It's unclear whether other countries will follow suit.
Italy has floated the idea of a full vaccine mandate, but has so far stopped short of imposing one. In October, the country introduced a stringent workplace rule that requires all employees, in both the public and private sectors, to show a health pass to prove they are vaccinated against coronavirus, recovered or have tested negative.
But a nationwide mandate in Italy remains an option, according to one government official who spoke on condition of anonymity in order to talk candidly about the deliberations.
"Making anything mandatory is never nice," he said. "But it's a tool we have and can be used under extreme circumstances."
In France, vaccination is now mandatory for nurses, firefighters and in some other professions. Belgium earlier this week ordered employees to work from home four days out of five.
In neighboring Germany, where coronavirus rates have broken all-time records in recent days, the government has refrained from introducing vaccine mandates for any parts of the population and has said there will not be a lockdown for the vaccinated.
Still, new regional measures are being introduced in Germany. The southern state of Bavaria annouced restrictions Friday, which will include contact restrictions for the unvaccinated and an order for restaurants and bars to close in hotspot areas.
As of Monday in Berlin, only those residents who are vaccinated or who are recovered can go to restaurants or bars.
In the early days of the pandemic in Germany, Chancellor Angela Merkel assured citizens that vaccinations would not become mandatory. Some analysts believe such mandates can backfire and invigorate anti-vaccine movements, with have been particularly active in Germany.
But serious legal challenges to vaccination mandates have so far have been limited.
Last year the European Court of Human Rights ruled that compulsory vaccinations could be "deemed necessary in a democratic society." The case had been lodged by families in the Czech Republic whose children had been denied entry to school because they had not been vaccinated against diseases including measles, but legal experts said it could also be applied to coronavirus.
On the streets of Vienna, residents voiced exasperation at a new lockdown. At a Christmas traditional Christmas market outside the Hofburg, the former imperial palace of the Habsburg dynasty, Haelnur Deren, 21, wondered what they'd do with their stocks of heart-shaped gingerbread.
"It won't go bad right away, but who is going to buy gingerbread after Christmas?" she said. The lockdown for the unvaccinated was "pointless" she said. Questioning whether anyone would have stuck to it.
"It's extremely frustrating, just very, very frustrating," said Konstanze Castaneda, 41, who works in film production. "But mostly I'm frustrated with the unvaccinated. They had a choice and we could have avoided all of this."
Hruby reported from Vienna. The Washington Post's Stefano Pitrelli in Rome contributed to this report.
---
---
---