Synagogue destroyed by Nazis re-created on 3D display in Kaiserslautern
by
Alexander Riedel
Stars and Stripes
November 10, 2021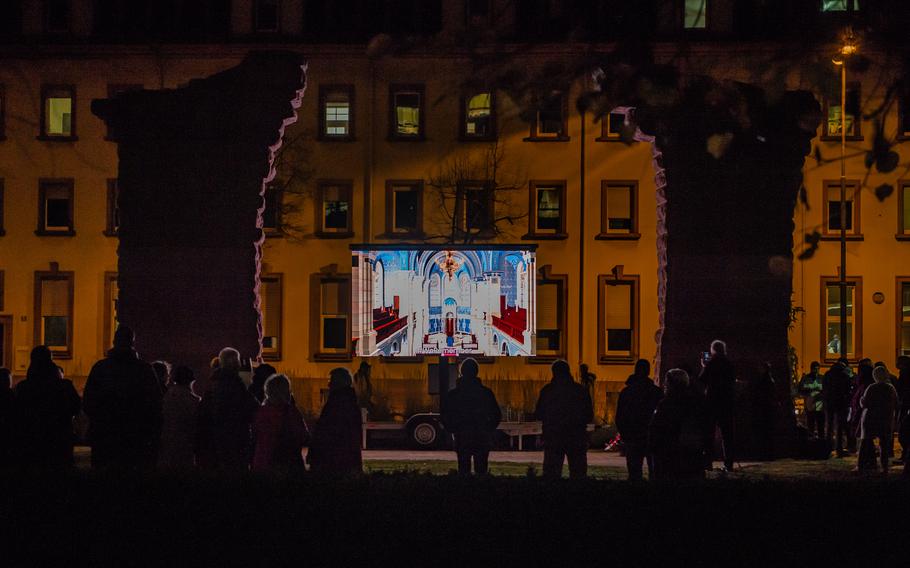 KAISERSLAUTERN, Germany — Kaiserslautern remembered one of Germany's darkest nights in its history Tuesday at the former site of the city's synagogue, which was destroyed by the Nazis in 1938. 
Kristallnacht, or the "night of broken glass," marked the acceleration of the systematic persecution of Jews in Nazi Germany 83 years ago.
For two nights, synagogues were destroyed and Jewish businesses plundered by mobs of Nazi troops and sympathizers. More than a thousand people were killed and 30,000 were removed from their homes.
In Kaiserslautern, where tens of thousands of U.S. service members and their families are based, an LED panel, allowed visitors a glimpse of the interior and exterior of the synagogue at the site where it once stood.
The rendering, which was also scheduled for display Wednesday, was created with computer-animated 3D modeling using surviving visual records by Darmstadt Technical University.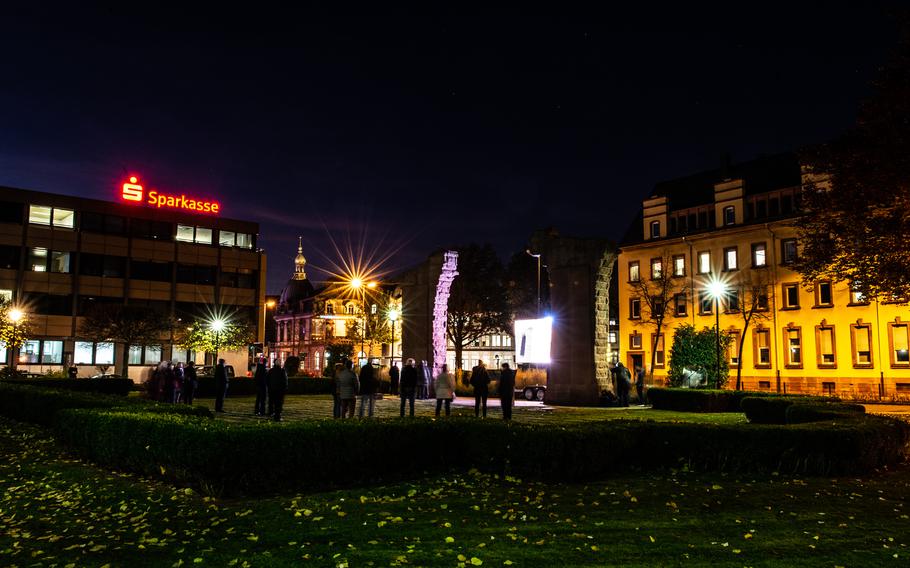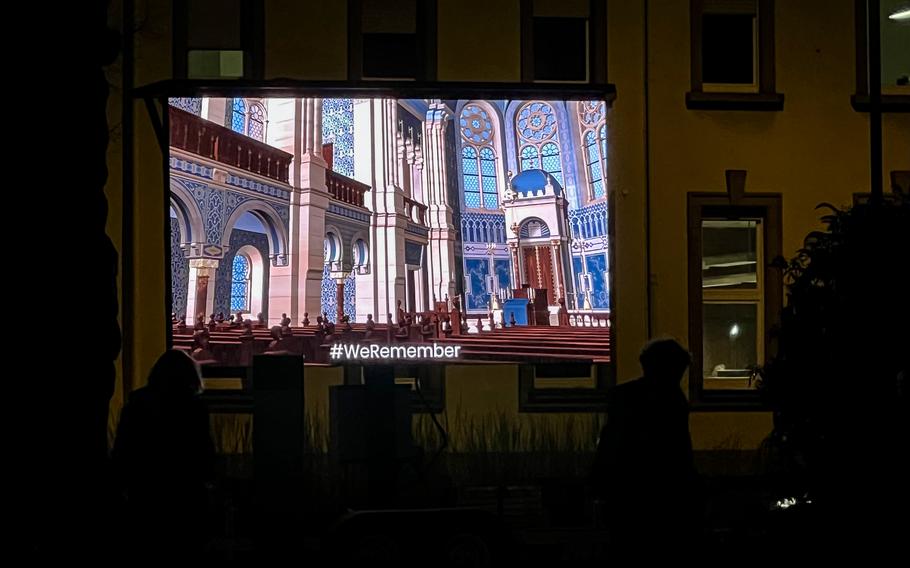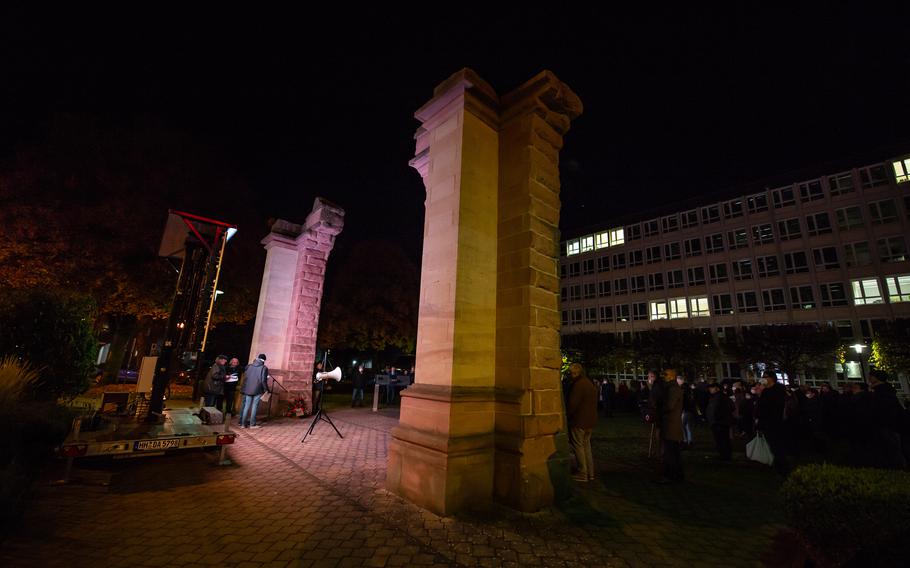 The event is part of an initiative of the World Jewish Congress, in cooperation with the Central Council of Jews in Germany, which has sponsored the creation of 18 of these digital reconstructions of synagogues that were destroyed or damaged during the two-night pogrom.
Reproductions are being shown in 13 locations in Germany and five in Austria, as part of the council's #WeRemember-campaign, which will lead up to Holocaust Memorial Day on Jan. 27.
Kaiserslautern Mayor Beate Kimmel said that cities have a crucial role in conserving the past for future generations.
"It is part of our special responsibility for today's leadership of our city to commemorate these events and to not let the memory of these crimes against humanity, the Shoah, fade," Kimmel said during a speech Tuesday, referring to the Hebrew word for the Holocaust.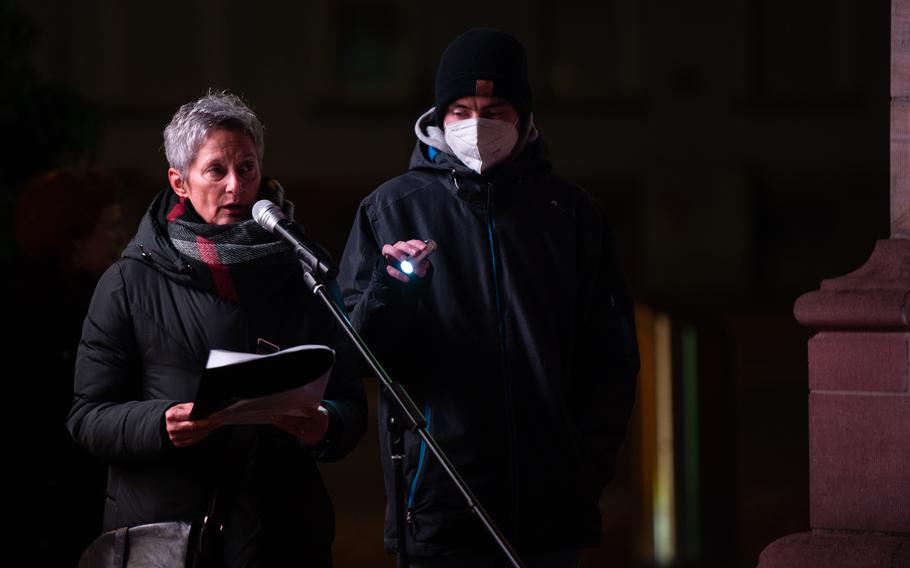 For more than five decades after its inauguration in 1886, the Kaiserslautern Synagogue, which was built in Moorish-Byzantine style, was considered an architectural sight and one of the most prominent houses of worship in the region.
After Nazi leaders declared their plans for Kaiserslautern as a regional capital in a reorganized Germany, however, the building was suddenly in the way of a planned parade route.
City officials deemed its once-heralded design "un-German" and seized the property from its owners for "city beautification" purposes, according to historical accounts given at speeches onsite Tuesday. The building itself was destroyed before Kristallnacht in the late summer of 1938.
Today, the small plaza is surrounded by a bank, regional government offices, residential buildings and busy bus stops.
All that remains of the house of worship are two reconstructed sandstone columns inscribed with the names of Kaiserslautern's 192 Holocaust victims and a low hedge tracing the building's outline. Binocular-style viewing points allow visitors to see glimpses of the structure that once was.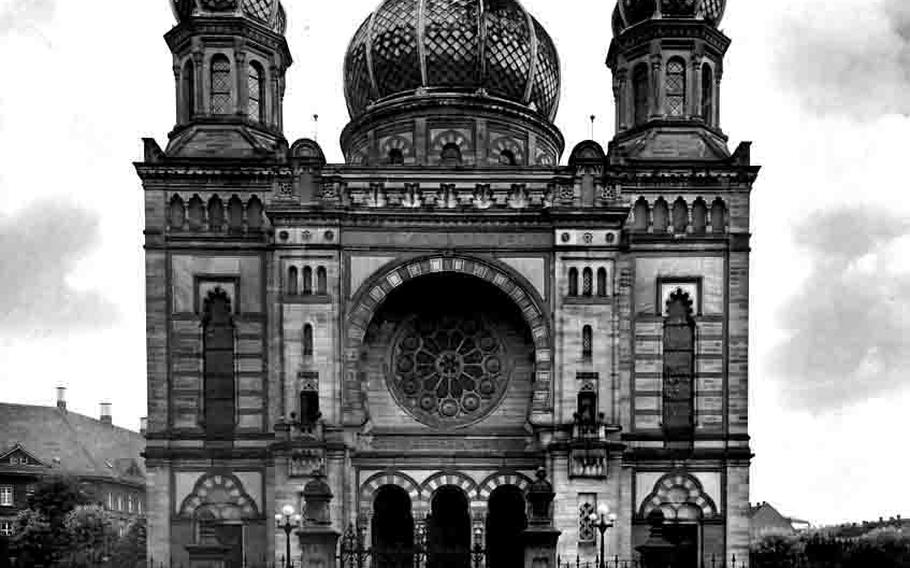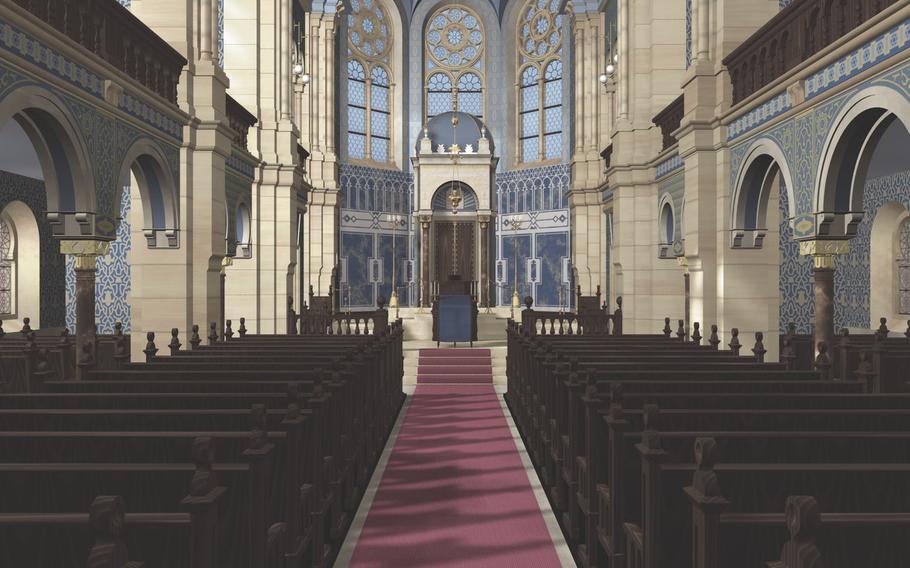 The memorial of the lost synagogue and Kaiserslautern citizens who were murdered by the Nazi regime started with simple wooden signs commemorating the dead, placed by local activists determined to not let anyone forget.
"We fought for years to create this memorial in this space because it is such an important place in the city," said Walter Warstadt, an organizer for the annual commemoration event with the Association of Persecutees of the Nazi Regime/Federation of Antifascists in Kaiserslautern. "If we don't remember what happened here, where do we remember? We can never allow to repeat what happened here."
The LED display also was scheduled for viewing Wednesday from 5 p.m. to 10 p.m. at Synagogenplatz along Fischerstrasse. Other locations for the project include Berlin, Hamburg, Munich, Frankfurt, Cologne, Hannover, Dortmund, Darmstadt, Paderborn, Minden, Bamberg and Plauen.