Why turmoil in Belarus is spilling over its borders
by
Jake Rudnitsky, Aliaksandr Kudrytski
Bloomberg
November 9, 2021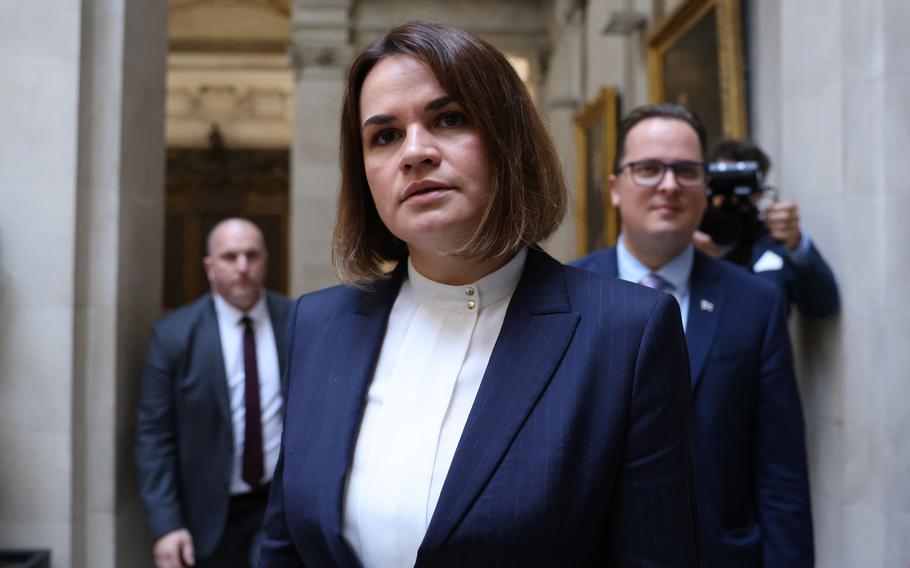 He may be a throwback to a different era, but Belarusian President Alexander Lukashenko is a man with staying power who has become a problem for Europe on its eastern flank. The autocrat branded the continent's "last dictator" has led the former Soviet state for almost three decades. His claim to a sixth term after a disputed election in August 2020 set off a burst of popular opposition that led to a crackdown on dissent. The coerced landing of a Ryanair jet and an Olympic athlete seeking sanctuary in Poland focused attention on Belarus in 2021, as has the European Union's accusation that the country is weaponizing refugees from the Middle East by helping them cross its border illegally into Lithuania and Poland. Meanwhile, Russia views Belarus as perhaps its closest ally, a buffer against encroachment by NATO and the EU.
1. Why do people want him gone?
Lukashenko, 67, has been in power since Belarus's first presidential election as an independent republic in 1994. Much has changed in the world since then, a full decade before the EU expanded eastward to absorb many of the former communist states that had been under Soviet influence. Lukashenko, though, has kept his country of 9.3 million people - which lies at a geopolitical crossroads, sandwiched between the EU, Russia and Ukraine - aligned to the east, receiving financial and political support from Russia. Belarus has benefited from discounted Russian natural gas as well as oil, which it refines and sells abroad at a profit, and Lukashenko has failed to diversify the cash-strapped economy. But it was his dismissal of the pandemic, and handling of the 2020 election, that got people onto the streets, defying riot police and calling for strikes.
2. What happened in the election?
The fairness of previous landslide victories by Lukashenko was slammed by the Organization for Security and Cooperation in Europe, which monitors elections. This time, key challengers to him were detained or kept off the ballot. But Sviatlana Tsikhanouskaya, the wife of jailed opposition blogger Siarhei Tsikhanouski, was allowed to register. The political novice drew huge crowds at rallies nationwide. So when officials declared Lukashenko had won 80% of the vote, protests erupted and Tsikhanouskaya fled to Lithuania, which has offered shelter to many opposition figures from Belarus. Rallies continued for weeks and led to several deaths.
3. How did authorities respond to the protests?
More than 35,000 people were detained, sparking international condemnation. As of October 2021, Belarusian authorities had also brought criminal cases against about 3,000 opponents of Lukashenko. In one of them, the Supreme Court sentenced the former head of a bank who sought to challenge Lukashenko in the election to 14 years in jail for bribery and money-laundering, which he denies. Other prominent activists, including Tsikhanouski and Maria Kalesnikava, also went on trial, with the latter receiving an 11-year jail sentence. Many more remain under investigation in overcrowded remand prisons.
4. What's happening at the border?
Poland and Lithuania, with the support of the EU, accuse Lukashenko of retaliating against them by channeling thousands of migrants across their frontier. To control the flow, Lithuania planned to build a 508-kilometer (316-mile) fence, while Poland declared a state of emergency along its border as the numbers increased. Poland estimated that as many as 4,000 people, mainly from the Middle East and Asia, were gathered near the frontier in early November.
5. Why has the world taken notice?
With an increasingly fractious global political backdrop, events in Belarus have resonated. In one shocking incident in May 2021, authorities in Minsk scrambled a Mig-29 fighter jet and used a fake bomb threat to force a Ryanair plane flying from Athens to Vilnius to land in the Belarusian capital. They arrested a Belarusian passenger, journalist Raman Pratasevich, who rose to prominence covering the 2020 protests. Three months later, Belarusian sprinter Krystsina Tsimanouskaya said she was pressured to leave the Summer Olympic Games in Tokyo early for criticizing sporting officials from her country. Taken to the airport against her will, she refused to board her flight and was granted refuge in Poland.
6. What's been the response?
As with its ally Russia, the go-to tool to try to bring Belarus into line is sanctions. The U.S., EU and U.K. all imposed measures on Belarus following the Ryanair incident and other developments. The EU hit some petroleum products and potash fertilizers, the country's main sources of foreign-currency revenue. The U.S. also targeted the country's Olympic committee and business leaders and companies with ties to Lukashenko. The U.K. barred Belarusian airlines from flying over Britain and prohibited the purchase of Belarusian government bonds. The result has been to entrench Belarus more deeply in Moscow's orbit.
7. What's Russia offering?
Russian President Vladimir Putin extended loans, provided energy supplies and took Lukashenko sailing on the Black Sea. Even as Putin's treatment of Lukashenko in public was usually rather lukewarm, he rallied to his support when street protests erupted. And when it comes to refugees using Belarus as a conduit to head west, Russia says that's the EU's problem.
---
---
---