'It' clown sightings at carnival spook Ramstein area families
by
Chad Garland
Stars and Stripes
October 22, 2021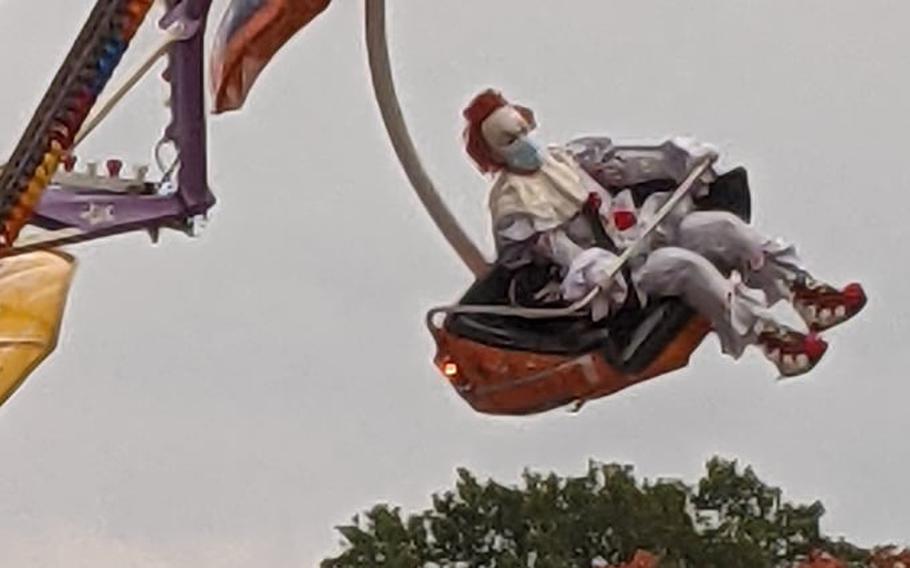 An Air Force staff sergeant in Germany said she got chills while attending a local fall festival with her family — but they weren't brought on by the weather.
The source of Alexis Smith's shudder was the sight of horror-movie clown Pennywise sitting on a nearby carnival ride.
Smith snapped a photo of the spooky sight and texted it as a warning to her husband. He was inside the Kaiserslautern fairgrounds with their 4-year-old daughter, who hates clowns.
Both the Smiths and the clown from "It" are repeat visitors this year to the Barbarossaland fair on Kaiserslautern's Messeplatz. The fair's weekend popularity has been so great that organizers are extending it through Halloween, they told local newspaper Die Rheinpfalz this week.
Smith said her family was on its second visit to the fair when she encountered the harlequin dressed like the child-killing monster from the film adaptation of Stephen King's 1986 novel about an evil entity that feeds off children's fear.
"The clown looks dead inside," Smith said Friday in a phone interview.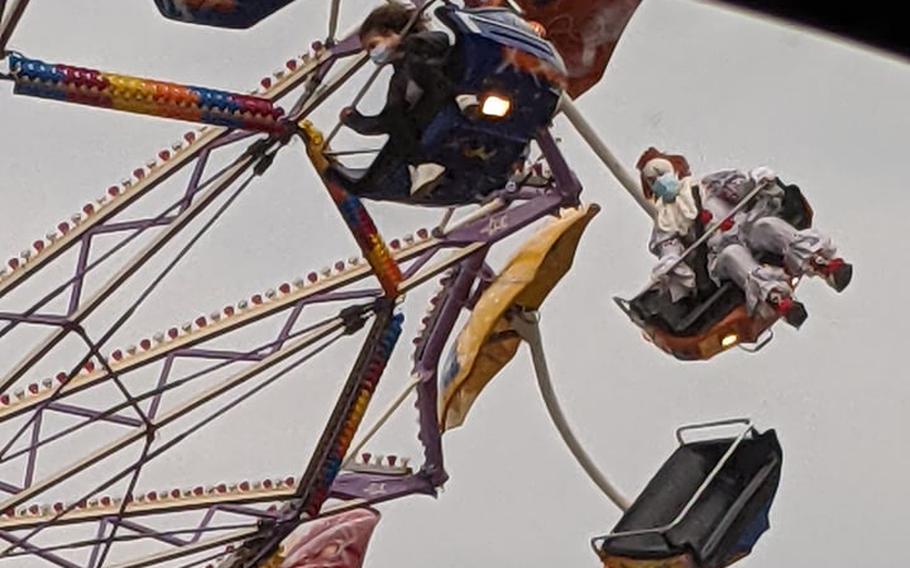 And just as is the case with any good horror movie monster, it seemed inescapable. Smith's husband didn't get her warning text, but as he was guiding their little girl through a mirror maze at the other end of the park, he saw the clown waiting at the end.
"He got creeped out," Smith said. "He was like, 'I didn't know if it was real or not.'"
When they exited, there was no sign of Pennywise. But he turned to find the clown, who was a woman under the makeup, standing right beside him. Then the woman began laughing.
"Obviously you can't deck a girl, but he was super scared," Smith said. Still, he managed to keep their daughter from seeing the clown.
Smith posted her photo to a 14,500-member Facebook group for military families in Ramstein and Kaiserslautern with a caption saying she felt it "completely sums up 2021."
In her photo, Pennywise is seated on an umbrella ride right behind a seemingly oblivious child, with a medical mask obscuring its facial expression.
Some group members shared their own photos or reported spotting Pennywise on other rides that weekend or earlier. Staci Ann Franklin spoke of her encounter Oct. 10.
"They were most definitely enjoying the fair," Franklin told Stars and Stripes. "That (umbrella) ride seemed to be a favorite because they rode it while we were there as well."
Pennywise also stopped to take photos with those who asked, she said.
While Smith had been worried that the clown would "freak out" her daughter, she said "it's also great because it's so close to Halloween."
The carnival is scheduled to remain open from 2 p.m. to 10 p.m. daily until Nov. 1.
It wasn't clear if Pennywise would be back, though, as a visit to the fairgrounds Friday revealed a different attraction where the umbrella ride had been.