US team places fifth as NATO's top chess players face off
by
Kent Harris
Stars and Stripes
October 18, 2021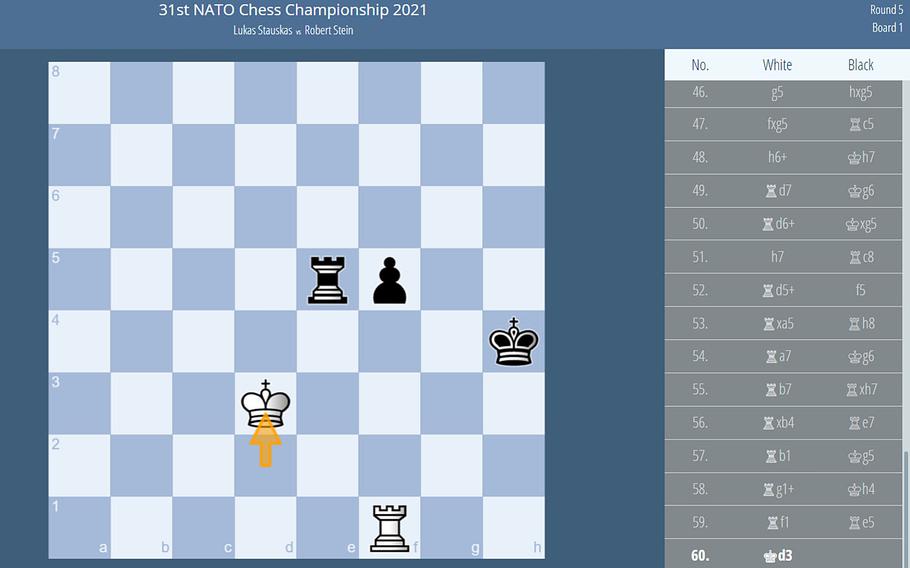 Poland emerged triumphant as almost 100 individual members of the NATO alliance put attack and defensive strategies to the test — on the chess board.
Belgium hosted the 31st NATO Chess Championships that featured a large U.S. contingent and competitors from 18 countries last week. The Americans, who have never won the event, took fifth behind top performers Air Force 1st Lt. Eigan Wang and Capt. Jason Loving. Each won four matches, lost twice and had a draw.
Retired Army Col. David Hater led the U.S. team and made his 16th appearance at the championships, which began in 1989 — when some current members were allies of the Soviet Union. It wasn't held in 1993 due to funding issues and 2020 because of the coronavirus pandemic.
The U.S. team was in second in the early stages of the seven-round event.
"Unfortunately, we didn't finish as well as we would have liked," Hater said.
Poland edged Greece 21-20 1/2 points for the title, tallied via a Swiss scoring system that awards points to the top four finishers from each six-member team. It's the 17th time in 18 competitions that Poland has finished in the top three since it first entered the event, Hater said. Germany, which has won the event a record 23 times, settled for bronze this year.
Lithuania's Lukas Stauskas was first individually ahead of Germany's Robert Stein and Denmark's Finn Pedersen. Wang was 14th and Loving 16th.
Also earning points for the American team were Air Force Tech. Sgt. Andrew Duran (34th) and Air Force Maj. Gordon Randall (42nd).
Active-duty and retired service members from the Navy, Marines and Army also competed for the American team or a NATO team featuring members from allied countries.
The American team was selected by ranking in the U.S. Chess Federation, Hater said.
"Just being selected sets you apart from your peers and it is quite an honor being selected to represent your country," he said. "Also, the ability to test yourself against the best military members from allied countries is quite enticing."
Estonia is set to host the championships next year.
---
---
---